The state of Alabama will soon be an even bigger part of the automaking industry, thanks to a rare earth mineral found deep in east-central Alabama. A 37 mile swath of land known as the Graphite Belt runs entirely across Coosa County and into adjacent Alabama counties. It is expected to make the state the number one supplier of the critical mineral required to make lithium-ion batteries.
On Tuesday, Alabama Graphite and its parent company, Westwater Resources, Inc., celebrated a groundbreaking. The companies currently hold mineral rights along the broad southwestern portion of the Alabama Graphite Belt. Westwater President and CEO Chad Potter was on hand for the groundbreaking.
"This celebration is the result of a lot of hard work, cooperation and planning envisioned by numerous people over many years," Potter said. "I want to first thank Westwater's incredible team that envisioned and laid the foundation for what is the first graphite processing plant of its kind anywhere, using our proprietary process to produce refined graphite for the batteries in electric vehicles and other products."
The plant will be in the Lake Martin Regional Industrial Park and will employ around 100 people in the first phase of development. The plant will cost around $202 million to build.
"As our investment of hundreds of millions of dollars indicates, we are firmly committed to Alabama and this community, and we look forward to being here for many years to come," Potter said.
Jobs are expected to pay around $21 per hour.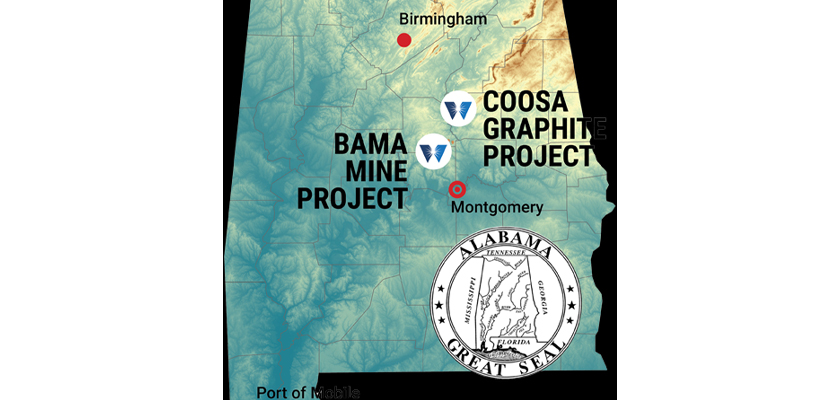 The importance of graphite
Executive orders issued from the White House, the rising demand for electrical vehicles (EVs), and an anticipated years-long shortage of lithium-ion have combined to provide Alabama with an opportunity to become a global leader. The lithium-ion batteries that are used to power rechargeable electric products require graphite, the same material used in everything from writing pencils, to electronic controls, to lubricants, to the heatshields on the leading edge of the Space Shuttle wings.
Alabama Gov. Kay Ivey joined the crowd Tuesday to celebrate what the future holds.
"It's a great day to be in Coosa County," Ivey said. "Chad, your leadership and your influence are a shining example of how we can accomplish our goals to ensure 'made in Alabama' is bringing back 'made in America.'"
Ivey said with the state being home to five major automakers already, the plant will help make the state a more powerful auto manufacturing hub.
"Automakers around the globe are making this transition, as are many drivers, and it is Alabama that is going to take them there," said Ivey. "… The Alabama Graphite Products Plant will no doubt put Alabama at the nation's forefront in producing critical material needed for success."
So, why is graphite suddenly so important that two successive presidents on opposite ends of the political spectrum have issued orders to revive the American graphite mining and graphite processing industries? While still in office, President Donald Trump issued an executive order aimed at reducing our dependence on Chinese graphite. China is the top supplier of graphite in the world. Natural graphite is listed on both the US and European Union critical raw materials lists. More recently, President Joe Biden invoked the Defense Production Act to encourage domestic production of critical materials like graphite for large capacity lithium batteries used for electric vehicles and clean energy storage.
While China currently supplies 63% of the world's graphite supply, the state of Alabama is home to the largest and most accessible natural deposit of flake graphite in the 48 contiguous states.
"There's a lot of disruption in the market today," Alabama Secretary of Commerce Greg Canfield said at the event Tuesday. "The electrification of vehicles and energy storage, and the technology behind the electrification of vehicles, and our need for green energy, as we move forward into the future, as we try to achieve energy sufficiency and create a strategy for our nation that allows us to secure our future, are all represented in the Alabama Graphite Products project which we are here to celebrate today. Disruption can be chaotic, but I'm here to tell you, disruption in Alabama equals opportunity, and that is exactly what Alabama graphite represents."
Canfield said the state is reducing dependence on China and other nations by providing minerals needed in the global supply chain.
It's truly been a historic day in Coosa County, where we broke ground on the nation's first graphite processing facility! Folks, the world is in on Alabama's secret, and that is that we are a powerhouse in automotive manufacturing. @WestwaterRes @MadeinAL #alpolitics 1/3 pic.twitter.com/HdSTnYkZAl

— Governor Kay Ivey (@GovernorKayIvey) April 19, 2022
Leaders in the automotive industry
Alabama is right in the middle of a huge southern US crescent of major lithium-ion battery customers that begins with a Tesla Model Y production plant in Texas and stretches eastward to the automakers Toyota, Mercedes and Hyundai in Alabama, Volkswagen in Tennessee, Kia in Georgia and BMW in South Carolina. In addition to those automakers who stand to benefit from nearby domestic lithium-ion battery resources, there are eight major corporate defense and aerospace systems suppliers in the Huntsville-Decatur and Mobile areas who need a reliable and steady supply of highly efficient lithium batteries.
While EV maker Tesla does not yet have an automobile or EV truck manufacturing plant in the Yellowhammer State, the state could reap a portion of Tesla's profits from cars equipped with battery packs loaded with Alabama-mined and -processed graphite. The popular Model 3 Tesla 75 kilowatt-hour EV contains 200-pounds of graphite in its battery pack. The number of lithium-ion battery cells needed to manufacture a single Tesla Model S equipped with Tesla's "Plaid Pack" is 7,930 cylindrical cells that provide 99 kilowatt-hours of electrical energy units. The demand for the graphite required to make EV battery cells will increase steadily as consumers demand larger, higher-driving-range-per-charge EVs in the future. It is projected that annual US sales of EVs will reach 15 million EVs in three years, according to Alabama Graphite.
The International Organization of Securities Commissions-regulated Benchmark Mineral Intelligence electric vehicle industry research agency states that there will be a serious global shortage of natural graphite beginning in 2023 and lasting until at least 2026, further increasing market demand for Alabama graphite.
"When this plant is operational, the Alabamians employed here will be helping produce one of the most critical minerals of today's modern economy," Ivey said. "These men and women will be a part of something transformational for our state and nation's economy, but the world is right here, in small-town Alabama."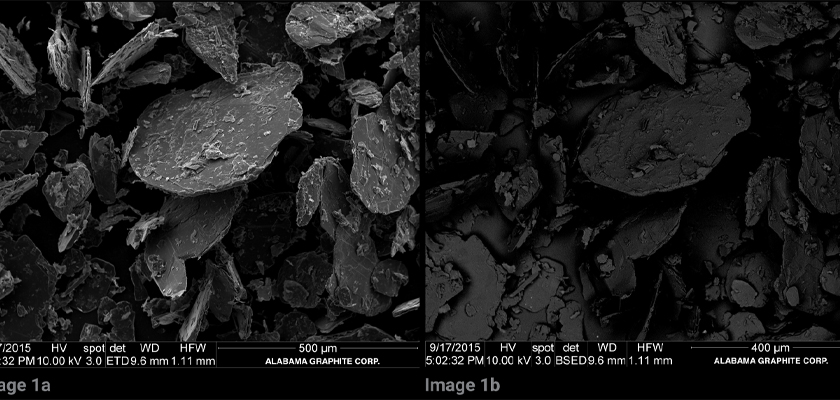 Why Alabama graphite is so rare
While it is possible to create synthetic graphite, making synthetic graphite is more expensive and the manufacturing process to create it causes more greenhouse gas emissions than processing natural flake graphite for batteries does.
With millions of future EVs needing thousands of lithium-ion batteries, raw and finished battery material suppliers are scrambling to locate and exploit the materials they need to supply the anticipated demand. There are two major deposits of the mineral graphite in the United States, and Alabama has the easiest one to access and mine. The other one is in a geographically rougher and much less accessible site in Alaska. The Alabama graphite is a desirably weathered deposit of horizontally layered sheets of relatively soft rock, flaky in composition and blackish in color. Interestingly, both diamonds and graphite are 100% comprised of the element carbon, but because of the different ways those minerals were formed beneath the Earth's surface, diamonds are the hardest (Mohs hardness scale 40) rocks in existence while graphite is one of the softest (Mohs hardness scale 1).
From the latter decades of the 19th century until the mid-20th century, graphite was commercially mined in central Alabama's graphite belt, but it was mostly during World War I and World War II that mining operations there were more robust than they were during peacetime. Currently, Westwater's new form of "black gold" is required to manufacture battery-grade graphite. Potter responded to President Biden's Defense Production Act executive order by stating, "We are in the construction phase of our Kellyton, Alabama graphite processing plant. The United States is heavily dependent on imports of graphite, especially from China. We are proud to have a domestic graphite project in Alabama and in the United States."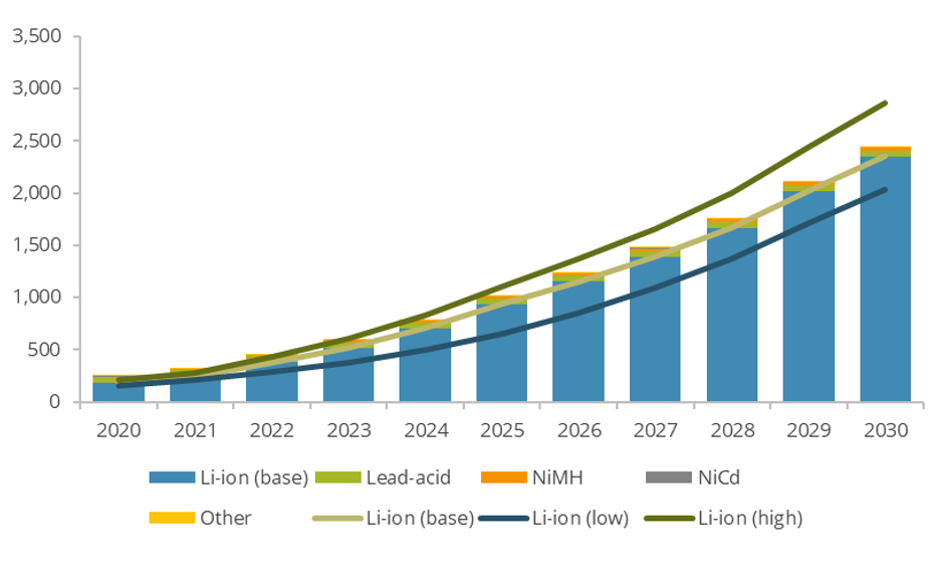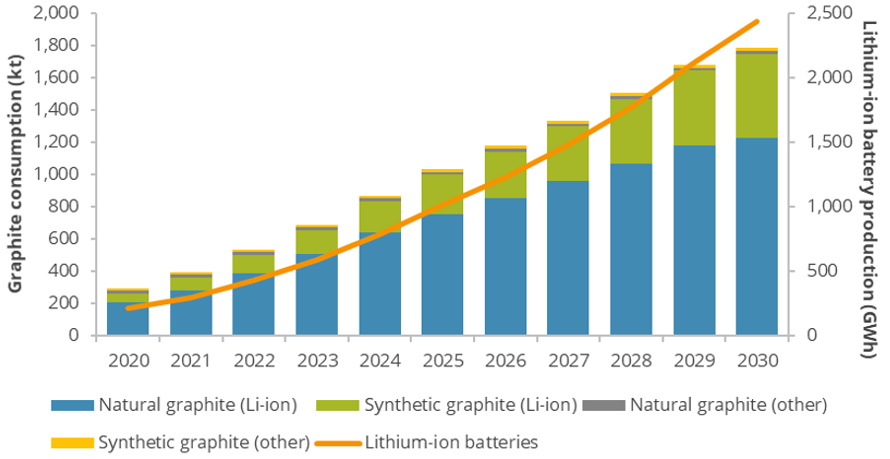 Previous
Next
Sustainability and safety
A statement issued by Alabama Graphite pointed out that Alabama Graphite will utilize a sustainable and "safer and more environmentally friendly [process]" than China uses to process raw graphite into lithium-battery grade anode material. China is known to use a hydrofluoric acid-based process that produces more environmentally damaging residuals and uses more water than the Alabama processing facilities will produce and use. The raw Alabama graphite will be processed into coated spherical purified graphite - high-performance anode material for lithium-ion batteries, purified micronized graphite conductivity enhancer for all types of batteries, and delaminated expanded graphite that improves electrical conductivity for batteries made for smartphones, computers, and other electronic devices.
While the large Alabama graphite mining operation is not anticipated to be fully running until the year 2027, Alabama Graphite will begin processing non-China sourced graphite at the new processing plant around the end of this year if the company proceeds on schedule.
To connect with the author of this story, or to comment, email [email protected].