MONTGOMERY — Two congressional Republican incumbents in Alabama might soon be campaigning against each other.
On Tuesday, members of the Permanent Legislative Committee on Reapportionment met to begin a series of meetings to consider how to redraw the state's congressional maps. Gov. Kay Ivey announced the special legislative session on Tuesday to redraw congressional maps after being compelled by a Supreme Court ruling. The session is slated to start on July 17.
Earlier this month, the Supreme Court of the United States (SCOTUS) upheld with a 5-4 vote a lower court's decision to require the Alabama Legislature to redraw the congressional districts to include a second largely or majority-black congressional district.
Alabama's seventh congressional district is currently the only majority-black congressional district in Alabama. It is held by U.S. Rep. Terri Sewell (D-Birmingham).
One proposal supported by various plaintiffs in the redistricting lawsuit who spoke at the hearing would make major changes to congressional districts in southern Alabama. Under the proposal, the first congressional district would stretch from as far west as Mobile County to as far east as Houston County. The second congressional district would lose Autauga and Elmore Counties and stretch from Washington County and the northern part of Mobile County to the eastern border counties of Russell, Barbour and Henry Counties. All of Montgomery County would be in the second congressional district.
Under the plan, the seventh congressional district would have a 55% black population. The second congressional district would have a 50.55% black population.
VRA Plaintiffs Remedial Map by Caleb Taylor on Scribd
Evan Milligan, a plaintiff in the redistricting lawsuit against the state of Alabama, said at the public hearing on Tuesday their map "doesn't touch the northern part of the state."
"The map that we're producing actually keeps whole the 18 counties that form the core of the Black Belt. They're either placed in district seven or district two of our remedial map so that addresses the cracking problem," Milligan said.
James Blacksher, a redistricting attorney, discussed a different map proposal at the hearing that would instead create congressional district six into the second majority-black district by creating a single district out of Jefferson and part of Shelby County.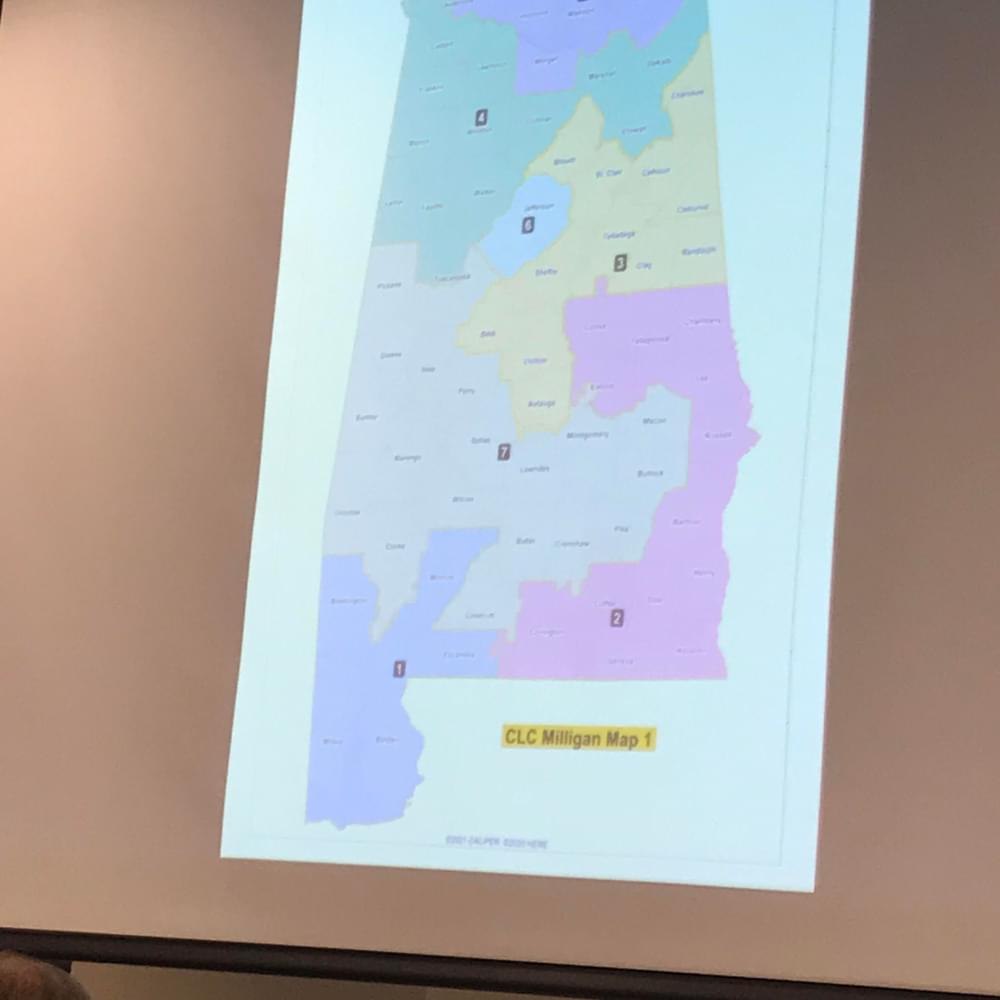 The first congressional district is currently held by U.S. Rep. Jerry Carl (R-Mobile). The second congressional district is currently held by U.S. Rep. Barry Moore (R-Enterprise). The sixth congressional district is currently held by U.S. Rep. Gary Palmer (R-Hoover).
During an interview with Mobile radio FM Talk 106.5 on Monday, Carl said he was disappointed in the Supreme Court of the United States's decision in the redistricting case and how it may pit him against Moore in an upcoming election.
"They're supposed to be conservatives," Carl said. "We spend so much money and time telling people not to base your decision on the color of someone's skin, and that's what this is all about. It's all about the color of someone's skin. They should've pushed back on that and pointed that out, but they didn't so we've got to live with what's coming. What's coming is redistricting. We don't know right now if it's going to pit us against Barry Moore who is the Congressman in District 2 now. Barry and I are good friends. We're on the Whip team together. It's never a good situation when you have to run a member on member. If it works out and Barry and I are not running against one another because of redistricting, if it's not us then it's going to be Gary Palmer and Mike Rogers will be put in the same district together so they'll have to run against one another. That's really the only two options. The rest of it is just moving the lines."
A spokesperson for Moore didn't return a request for comment on Tuesday. The next reapportionment committee meeting is scheduled for 1:30 p.m. July 13 at the State House.
To connect with the author of this story or to comment, email caleb.taylor@1819News.com.
Don't miss out! Subscribe to our newsletter and get our top stories every weekday morning.