Ready. Set. Hook!
A different kind of fishing tournament is baiting anglers into Alabama.
"There wasn't going to be a tournament trail here in North Alabama, so I jumped in," said Lisa Haraway.
Haraway is the tournament director for the North Alabama Catfish Trail (NACT). She is also the administrative assistant for Cabela's King Kat Tournament Trail.
According to Haraway, though bass fishing is still dominant, catfishing is becoming more prominent in professional fishing.
"It's just now really coming up," Haraway said. "There're catfish tournaments all around the world.
"... If you sit back and watch the catfish community grow, it's literally went from 10 boats at mom-and-pop tournaments up, you know, to 40 to 100."
North Alabama fishing
The NACT features multiple lakes in the northern half of the state, such as Wheeler, Wilson, Guntersville and Pickwick lakes.
"North Alabama fisheries, out of all the catfishing industry, this is where it's really targeting monster blue catfish which are going to range from over 60 to 100 pounds and huge flathead," Haraway said. "... People come here on vacation year-round just to come fish Wheeler Lake and Lake Guntersville."
Stepping up another level
Originally from Athens, Haraway didn't grow up fishing. She said her husband got her into it, and they started a bait company together.
"We [were] catching bait for everybody finishing these tournaments," Haraway said. "One day, I said, 'Let's start fishing them.' It went from a bait company to us fishing."
Haraway and her husband won the Mississippi River Monsters tournament twice, once in 2019 and again in 2021. She also won Lady Angler.
"Then I decided I wanted to step up another level," Haraway said. "I wanted to be a tournament director."
After another tournament trail in North Alabama shut down, Haraway took over by establishing her own trail under a new name.
"As far as I know, I'm the only lady who runs a catfish trail year-round," Haraway said.
The NACT began in January and has already held four tournaments with six to go. The fifth tournament will be held Saturday, May 28, on Lake Guntersville.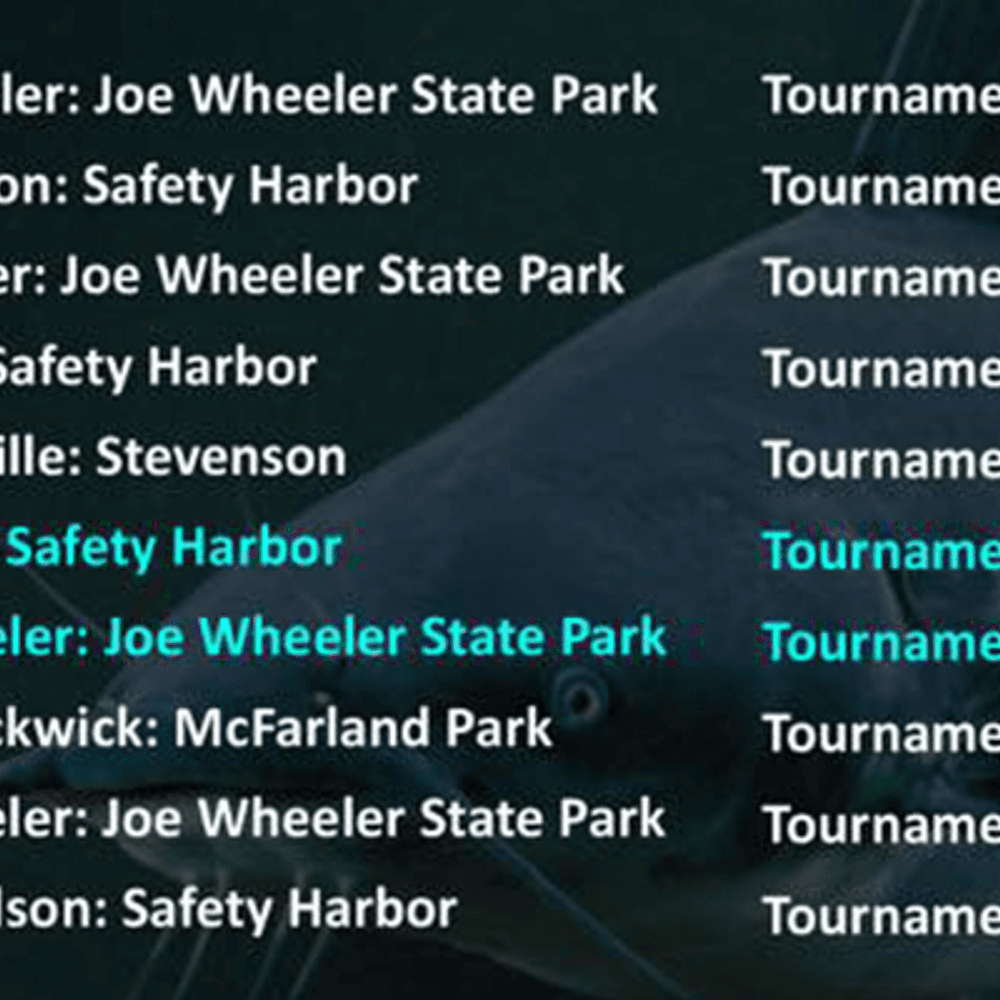 The NACT tournaments, so far, are averaging over 30 boats, according to Haraway.
Haraway said people have come as far as Kansas to fish in NACT tournaments.
NACT tournament season
North Alabama Catfish Trail tournaments run from January to June. Haraway said they take July off because the catfish go into spawn during that time of year and because of the high temperatures.
The tournaments will start back in August, and the last one will be held in November.
A family-friendly environment
Haraway said she encourages professionals, children and women to fish.
"We offer families to come," said Haraway. "We offer beginners to come. We offer the youth to come."
The largest fish caught so far at a NACT tournament was caught on Wilson Lake by 19-year-old Jackson Mitchell. The fish weighed in at a whopping 83.25 pounds.
Mitchell, from Russellville, said he fished the tournament with his father, who is a guide on the Tennessee River. He and his father have been fishing tournaments together since he was young. They fish mainly for catfish but also for "just about everything" else.
Mitchell said the 83-pounder was the biggest fish he's ever caught. He and his father will be fishing in the NACT tournament on Lake Guntersville this weekend.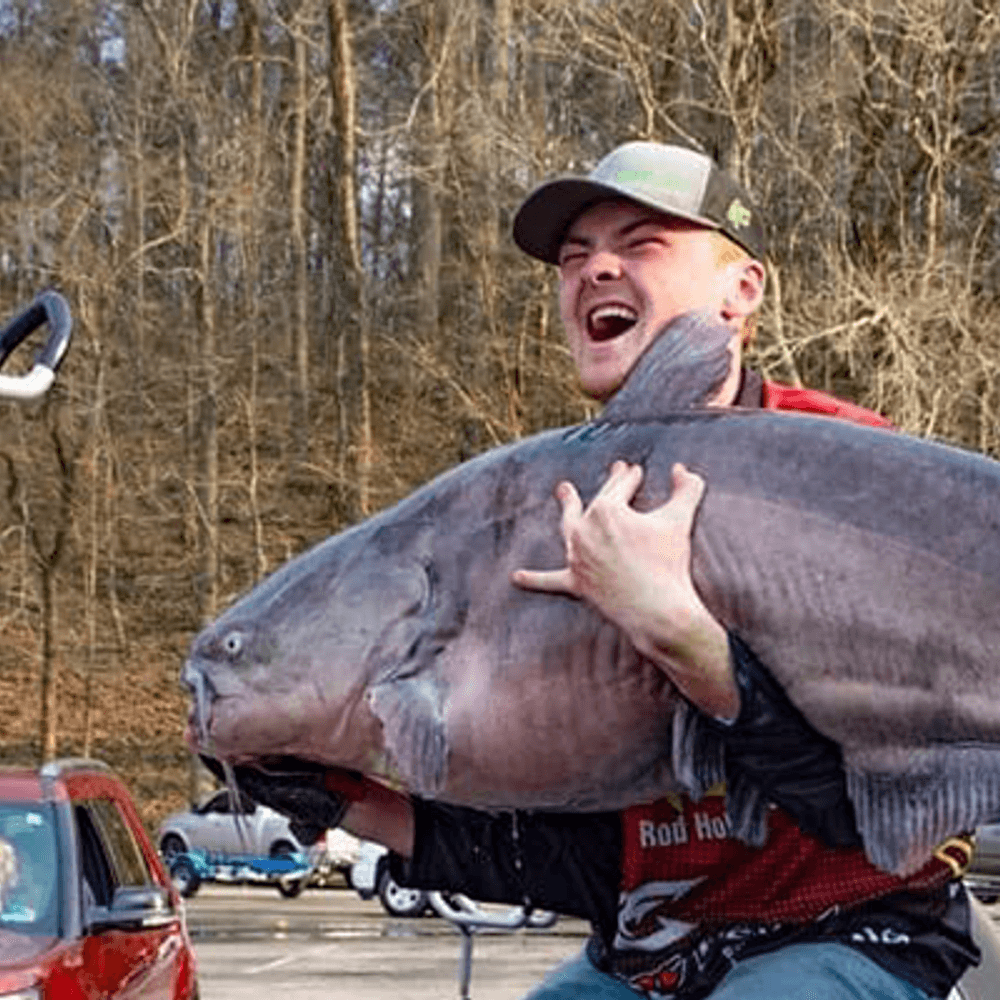 "Anybody's welcome to come, and we're trying to get it to grow even more," said Haraway. "…I've had so many new anglers… that's what's been a blessing to me on my trail."
Rules and awards
Anglers can sign up for the tournament through American Catfish Association. There are no qualifications to participate in the North Alabama tournaments, but there is a $130 entry fee.
Haraway said the NACT strictly enforces adequate live wells with circulation oxygen and supports "CPR: Catch, photo and release."
"Your fish have to be healthy to weigh in," Haraway said.
The entire list of rules can be found on the NACT's Facebook page, where interested viewers can also stay up to date with tournament news and watch live weigh-ins.
The catfish trail has a points race at the end of the year with an overall winner and a ladies' division.
Tournament winners are awarded prizes, and final awards will be given out at the end of the year. First, second and third place winners will receive cash prizes with the first place winner typically taking home over $2,000.
To connect with the author of this story, or to comment, email [email protected].
Don't miss out! Subscribe to our newsletter and get our top stories every weekday morning.