For decades, southbound beachgoers headed to Fort Morgan, Gulf Shores or Orange Beach coming from the north on Interstate 65 have been directed onto what is called Gulf Shores Parkway or Alabama Highway 287. From there, traffic continues onto Alabama Highway 59 through central Baldwin County, where tourists have the option of continuing on Highway 59 to its terminus in Gulf Shores or to several existing access points onto the Baldwin Beach Express or the Foley Beach Express that terminates just north of Orange Beach on Canal Road, also known as Alabama Highway 180.
Currently, the existing Baldwin Beach Expressway begins at Interstate 10, known to the locals as the Buc-ee's exit, which is northeast of Robertsdale.
However, local officials would like the route extended north, passing to the east of Bay Minette and beginning at Interstate 65, near the Baldwin County mega site. Such a route would divert beach traffic away from Bay Minette, Loxley and Robertsdale and could help ease the traffic woes encountered by local Baldwin County residents on a daily basis.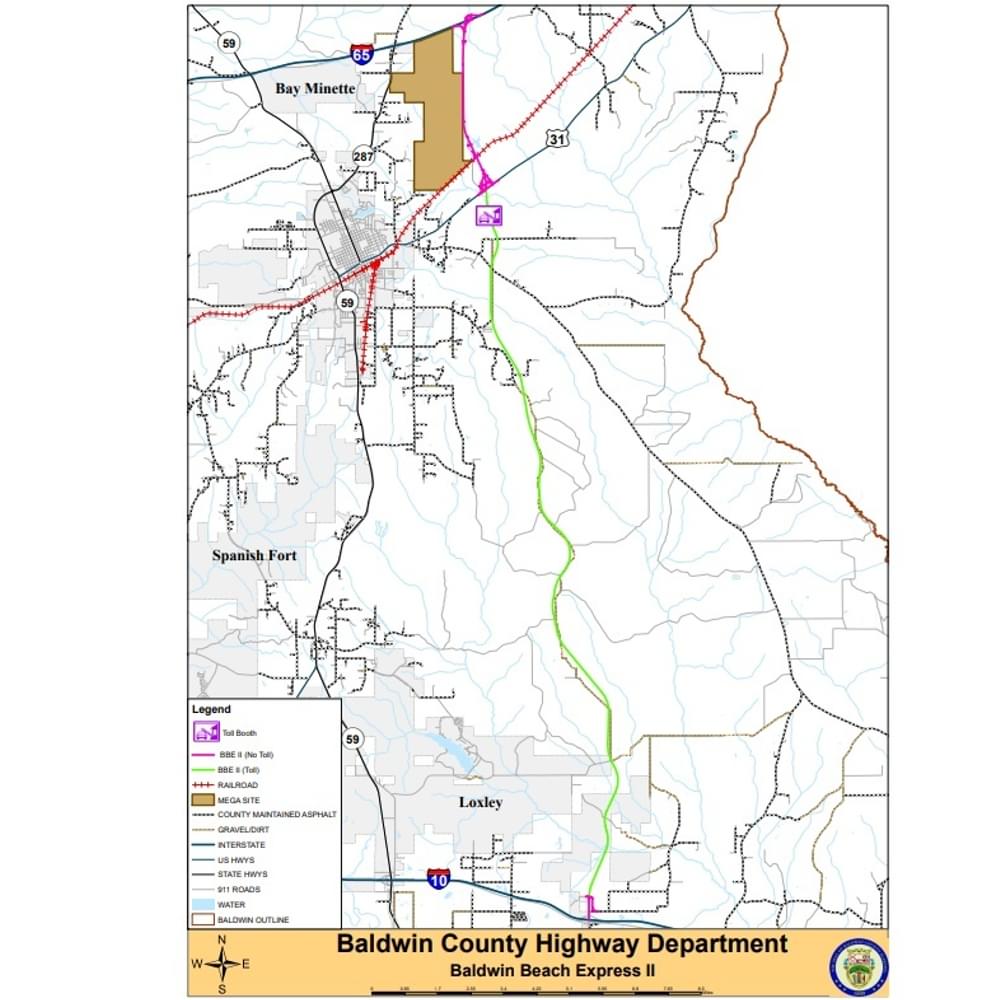 The challenge for those local officials has been securing the financing for the proposed 24-mile route.
On two occasions, most recently in 2020, voters defeated a proposed Baldwin County toll authority.
Despite the setbacks, State Sen. Chris Elliott (R-Josephine) insists the project is still something he and other Baldwin County elected officials were working toward completing.
During an appearance on Mobile radio FM Talk 106.5's "The Jeff Poor Show," Elliott explained why they continue to pursue the route's construction.
"That is still a thing," Elliott said. "That was the plan long-term, and it continues to be the plan, eventually. Of course, we've had two now-failed referendums to allow Baldwin County to establish its own toll authority to help pay for that project. The idea is that road would be used primarily by tourists coming down [Interstate] 65 to kind of peel off and get down to the Beach Express to get to the beach quicker. Each time the push has been made to set up a toll authority to pay for that project has been met with resistance. Could be some blowback from the I-10 project or something else. But we continue to try to look for ways to try to solve transportation problems — not just for our locals but to try to move our tourists around a little bit better, so they don't impact our locals."
The most recent estimate, according to Elliott, had the project's price tag at $250 million, but that may have increased due to the impact inflation has had on raw materials.
He also reminded listeners the current proposed route is adjacent to the mega site near Interstate 65, which includes a recently announced $2.5 billion low-carbon recycling and rolling plant set to open in 2025.
"There's also an interesting wrinkle in that it borders the new Novelis project at the Baldwin County mega site," Elliott continued. "So that's obviously a very big deal, as well. I know at least the very north portion of that road is important to Novelis and their continued expansion there years down the road. We continue to look at that as a much-needed piece of infrastructure."
To connect with the author of this story, or to comment, email jeff.poor@1819News.com.
Don't miss out! Subscribe to our newsletter and get our top stories every weekday morning.