Whether U.S. Rep. Gary Palmer (R-Hoover) wins the race for Speaker of the U.S. House or not, they all know he is there. He is trying to make a difference, win or lose.
About an hour before the House GOP Conference began meeting at 6 p.m. CDT Monday, Palmer challenged all those running for Speaker, asking his fellow contenders to commit to five principles.
The "Palmer Principles" were on a political "push card" distributed to all Republican House members.
Palmer is one of nine Republican congress members who qualified to run for Speaker before the deadline of noon October 22.
The push card was titled PALMER PRINCIPLES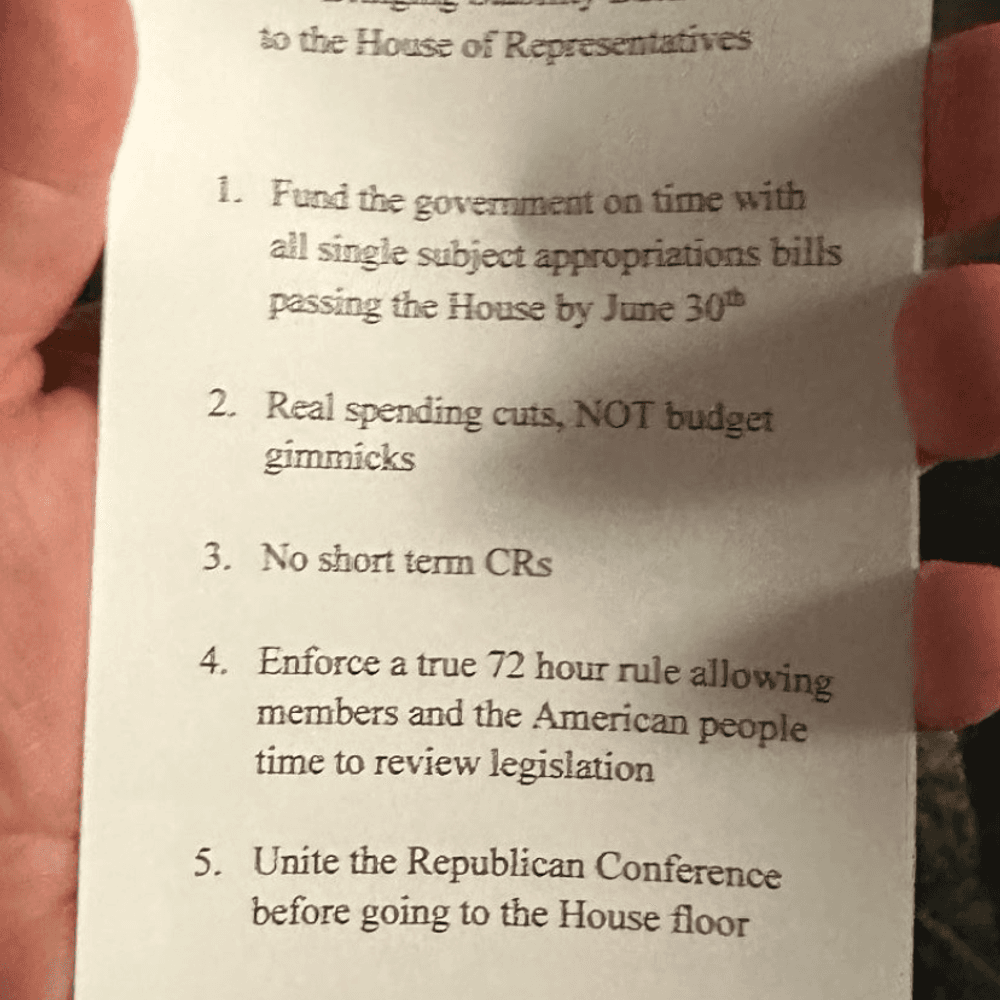 Palmer's five points are:
1. Fund the government on time with all single-subject appropriations bills passing the House by June 30.
2. Real spending cuts, NOT budget gimmicks.
3. No short-term Continuing Resolutions.
4. Enforce a true 72-hour rule allowing members and the American people time to review legislation.
5. Unite the Republican Conference before going to the House floor.
This is not the first time that Congress members have heard from Palmer. He currently serves as the Republican Policy Chair, where he's earned a reputation as a "policy guy." The chairmanship makes him number five in the pecking order for Republican congress members.
The Republicans went behind closed doors Monday to hear presentations from each of the nine contenders for the Speaker post. They presumably took Palmer's five principles with them.
"Congress has been kicking the can down the road since before I was elected. We don't need a person or a personality, we need a plan," Palmer said.
"The American people deserve a Republican Conference that is unified, transparent, and committed to the job. Before we vote Tuesday, every candidate should commit to these principles."
Palmer Principles are commonsense ideas that will bring stability to the House of Representatives.

Read more about them below⬇️ https://t.co/alG7Z0GcBT pic.twitter.com/67tPE4KW8n

— Gary Palmer (@USRepGaryPalmer) October 23, 2023
Palmer called for deadlines on spending bills to keep the government open and funded without depending on continuing resolutions or omnibus spending bills, both of which have opposition in the GOP.
He also called to "decentralize the legislative process and prioritize individual members' policy priorities" in uniting the conference before a House-wide vote.
GOP congressional unity holds particular importance now as House Republican candidates for speaker struggled to maintain enough votes in their own conference to win a House-wide vote with no Democratic support.
Judiciary Chairman Jim Jordan (R-Ohio) fell short in three House votes for speaker after becoming Republicans' speaker-designate, not reaching the 217 votes necessary. The GOP Conference then removed him as their designate Friday.
The House GOP Conference is expected to agree on their Republican designee Tuesday or Wednesday. After that, a vote of the full House can elect a Speaker if a majority of votes is achieved. The House has been without a Speaker since October 4 and cannot transact business.
The author, Jim Zeigler, is a retired Alabama Public Service Commissioner and State Auditor.
You can reach him for comment at [email protected].