A group of concerned parents has lodged a complaint against the Madison City Schools Board of Education for allowing the promotion of LGBTQ+ materials during school hours and activities.
On August 26, after a new state policy barred teachers from discussing sexuality and gender identity with young students, Superintendent Ed Nichols instructed teachers to remove LGBTQ+ pride flags from Madison City School (MCS) classrooms.
Nichols said the flags were taken down to prevent teachers from displaying personal views. Now, MCS teachers are only allowed to display the American or Alabama state flags or flags relevant to the curriculum.
Students are permitted to display flags during meetings for clubs like Gay-Straight Alliance, which is still present in MCS.
The parents' complaint says shortly after Nichols issued these instructions, students at Bob Jones High School began handing gay pride flags to other students during various school activities.
Flags were also reportedly distributed at James Clemons High School.
An email was sent to Principal Sylvia Lambert of Bob Jones High School, asking about the flags. She responded by saying students were allowed to freely distribute the materials, per Supreme Court precedent.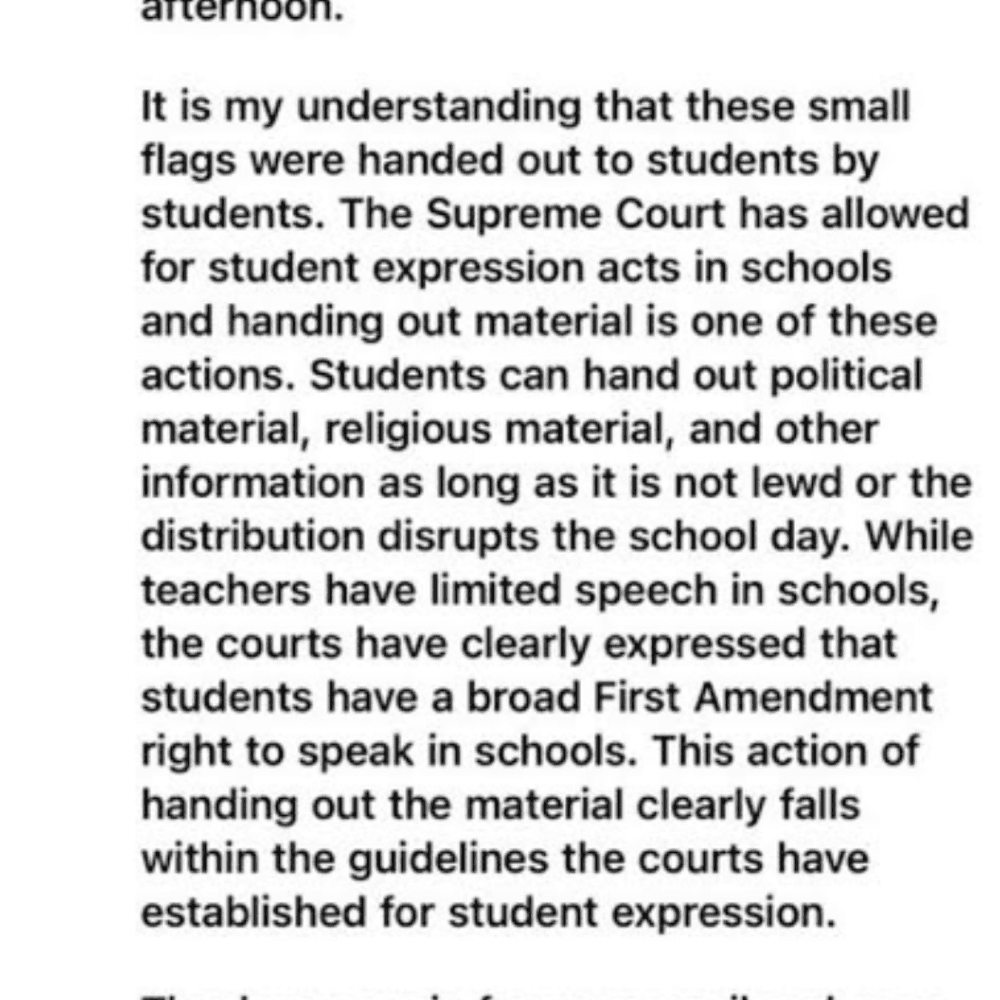 The complaint, which can be found in its entirety below, requests that the Madison City Board of Education (BOE) ban LGBTQ+ flags on school property and during all school-sanctioned activities.
"Granting students permission to distribute controversial materials transforms the act into school-sanctioned activity," the complaint reads. "As it concerns distributing the gay pride flag, school approval could be interpreted as condoning illegal sexual acts among underage students and potentially between teachers and students. Should any such illegal activity take place involving Madison City School students, school officials would face legal questions about steps they have taken to encourage or denounce illegal sexual acts."
The complaint gives several court precedents believed to be relevant in discerning the appropriateness of displaying pride flags or other means of advocacy.
The complaint also alleges that the MCS code of student conduct states: "Student media and content not approved by the Principal are not allowed, and the Principal shall not allow distribution of media publications without prior approval. The Principal monitors such media to assure that disruptions to the educational process of the school do not result from the contents or method of presentation or delivery."
The main crux of the argument is that sexually deviant behavior is implicitly included under the pride banner and exceeds the bounds of "socially appropriate behavior."
"In Alabama, 'deviant sexual intercourse' is a crime," the complaint reads. "Deviant sexual intercourse includes certain sexual acts engaged in between unmarried people. See, 13A-6-60(1)(2) Code of Alabama. The most serious such crime occurs when someone over the age 16 engages in deviate sexual intercourse with a person under 16. The majority of Madison City School students are unmarried, and below the legal age of consent. Although some may argue that, not all 'LGBTQ+' behavior is deviant, LGBTQ+ concerns sexual conduct and sex acts, and some of the included sex acts are illegal under Alabama law."
To connect with the author of this story, or to comment, email craig.monger@1819news.com.
Don't miss out! Subscribe to our newsletter and get our top stories every weekday morning