BIRMINGHAM — Connor Harby sits down to tell the story — his story — knowing it won't be easy.
It's a story of loss and heartache, for sure. But it's much more than that. It's a story of perseverance and determination—a story of how the love of a family can get you through an unimaginable amount of pain. And, somehow, football got intertwined.
"I think it helps to tell the story," said Harby, a redshirt freshman wide receiver at UAB. "I don't just go out to people and talk about it. But I'm not afraid to tell the story. If somebody says something, I'm open to tell the story. It's not something that I try to hide. I'm very open about telling what happened."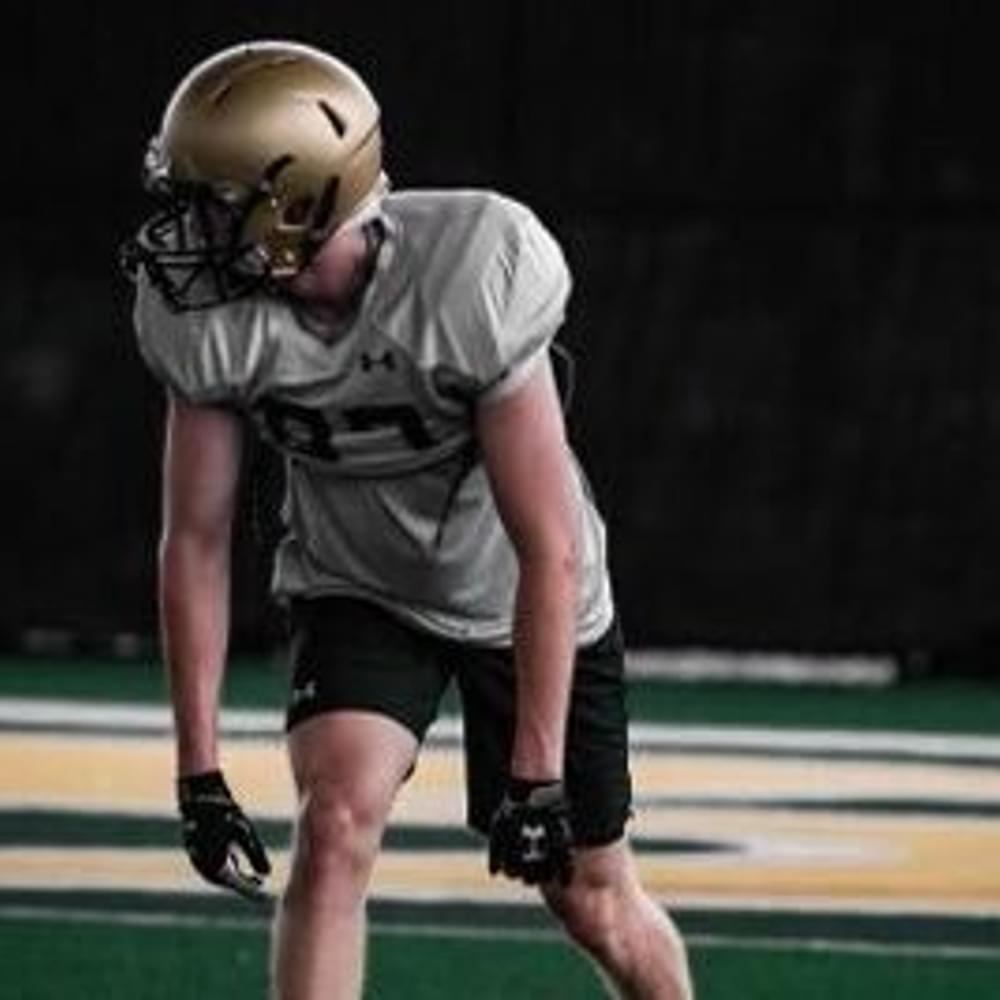 What happened was Harby lost his mother in a car accident in 2011, and nearly four years later, his father died of cancer. It left Connor and his two siblings without a mom and dad.
Harby is from Victor, New York, a town of 16,000 people just outside Rochester. In August of 2011, at the age of 8, he was on vacation with his mother, grandmother and his two siblings to Myrtle Beach. On the way home, while driving through the night, the family was hit head-on by a drunk driver traveling on the wrong side of the road.
"A drunk driver was reported," said Harby, who added he thinks they were in Virginia. "Police were trying to get the drunk driver but were never able to catch up to her in time. She was on the wrong side of the highway. We were almost to the top of a hill and hit head-to-head. My mom kind of turned the car a little bit, and it hit right on where she was."
Harby said he thought he had vivid memories of the aftermath, but they were different than what he's been told. He remembers someone saying to get everyone out of the car quickly because of a fire. What he was told, actually, is first responders got his grandmother and two siblings out of the car. Connor was in the back, covered by luggage.
"When the ambulance got there, they got to my grandma, and she said get the three kids first," Harby said. "They got my brother and sister out of the middle row, and they thought she was talking about my mom in the front seat. They didn't see me in the back. She kept saying, 'No, no, there's a third kid in the back.' That's when they found me."
His mother, Aimee, died at the scene. His grandmother, Connor said, still has trouble walking because of injuries suffered in the wreck. Connor had a concussion, brain bleed and broken ribs. He said he spent two to three weeks in a local hospital. His sister suffered broken bones, and his younger brother, who was in a car seat, had bruises.
"We at least got our vacation together," Harby softly says. "We have pictures and stuff from the vacation. We have that memory."
The kids weren't told until later that their mother had died in the accident. Connor was the last child to get out of the hospital. The kids finished the ride home with their dad, Rick, and stepmom.
"I remember my dad telling us that we were brave kids to get back in the car and willingly finish the drive," Harby said. "I don't remember being scared to get back in the car."
They went back to a tight-knit community that embraced them. The kids moved in full-time with their father and stepmother. Before the family vacation, Harby joined a football team for the first time. They had begun practice but had yet to play a game. Because of the injuries suffered in the crash, he was told he would never play contact sports. Baseball, at the time, was his favorite sport. He resumed playing after his injuries healed but had to wear a helmet at all times.
Two years later, his father began a battle with melanoma. About two years later, on May 15, 2015, his father died of the disease. Once again, at a young age, he had to figure out how to move forward.
"That one was probably more difficult," Harby said. "Losing my mother, I was so young, and it just happened right away. My father had cancer for two years. It was something that built up, built up. When the end finally came, I was older. I could process what was going on more."
After living with his stepmother briefly, Connor and his siblings moved in with his aunt and uncle, Michelle and Richard Gerger, and their children. Not long after, they moved to Florida.
"My aunt and uncle got a job in Florida," Harby said. "They thought this was a good move for us. They felt like, in New York, everyone saw us as the kids who lost their parents. They felt sorry for us. Moving to Florida was like a fresh start. I'd be just a normal kid again. Everybody would see me as just a normal kid and not feel sorry for me. At first, I was really upset when they told us, definitely cried a little bit. Leaving all your friends is definitely a hard move. In the long run, I could see. Now, I'm happy I did it."
He was in eighth grade at the time. He asked his aunt and uncle two years later if he could play football. They took him to the doctor and eventually got clearance to return to contact sports.
"We had a deal. If I got a single concussion, they wouldn't let me play anymore. It was just going to be done," Harby said.
He didn't enjoy team success. In fact, in his first season, they didn't win a game. But he was enjoying his time on the field. Before his senior year, though, he was thrown another curve. His uncle got a job at UAB Hospital. The family was moving again, this time to Hoover.
Football was a big selling point for making Connor happy about the move.
"They showed me that Hoover had this TV show and stuff," Harby said. "They tried to show me how good the team was. It got me a little more excited about how serious Alabama takes football and how fun it would be to come down here and play."
He joined the Hoover program but had a tough time getting on the field. He played some at wide receiver and special teams on a Hoover team that won a region title. At the team's banquet, Hoover head coach Josh Niblett was brought to tears talking about the impact that Harby made in his one year in the program. Niblett added he would love to have him for another season.
It was Niblett who helped Harby get into the UAB program. He called the UAB coaches and recommended they give him an opportunity to walk on. Harby became a college football player.
Now, once again, he has an uphill battle to reach the field. He spent the 2022 season on the scout team at wide receiver and will probably do the same thing this season. Perhaps he can find a way onto special teams.
"It's a lot of work," said the 6-foot-2, 180-pound Harby, who is a finance major. "It's fun, you just got to know how to balance football and your class load, make sure you get everything turned in and be at practice on time. I like it. I think I'd have a lot of free time if I wasn't a college athlete."
What he does have is the inspiration to make his parents proud.
"I got a picture of them. I look at them every single day," said Harby. "I like to think they're looking down and happy that I got the chance to play football, that I'm here doing what I love to do."
Don't miss out! Subscribe to our newsletter and get our top stories every weekday morning.