By Jim McDade
Made with Love in Alabama.
Grown in Alabama.
Made in the USA.
From farm to home.
At Moulton, Alabama's Red Land Cotton luxury linens headquarters, those four short phrases aren't just shallow catchphrases printed on product labels and advertisements. They are the core of a serious business philosophy that company co-founders Mark Yeager and his daughter, Anna Yeager Brakefield, followed as their entire workforce grew Red Land Cotton into a very successful company. The company went against the decades-long national trend of shutting down textile mills and downsizing finished domestic cotton production in favor of relying on cheaper imported textiles made from cotton grown in places like the Xinjiang region of China.
Textile mills were a lynchpin of local economies and everyday life in smaller towns across the entire South for generations before overseas competition flooded the US market with cheaper goods, imported goods that some claim are of dubious origin and inferior quality.
In an interview with 1819 News, Anna Brakefield pointed out the alleged human rights violations in China and the Coalition to End Forced Labour is among several organizations reporting that Uyghur people are forced to work as laborers in the Xinjiang cotton farming industry. The Coalition claims that "virtually (the) entire" international fashion industry is implicated in the abuses committed by Chinese industry in Xinjiang, the region where 84% of China's cotton is grown. The list of brands allegedly benefitting from the cruel treatment of Uyghurs cited by the Coalition can be viewed by clicking here.
Mark Yeager acquired the family farm in 1983 and named it Red Land Farm after the red Alabama soil so common across the Yellowhammer State. It's a family operation, according to Anna. Mark Yeager and his sons annually plant about 3,000 acres of upland variety cotton seeds in their Redland Farm fields.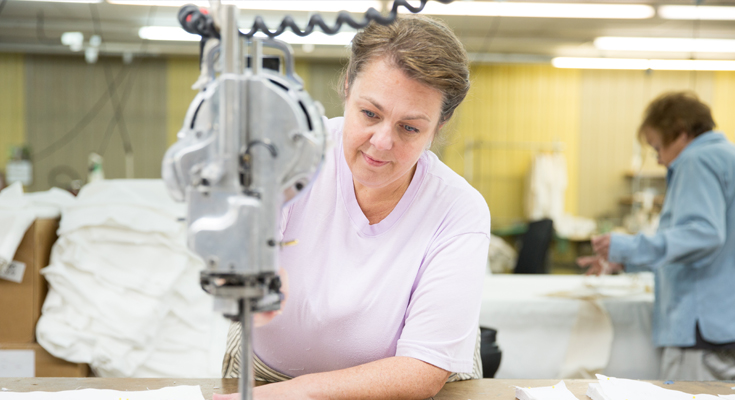 An Auburn University Marketing graduate, Anna spent several years working in the New York and Nashville marketing and advertising industries. During her holiday season trip back home to Moulton in 2015, her dad first approached Anna with a new old idea. The family would create a ''vertically integrated" direct-to-the-consumer cotton textiles business that would offer luxury finished products. The products would use raw cotton, exclusively sourced from the Red Land Farms, and the cotton would be processed into final products, entirely within the USA. In February of 2016, the supply chain issues for such an operation were addressed.
The original business plan was to make bedsheets because making bedsheets used more cotton stock than most other consumer-targeted cotton products. It turned out that finding textile mill partners in the South that could make bedsheets was a real challenge due to the width of bedsheets. After capable contract partners were found, the Yeager family operation was asked what kind of bed sheets they wanted to offer to the public. Mark Yeager had only the memory of the super comfortable bedsheets that his grandmother had owned during his early years. Still, a search of shop and department store bedding departments failed to find anything quite like his grandmother's vintage sheets. Nothing in the stores came close to matching his memories of grandma's fine linens.
Yeager remembered how sleeping between his grandmother's sheets gave him some of the best and most comfortable rest he had in his life. So, he asked the church Bible study class members if any of them currently possessed some vintage inherited bedsheets. A fellow Bible class member did indeed own a set of heirloom cotton linens and loaned them to Yeager, agreeing to allow him to send them to the cotton experts at Cotton Incorporated of North Carolina for thorough analysis. The results of that analysis provided Red Land Cotton with the prescription for exactly reproducing the high-quality vintage 1920s linens.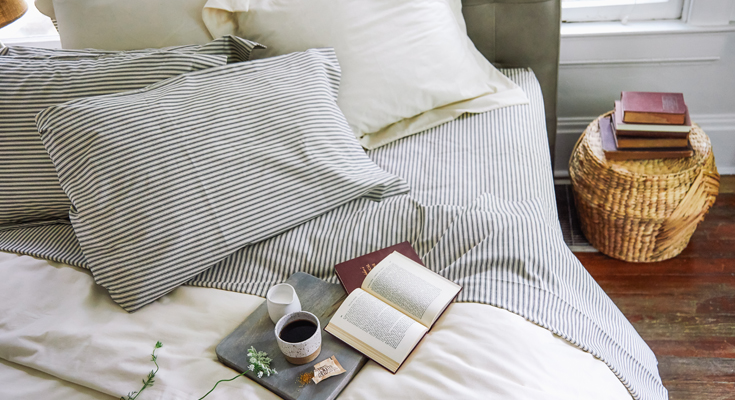 Anna Yeager Brakefield said her dad's decision to duplicate the quality of classic luxury linen is a source of pride. The "farm to home" approach of their operation separates Red Land Cotton linens from the rest in the textiles industry.
Redland Farm's cotton is ginned on-site in a building easily visible from across the cotton field adjacent to the Red Land Cotton store and warehouse operation on County Road 213 in northern Alabama's Lawrence County. After the cotton is picked and ginned, it is spun into yarn at a mill in Virginia. The yarn is then processed in Gaffney, S.C., before it is sent for finishing at mills in Sumter, S.C. or Flintstone, Ga. Next, the finished cotton is cut and sewn into sheets at a plant less than 10 miles from the Red Land Cotton store or at a newer facility in Tylertown, Miss.
Red Land Cotton towels and other products have their own supply chains in the United States.
The first Red Land Cotton bedsheets went to market just in time for the 2016 holiday shopping season. Despite some degree of pandemic-caused labor shortages at the out-of-state mills, Anna said the business continues to get better and better. The luxury Alabama linens have proven to be so popular that customers from as far away as California, Canada, and Australia are now enjoying their Alabama-grown Red Land Cotton products.
Red Land Cotton merchandise can be purchased from the Moulton store or by going to RedLandCotton.com.
To connect with the author of this story, or to comment, email news@1819News.com.