Although the two have had an adversarial relationship at times over the years, Retirement Systems of Alabama (RSA) CEO David Bronner declared State Sen. Arthur Orr (R-Decatur) his "hero" for the 2023 legislative session.
In the RSA's monthly newsletter, The Advisor, Bronner applauded Orr, who chairs the Alabama Senate's Education Trust Fund Budget Committee, for pumping the brakes on tax cut legislation.
Bronner had voiced his opposition to tax cuts. In this instance, Bronner called the impulse to lower taxation a product of a "sugar high from the one-time influx of federal dollars."
He credited the Morgan County Republican lawmaker for preventing what "could have been much worse."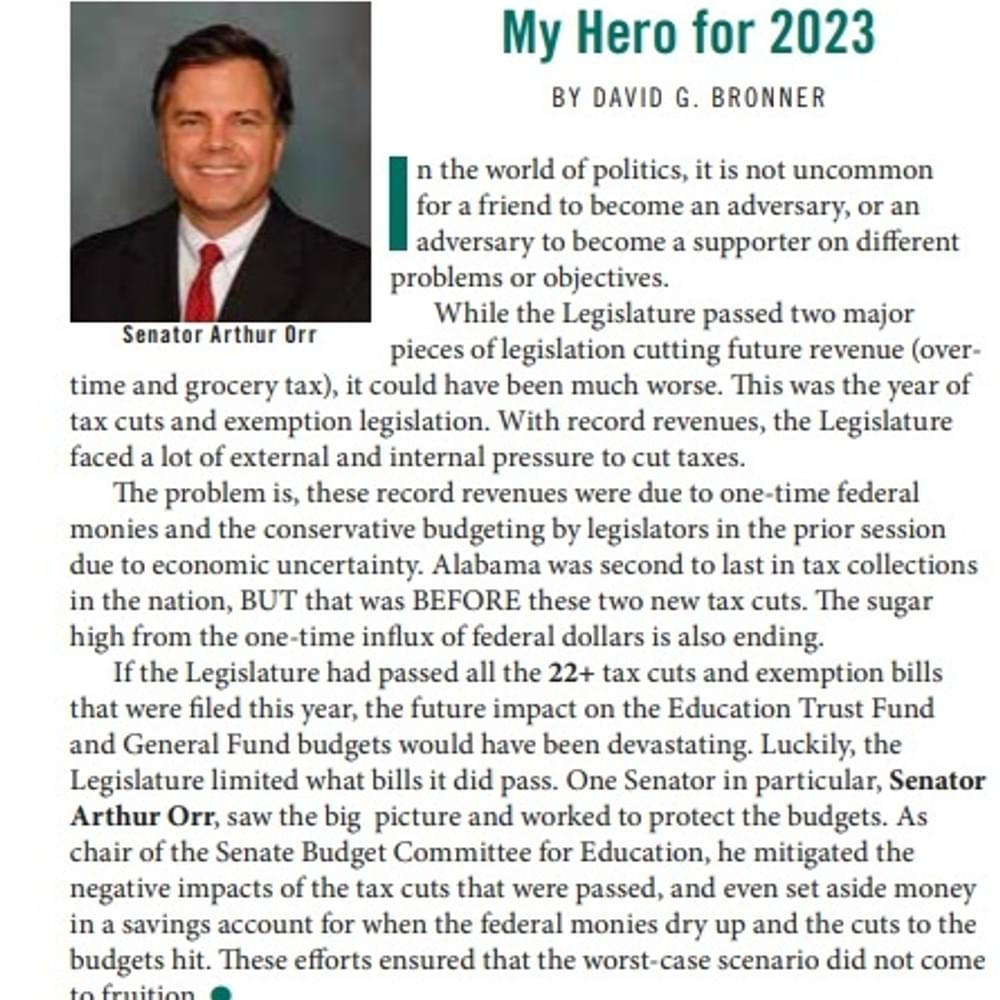 "One Senator in particular, Senator Arthur Orr, saw the big picture and worked to protect the budgets," Bronner wrote. "As chair of the Senate Budget Committee for Education, he mitigated the negative impacts of the tax cuts that were passed, and even set aside money in a savings account for when the federal monies dry up and the cuts to the budgets hit. These efforts ensured that the worst-case scenario did not come to fruition."
The Alabama Legislature passed two significant tax liability-reduction efforts in 2023, one brought by House Minority Leader Anthony Daniels (D-Huntsville) that paused income tax collection on overtime, and another that, in part, reduced the state's portion of the sales tax on groceries.
Jeff Poor is the editor in chief of 1819 News and host of "The Jeff Poor Show," heard Monday-Friday, 9 a.m.-noon on Mobile's FM Talk 106.5. To connect or comment, email jeff.poor@1819News.com or follow him on Twitter @jeff_poor.
Don't miss out! Subscribe to our newsletter and get our top stories every weekday morning.