Samford University in Birmingham has received the largest single donor gift ever received by an institution of higher education in Alabama — $100 million from the Marvin Mann estate.
Samford President Beck Taylor made the announcement during a May 12 news conference from the steps of Centennial Walk in the center of campus.
"This is a historic day in the life of Samford University, the state of Alabama and for the communities that Samford calls home," Taylor said. "We are humbled and overjoyed to be the beneficiaries of this transformational act of generosity. What an amazing day in the life of Samford University."
Mann, an esteemed alumnus and benefactor of Samford, died March 19. An April 2 funeral service was held on Samford's campus in Andrew Gerow Hodges Chapel.
Primarily for scholarships
Among his previous financial gifts to the university, Mann provided the funding to establish the Frances Marlin Mann Center for Ethics and Leadership in 2008. Named after Mann's beloved late wife, it is an academic center that facilitates the understanding and practice of Christian character, servant leadership and moral integrity in Samford students.
The Mann Center will receive $5 million of the estate gift as an addition to the existing endowment for future work. The remaining $95 million will be used for endowed scholarships for undergraduate and graduate students. University officials estimate Mann's gift will benefit more than 100 students each year.
"This endowment, once fully invested, is expected to provide approximately $3.75 million annually to support and expand access to individuals seeking a Samford education," Taylor said, noting university administrators are currently working to determine exactly how to invest the money in relation to existing endowments or creating new endowments. Four to five percent of the earnings from these investments will be used for the scholarships. The Mann gift brings Samford's total endowment up to about $470 million.
"This puts Samford in a new category of institutions that celebrate endowments in the half-billion-dollar range. Those funds will be available to perpetuity. That provides that stable foundation of support and [allows us to] confidently offer student scholarships each year because we carefully protect them.
"This extraordinary gift comes at exactly the right time for Samford as we chart a new and exciting course into the future, and it puts Samford on a new and stronger foundation upon which to build and excel," Taylor said. "Through this gift and throughout his lifetime, Marvin models for all of us, regardless of our financial capacity, regardless of our role in our community, what it means to support and love others. This is a day of celebration for our university, but it is also a day to celebrate the love and service of Marvin. We honor him and his family and will forever be grateful for this generous transformational gift.
"His gift represents not the capstone of support to this university, but rather it represents a catalyst for future investment in this special place that provides a unique and transformational, Christ-centered, high-quality education to its students, students who then in turn transform the families, neighborhoods, churches, cities and organizations they call home."
Encouragement for students to invest also
Samford SGA president Micaiah Collins shares Taylor's enthusiasm for the financial gift as well as the concept of how everyone can play a part. "My main job is to represent students and to make sure their voices are heard and make sure they know there is scholarship money available to continue to excel and thrive in this community and possibly an opportunity for others to be part of this community.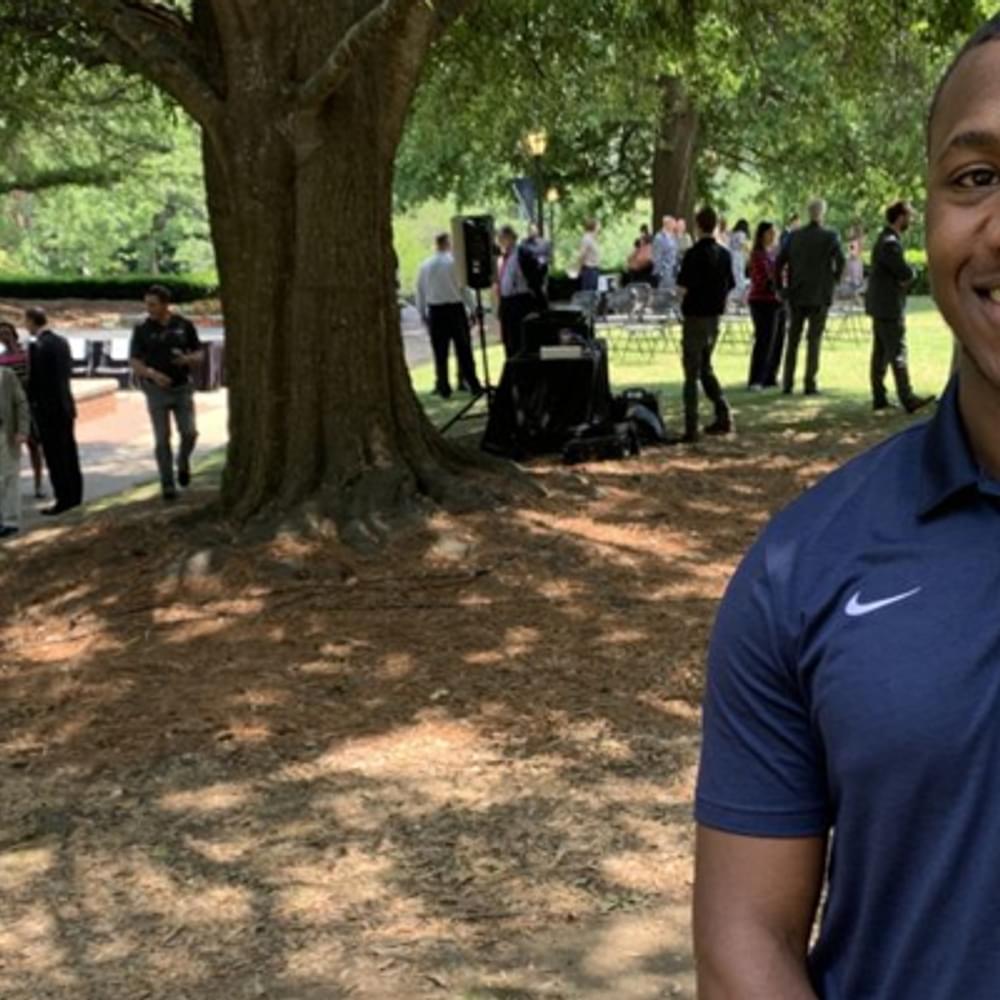 "Mr. Mann's gift makes me want to make sure we are investing in this community and investing in each other," Collins told The Alabama Baptist following the announcement. "Just like Mr. Mann can make a $100 million donation, we can do things, small things, to make it what it should be."
Mann, a Birmingham native and 1954 Samford graduate, worked 32 years with IBM before helping to found Lexmark International, Inc. in 1991, where he served as chief executive officer and chairman until 1999.
"From the day I met Marvin Mann, I knew that he would become a mentor and friend. His incredible success as a corporate executive was matched only by his humility, faith and care for others," Taylor said in a March 24 article on Samford's website. "Marvin's impact on Samford has been and will continue to be transformative as students benefit from the scholarships and centers in Marvin and his wife, Frances', name. Samford is stronger and lives into its mission more faithfully because of Marvin's love and commitment to this place.
"When I spoke with Marvin last fall, nearly 15 years after establishing the Mann Center, he continued to voice his desire to see Samford's students develop through virtue and character education," Taylor said. "He was an inspiration to me."
Committed to 'virtuous living, moral responsibility, ethical behavior'
Samford president emeritus Andrew Westmoreland, who serves as the executive director of the Mann Center, said, "Without doubt, Marvin Mann was one of the most significant of Samford's many esteemed graduates of the past 180 years. His impact will endure and expand as future generations of students live and learn at Samford."
The Mann Center is an endowed, university-wide unit that promotes student development and enriches teaching and scholarship in the university's 10 academic schools.
"Mr. Mann … wanted the programs to reflect the lessons of respect, integrity and virtuous living that came to be hallmarks of his own personal and professional development," Westmoreland said. "He wanted each student to be imbued with a sense of moral responsibility and ethical behavior."
The center provides resources to students, faculty, staff and Alabama nonprofits in order to promote the understanding and practice of positive character and servant-leadership. Mann's legacy and vision continues today.
Since its founding, the Mann Center has established more than 130 community partnerships, created 180 engaged learning courses and currently provides more than 30 weekly volunteer opportunities each semester.
Mann received several of the university's most esteemed honors, including Alumnus of the Year in 2004 and Samford's first Ethics-in-Business Award in 2006. The award, which was renamed as the Marvin Mann Ethics-in-Business Award, recognizes individuals who embody professional achievement and personal integrity, who display an uncommon commitment to leadership through service, and who have left their marks of influence on institutions and industries without compromising Christian virtue or charity. He also received an honorary doctorate in commerce from the university in 1993.
Platform personalities
Joining Taylor in the May 12 announcement were Bill Stevens, chair of the board of trustees; Randy Pittman and Betsy Holloway from the office of university advancement; Homewood Mayor Patrick McClusky and Birmingham Mayor Randall Woodfin.
Representing the alumni, Woodfin expressed gratitude to the Mann family and noted how the gift will ensure an opportunity exists for students to experience Samford well into the future. "We honor the gift of his life and generosity — for God, for learning, forever."
To learn more about the Mann Center, click here. To learn more about Samford, click here.
(Coverage by Jennifer Davis Rash/The Alabama Baptist with background reporting by Holly Gainer/Samford University)
This story republished with permission from TAB Media Group.
Don't miss out! Subscribe to our newsletter and get our top stories every weekday morning.