The Football Championship Subdivision (FCS) playoff carrot disappeared. The excitement over moving up a college football level and settling into some new facilities is reserved for someone else.
That's just part of reality for a group of 14 Jacksonville State senior football players. Jacksonville State head coach Rich Rodriguez makes sure that also becomes part of the motivation for everyone else playing and coaching for the Gamecocks this season.
"I told the team this a couple of times, we owe those 14 men to give our very best effort, coaches and players, so they have the greatest experience of their athletic careers," Rodriguez said. "We're not eligible for the playoffs, but we can win a conference. We want our 14 seniors to truly enjoy this. They've provided great leadership on both sides of the ball."
Eight of those seniors – offensive linemen Zack Cangelosi, Cam Hill and Ye'Majesty Sanders, linebackers Stevonte Tullis and Markail Benton, cornerback Yul Gowdy, safety Jeremiah Harris and kicker Brenton King – are listed as starters for Saturday's FCS Kickoff game against Stephen F. Austin at the Cramton Bowl in Montgomery. Two more seniors -Quarterback Zion Webb and running back Matt LaRoche - are listed as possible starters. Tight end Keishon Jarrett and wide receiver Ty Lyte III are second on the depth chart at their respective positions.
Gowdy earned All-American mention in 2018, while Benton, Cangelosi, Hill, Tullis and Webb have all earned all-conference honors at some point in their careers. All will play a big role in their final season.
Some were part of the Ohio Valley Conference championship teams in 2017 and 2018. Most were part of an Ohio Valley Conference championship team in the spring of 2020. However, there were also some difficult times, and they won't be part of the move into the FBS ranks as a member of Conference USA.
"It's hard for them," Rodriguez said. "Some of them have had two or three different position coaches. They got a new head coach. We're in transition. They won't be here when the new facilities are built, and we move to Conference USA. I had them over to my house, and we talked about that. I appreciate their leadership. Those 14 guys, whether they want to or not, when you're a senior, you're a leader. So far, we've gotten that from them. The season is the biggest test for that."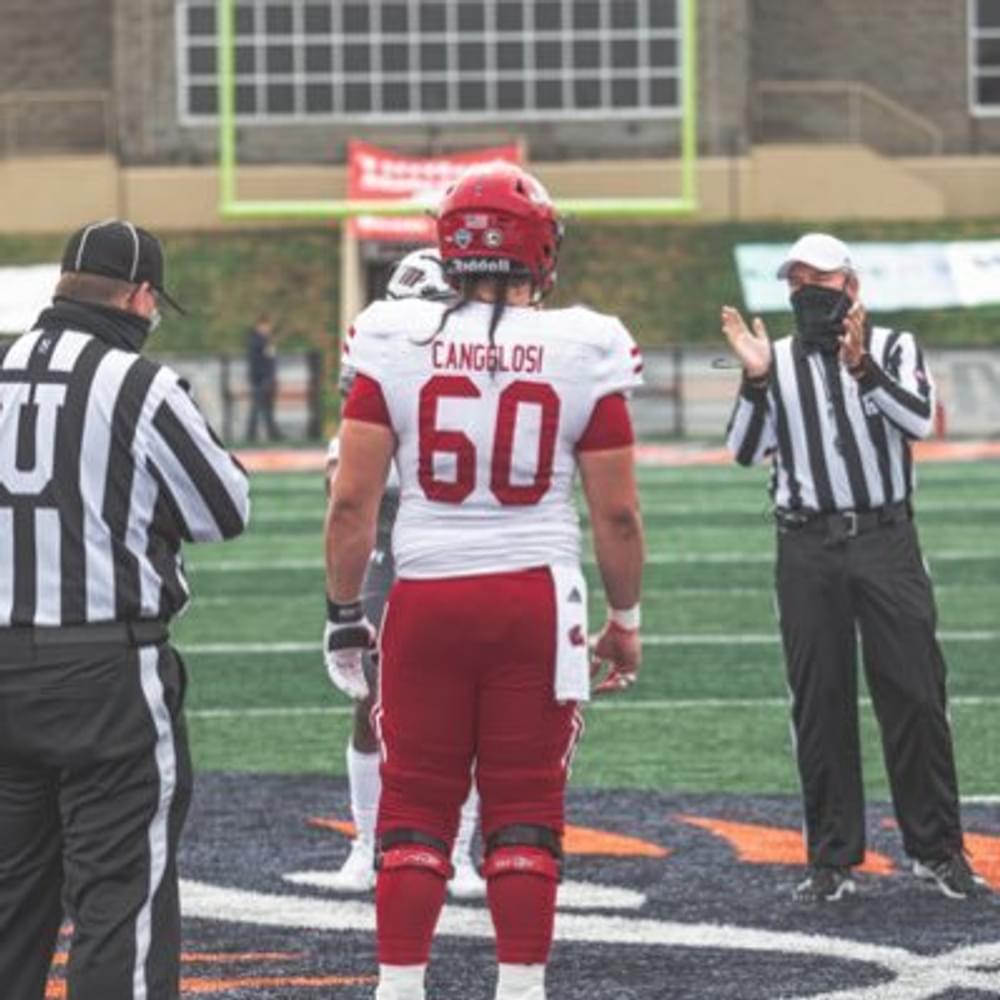 A transition in a senior's final season is never easy. All of them were recruited to Jacksonville State by former head coach John Grass and his staff. All have just one season of transition under Rodriguez.
"It's been an adjustment, but I think it's been a good adjustment," said Cangelosi. "There's a lot of accountability amongst the players. We're pushing for the same goal. We all want to do the best we can out there. The biggest thing I've picked up from (Rodriguez) is the idea of a hard edge. It doesn't matter how hard it is, it's going to be hard no matter what, so why don't you go out there and do your best?"
Tullis also mentioned the hard-edge theme instilled in the team by Rodriguez.
"I feel like that's important to me because the game of football is like life," Tullis said. "Things are going to come at you. Whether it's good days, bad days, you'll be able to push through it."
However, waiting at the end of that struggle won't be a playoff trip. The Gamecocks made the playoffs in six of eight seasons under Grass, including a spot in the 2015 national championship game.
Worrying about that can't be part of the plan, according to Tullis.
"A day at a time, a week at a time," Tullis said. "If you're climbing up a tall mountain, you don't want to look at the top of it because you feel like there's so far to go. I feel like we just put our head down every week, looking to win, looking to dominate. At the end of the season, even though we can't have any postseason play, as long as we do our job every week, we'll be fine."
To connect with the author of this story, or to comment, email [email protected].
Don't miss out! Subscribe to our newsletter and get our top stories every weekday morning.