The entire state of Alabama is at risk for severe storms Tuesday into early Wednesday. Tornadoes, damaging winds and large hail are all possible.
The National Weather Service (NWS) issued an enhanced risk for much of central and southwest Alabama and a slight risk for the rest of the state.
The system could move into the state from the west around 11 a.m., and the risk will last until 2 a.m. Wednesday for eastern areas. The greatest threat will be in southern and central Alabama. The NWS put areas south of Birmingham and north of Mobile at a three-out-of-five risk level.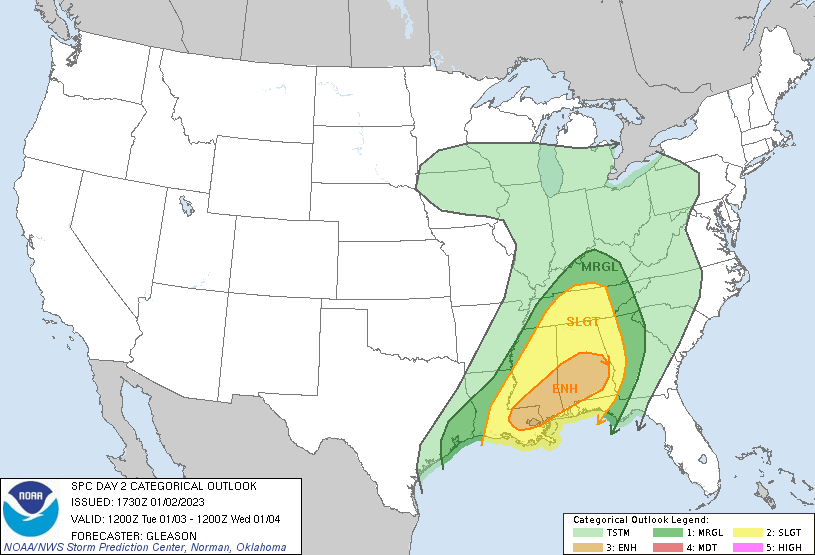 The system will bring more scattered storms than the usual line, so some areas will see sunshine throughout the day. Even though tornadoes are possible across the entire state, strong tornadoes, including EF-2 and stronger, are possible in the enhanced risk area.
A good bit of rain will come with the system, and flash flooding is possible. Precipitation will remain possible through Wednesday morning.
It is important to stay weather-aware throughout the day and evening hours Tuesday. Be sure to download a weather app to send you alerts and watch your local news for updates.
To connect with the author of this story, or to comment, email erica.thomas@1819news.com.
Don't miss out! Subscribe to our newsletter and get our top stories every weekday morning.