One weekend, the South Alabama football team was in Mount Pleasant, Michigan. The next weekend, they will be in Pasadena, California.
Want to guess where they chose to spend an extra day?
"I feel going out (to Southern California) a day early gives us the opportunity to do some of the sightseeing things," said South Alabama head coach Kane Wommack, whose team plays UCLA on Saturday at the Rose Bowl. "We're going to let our guys see the Pacific Ocean and let them tour the Rose Bowl a day early so that they get a feel for what that's going to look like. We're going to give them a chance to get some of those types of things out of their system, so that by the time we get to Friday, we're really operating with a 'business as usual mindset.' We're fortunate to be a morning practice team, so on Thursday before we leave, we're going to be able to get all the normal things done, so that it's an easy transition of travel."
Playing in the Rose Bowl is a special time for college football players. The Jaguars will have a roster full of players making their first appearance in one of the most famous settings in college football.
"It's a first-time experience for me," said South Alabama running back La'Damian Webb, a 5-foot-7, 208-pound Beauregard High product, who began his college career at Jones (Miss.) Community College. "I think there will be a lot of excitement and everybody will have chills. But, we are going there to do one thing only and that's to win."
The whole experience is a big part of the trip.
"I think it's going to be awesome," said safety Jaden Voisin. "You don't get to go to LA every day, so I think that will be a good experience."
Both teams enter the game with a 2-0 record. For UCLA, it's the second consecutive week that the Bruins will play host to a team from Alabama. Last week, the Bruins beat Alabama State, 45-7.
One thing the Jaguars won't have to face is a raucous crowd. UCLA's crowds in the first two home games were announced as 27,143 and 33,727 in a stadium that has a listed capacity of 90,888. Neither of the crowds appeared to be close to the announced attendance.
South Alabama's focus, though, is facing a Bruin team that is averaging 555 yards and 45 points a game and allowing 236 yards and 12 points per contest. Those numbers came against Bowling Green and Alabama State.
"Tempo is one of the bigger things that they do and we struggled with that last week," said South Alabama defensive coordinator Corey Batoon. "It's a great opportunity for us to continue to work on the things that we're putting on tape that we need to be able to take care of. They have some dynamic playmakers."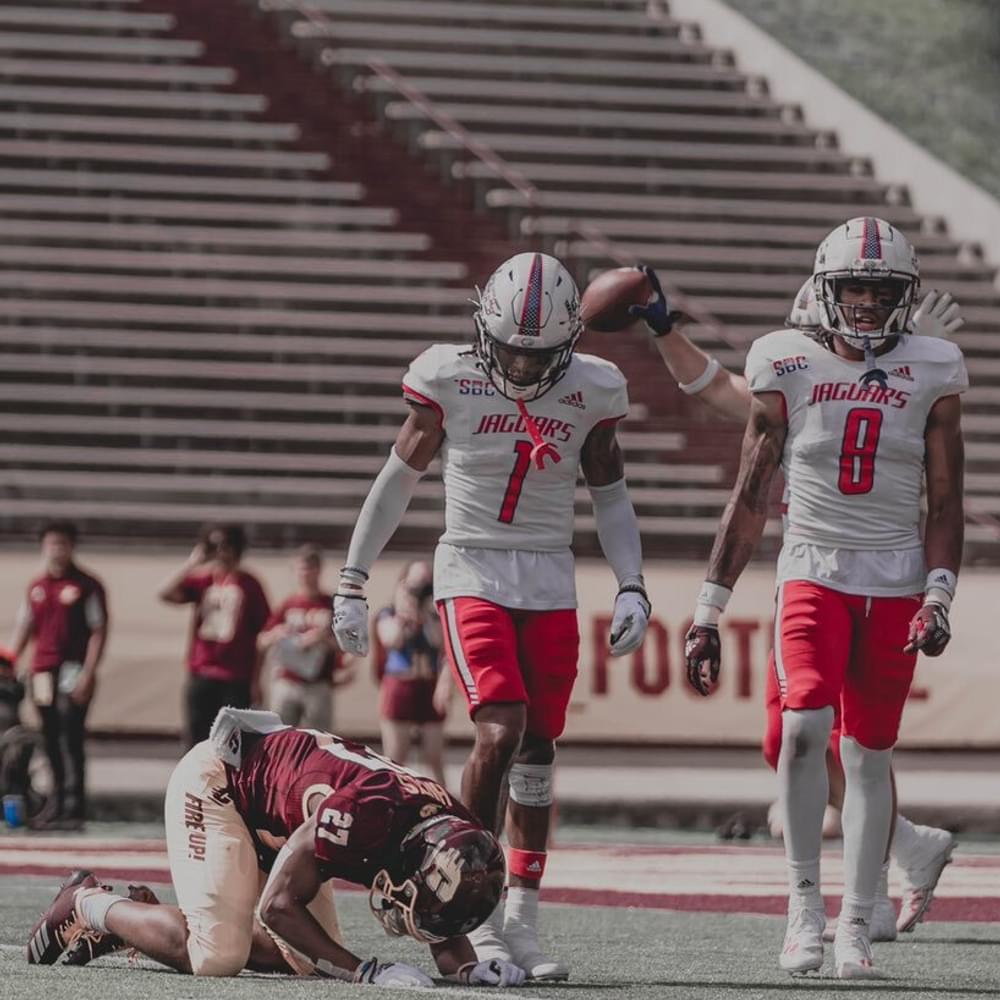 UCLA's defense has 15 tackles for loss and five sacks in two games.
"They have tremendous length, size, speed and are long at corner and up front," said South Alabama offensive coordinator Major Applewhite. "They run really well and can play man coverage. They play with good eyes; I think they have their eyes in the right place, and are seeing the right things. I think it's going to be a great challenge for us. They've given up 10 (points) and seven, and one of those touchdowns was off of a blocked punt so they're not giving up many points."
For South Alabama, it could be a chance to become the latest Sun Belt team to knock off a Power 5 team on the road.
"I thought it was a tremendous effort by our league," Wommack said. "You look at what Marshall, App State and Georgia Southern were able to accomplish. Some of those coaches are friends and guys I've grown to respect. We've talked about it a lot, but the Sun Belt Conference is working to establish itself as the premier conference in Group of 5 football right now, and it's pretty hard to argue that there is anyone else at the Group of 5 level playing any better."
However, he stops short of using that as motivation for his team this week.
"We talk about 'expectation' being more powerful than 'belief,'" Wommack said. "What I mean by that is 'belief' is something that Disney sports movies are made out of; believing you can be in a situation and accomplishing that situation. Expecting to be in big moments and producing in big moments is what we're going to be more focused on this week. I don't really want to point to what this team did, you can do this too. I don't think that's needed. We have what we have and I feel our best is good enough to go compete with anyone I see on our schedule this season."
To connect with the author of this story, or to comment, email steve.irvine@1819news.com.
Don't miss out! Subscribe to our newsletter and get our top stories every weekday morning.