A bill that sought to allow midwives to perform births after the mother has had a C-section is being indefinitely postponed by its sponsor in the Alabama House of Representatives.
HB164 by Rep. Debbie Wood (R – Valley) addresses the scope of midwifery in Alabama. The bill was presented by the Alabama Birthing Coalition (ABC) board. Wood has since said she would be removing her name as a sponsor after an incident of unrelated pamphleteering.
In Alabama, midwives are given rights by law to attend and assist in births conducted outside a hospital setting. However, their abilities and scope of practice are limited. One such limitation is the current law prohibiting licensed midwives from performing a vaginal birth after caesarian (VBAC) out-of-hospital.
HB164 would allow for licensed midwives to attend VBACs and provide birthing care in an out-of-hospital setting. The bill would apply only to midwives who have received state licensing and not to traditional midwives. Traditional midwives choose not to obtain certification or licensure due to religious, philosophical, or personal reasons.
"I don't want the bill to stop because I'm the one that has to clean up the mess and hear the stories from desperate moms," Brianna Barker, Alabama chapter leader for the International Cesarean Awareness Network (ICAN) told 1819 News.
Some have stated that VBACs can risk a rupturing of the uterus, thus justifying the need to ensure that VBACs are performed only in hospitals. Birthing advocates have said that the risk of uterine rupture is serious but often overstated, and no concern is given to mothers who have had traumatic hospital experiences.
"The hospitals are basically saying 'we mandate surgery here," said Barker.
According to Jessica Smith, President of the ABC, advocates have been met with staunch resistance from lawmakers, specifically with the leader of the House Health Committee, Paul Lee (R–Dothan).
"[Lee] was very dismissive of a mother I brought with me who wanted a VBAC," Smith said. "I don't think he was making the connection that a woman births best in a place where she feels safe, and not every woman feels safe in a hospital. I know that's hard to believe for a lot of people, but because of trauma experiences, that's just the reality of it. And when she tried to explain this to him, he was extremely dismissive and said that he would want his daughter to birth in a hospital where it was safe. No offense, but when a man thinks it's 'safe' because they have access to 'modern medicine,' that does not mean that it is a safe space mentally."
This week, things took a turn for proponents of the bill.
On Sunday, Feb. 20, some unidentified volunteers, who are not affiliated with ABC, allegedly posted flyers around Lee's hometown of Dothan, including on cars in the church parking lot that Lee attends.
"[Wood] told me to put the thing on hold three weeks ago, well before the flyers, then the flyers came," Lee told 1819 News. "They probably got the cart ahead of the horse. They had no idea that she had already put it on hold.
"When they come to your church, while you're in church and put them on your cars in the church parking lot, Yeah, they crossed a line," Lee said.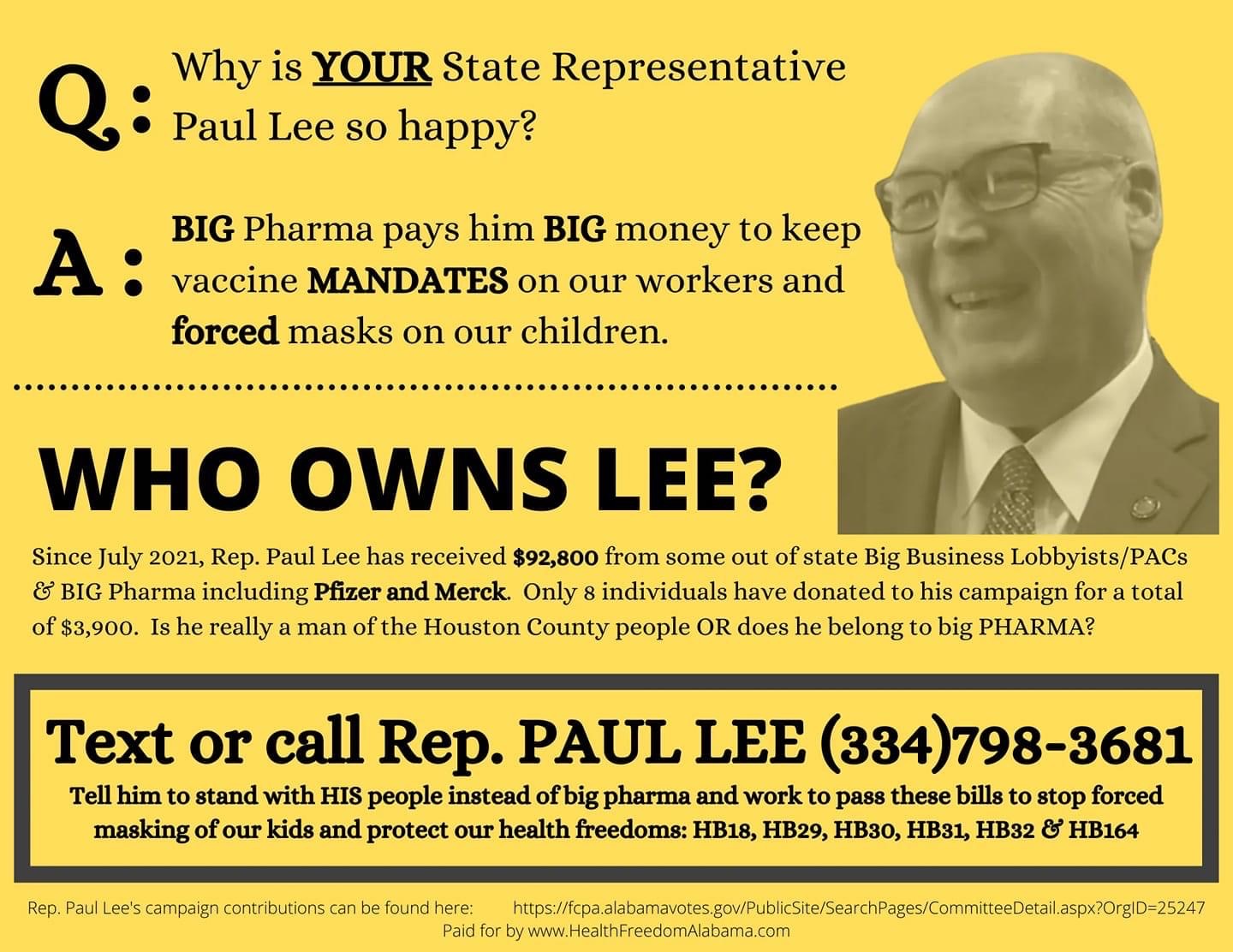 The flyer's text stated that it was paid for by Health Freedom Alabama, a grassroots organization in Alabama that advocates for healthcare choice.
The flyer made several allegations related to the COVID-19 vaccine and masking, none of which referenced the VBAC bill. However, HB164 was at the end of a list of other bills seeking attention.
The ABC, the Alabama Midwives Alliance, and ICAN have all denied being affiliated with the flyers and those distributing them. The flyers did not mention any of the birthing advocates pushing the bill.
Wood told 1819 News that she initially supported the legislation due to multiple stories she had heard from mothers and members of ABC pleading for the right to have VBACs. After sponsoring the bill, doctors contacted Wood and presented her with perceived risks accompanying VBACs.
"I told Paul we need to slow down on the bill so we can figure out how we can counteract some of this, find out if there are any safety measures because we are already at a high rate of birth-deaths in our state," Wood said. "We don't want to compromise women, we don't want to compromise safety, but we also want women to have choice."
Wood stated that she received a call from Lee, who informed her of the flyers placed by the unidentified volunteers.
"My personal conviction is, [church] is my safe place," said Wood. That's where I go to recharge to come back here. Don't come to my church. Nothing gives you the right to come to my church and do that. And so, what I'm going to do right now is stand with my body, and I'm going to indefinitely postpone the bill. If they would like to get a different sponsor, that's up to them. I'm through. They crossed the line."
When asked why she was attributing the flyers to the ABC when they had expressly denied any involvement, Wood stated that it is not her job to investigate.
"I'm not going down that road, it's not my job to investigate why your bill number, which I'm the sponsor of, got placed on a flyer, and the individuals came to my colleague's church and put it on their vehicles, so I draw a line in the sand, and they crossed it," said Wood. "So, I'm not sponsoring their bill.
"If we pass bills that cost people their lives, all because they want certain freedoms, what have we done?
"No one from midwifery has contacted me and said 'we support this bill,' [and] they're the ones providing the service."
Wood concluded that mothers who desire to have VBACs out-of-hospital still have the less-than-optimal option of traveling out of state.
"They can go to Tennessee right now," Wood said. "They can cross state lines. It's a two-hour drive for most people or more. It's not ideal, I'm not advocating for that, but there are options for that outside of this state."
Rebeka Myrick, the Alabama Midwives Alliance (ALMA) president, told 1819 News that midwives overwhelmingly support the bill and have reached out to Wood.
"As a group, we whole-heartedly support women's right to give birth in the location of their preference and with the provider of their preference, and that should not differ for women who have had a previous caesarian," said Myrick. "So, we whole-heartedly support striking the VBAC prohibition from the law pertaining to licensed midwives.
"I have written a letter to Debbie Wood. I'm really disappointed she felt there wasn't representation from Midwives, but we are totally in support of removing that prohibition."
To connect with the author of this story, or to comment, email craig.monger@1819News.com.