By Brandon Moseley
Alabama's Drive Electric Alabama campaign was launched Monday at UAB. Gov. Kay Ivey (R) joined the Alabama Department of Economic and Community Affairs (ADECA) for the launch of the state's electric vehicle (EV) education and marketing program.
"As automakers make significant investments in electric vehicles, we know more and more motorists will consider purchasing one," Ivey said. "In addition, automobile manufacturing is one of Alabama's key industries, and we want to make sure that this economic engine remains vibrant for Alabama's workers."
ADECA Director Kenneth Boswell explained that the state will be launching a media campaign on TV, radio, the internet, and billboards encouraging Alabamians to purchase the new electrically-powered vehicles.
"It's clear electric vehicles represent the next generation of automobile manufacturing," Boswell said. "That's precisely why this is the perfect time for Alabamians to learn about electric vehicles, as many auto manufacturers, including Mercedes-Benz right here in our state, are beginning to add electric vehicles to their fleets."
Ivey said that Mercedes will begin electric vehicle production at their Tuscaloosa County plant in 2022 and that Hyundai would begin building electric vehicles at their Montgomery production facility within a year. In addition to building electric cars in Alabama, batteries for the cars will be made in Alabama. The graphite for the batteries will be mined and processed in Coosa County.
Alabama's inaugural marketing campaign, known as "Electric Gets You There," stresses the cost savings associated with electric vehicles as well as EVs' functionality.
Alabama House Minority Leader Anthony Daniels (D-Huntsville) praised Alabama's educational institutions for getting behind and promoting electric vehicles. Daniels said that he looked forward to the day that he has an electric vehicle.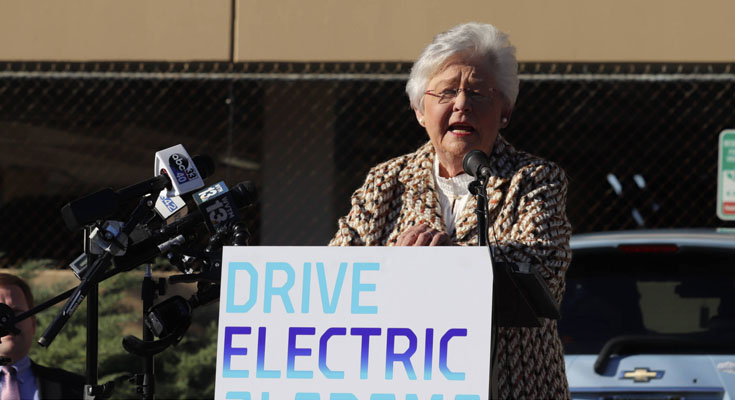 Michael Staley is the President of the Alabama Clean Fuels Coalition.
"Automobile manufacturers have announced billions of dollars in investments in EVs in the last year, but most Alabama motorists have questions about how far EVs can travel on a single charge, how often and where EVs are charged, and how much money is saved by switching from gasoline to electric," said Staley. "These are questions Drive Electric Alabama and the 'Electric Gets You There' campaign can help answer and begin to normalize this transition from gas to electric for many Alabamians."
Staley said the Drive Electric Alabama campaign is funded by a grant program authorized by the Trump administration and continued by the Biden administration.
Alabama State Representative Danny Garrett (R-Trussville) said that the legislature has appropriated money to expand public charging stations across the state.
Along with the campaign, ADECA is also developing a separate statewide infrastructure plan related to electric vehicles, which is expected to be completed by the end of the year.
Drive Electric Alabama boasts a coalition of supporters, including Alabama Power, the Energy Institute of Alabama, the Alabama State Department of Commerce, the Alabama Department of Conservation and Natural Resources, the Alabama Transportation Institute and the Alabama Clean Fuels Coalition.
State Sen. Gerald Allen (R-Tuscaloosa) and UAB President Ray Watts were also in attendance at the launch of the campaign.