A recent letter from Alabama Public Library Service (APLS) director Nancy Pack announced that the APLS would discontinue its membership with the American Library Association (ALA) and offered guidelines for libraries to address sexually explicit children's books.
In the newest development in the ongoing saga surrounding Alabamians expressing concern over sexually explicit children's books at public libraries, Pack appears to have heeded the promptings and recommendations of Gov. Kay Ivey.
In September, Ivey sent a letter to Pack demanding answers in the growing controversy surrounding Alabama libraries and sexually explicit books and APLS's connection with the ALA.
Pack later responded to Ivey's letter, attempting to give answers to the questions, along with a self-authored defense of the ALA.
RELATED: State library director contradicts previous statements on ALA relationship, defends DEI in libraries in response to Ivey letter
Ivey later responded by offering a series of policy recommendations.
In an administrative memorandum obtained by 1819 News, Pack sent a series of policy recommendations to the board of directors and trustees, which she urged them to "strongly consider."
In the letter, Pack seemingly contradicted those who oppose relocating or removing inappropriate children's books by stating that protecting children from explicit material was not akin to censorship.
"The official stance of APLS is that it is entirely permissible to make decisions that lead to a more parent- and child-friendly library environment," The letter read. "Limiting a child's access to potentially harmful content or relocating controversial reading materials should not be misconstrued as censorship in any form. APLS recommends that libraries exercise their best judgment when it comes to shelving sexually explicit or otherwise inappropriate materials, regardless of the intended age group, to support a parent's right to protect their children."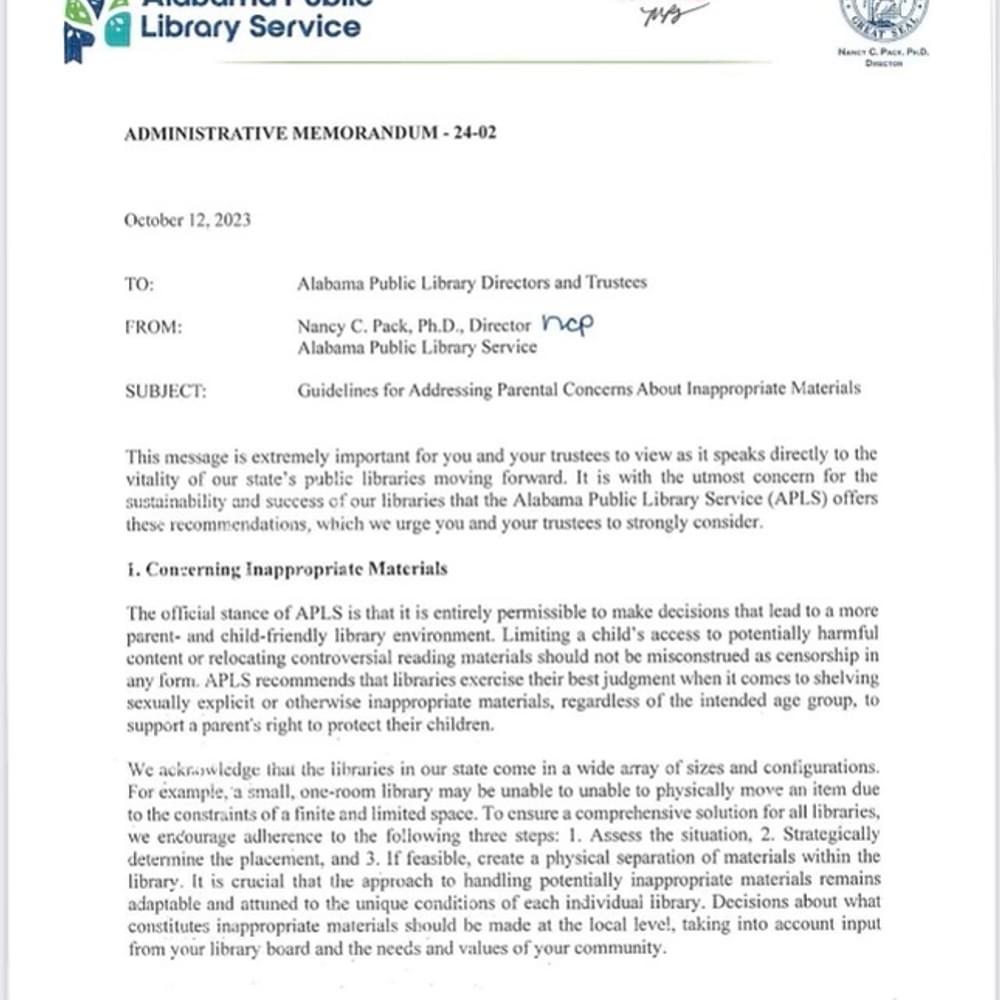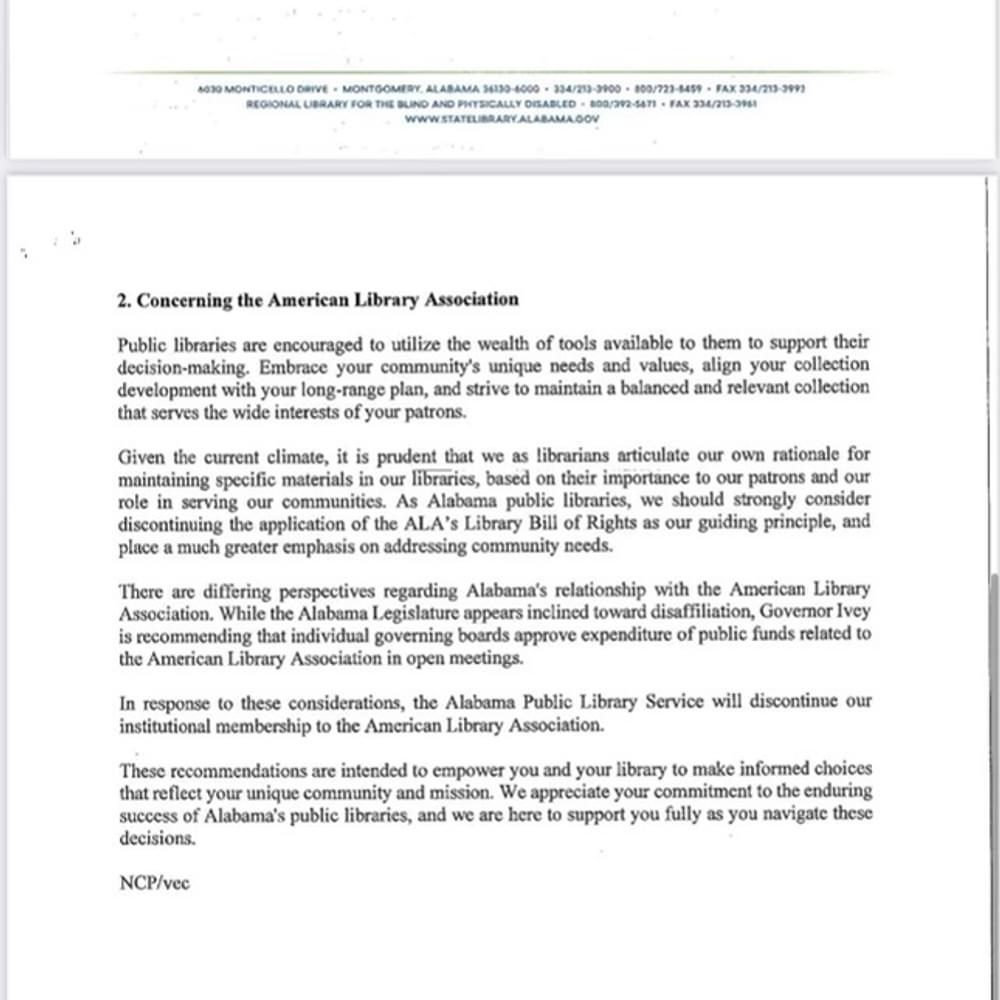 While Pack recognized dividing materials could be difficult in smaller libraries, she suggested staff "strategically" determine placement and, if necessary, "create a physical separation of materials within the library."
Those opposed to the inclusion of sexually explicit books have frequently criticized the ALA and the ALA's "Library Bill of Rights." Several Alabama lawmakers and politicos have advocated for complete disaffiliation from the ALA for its advocacy and political stances, even suggesting withholding funding from APLS unless it does so.
SEE: State Rep. Susan DuBose: It's time our libraries' disaffiliate from the toxic American Library Association'
The ALA Library Bill of Rights strictly condemns limiting book access based on the age of the reader, even if those books contain explicitly sexual material, either in word or depiction.
"As Alabama public libraries, we should strongly consider discontinuing the application of the ALA's Library Bill of Rights as our guiding principle and place a much greater emphasis on addressing community needs," Pack's letter continued.
While Pack's decision does not mean that individual libraries cannot have an ALA membership, she announced in the letter that APLS would end its membership with the ALA. The ALA membership cost APLS just over $38,000 since 2019, according to a previous release from Pack.
"There are differing perspectives regarding Alabama's relationship to the [ALA]," The letter concluded. "While the Alabama Legislature appears inclined to toward disaffiliation, Governor Ivey is recommending that individual governing boards approve expenditure of public funds related to the [ALA] in open meetings."
"In response to these considerations, the Alabama Public Library Service will discontinue our institutional membership to the American Library Association."
To connect with the author of this story or to comment, email [email protected].
Don't miss out! Subscribe to our newsletter and get our top stories every weekday morning.