State Rep. David Cole (R-Huntsville) officially resigned his position in the House of Representatives after his arrest earlier this week on voter fraud charges.
Cole took office in 2022 after the 20-year tenure of Mike Ball. Cole is charged with fraud by voting at multiple or unauthorized locations. On Tuesday, he was booked into the Madison County Jail and held on a $2,500 bond.
Staff for House Speaker Nathaniel Ledbetter (R-Rainsville) confirmed that Cole sent his resignation letter Thursday afternoon.
Earlier this year, Cole's residency was questioned by his Libertarian election opponent Elijah Boyd, who alleged that Cole claimed a residence in District 10 when he declared for the race, while tax documents showed his residence was in District 4.
RELATED: State Rep. Cole asks for delay days before State House deposition in election lawsuit
Cole won the House District 10 seat with 51.6% of the vote in the general election. Marilyn Lands, a Democrat, received 45%, and Boyd won 3.4%.
Boyd filed a complaint for contesting the election in Madison County Circuit Court on November 22, alleging Cole wasn't eligible under state law to serve as State Representative for House District 10 due to him not being a resident of the district and him not being a resident of the district for one year prior to the general election on November 8.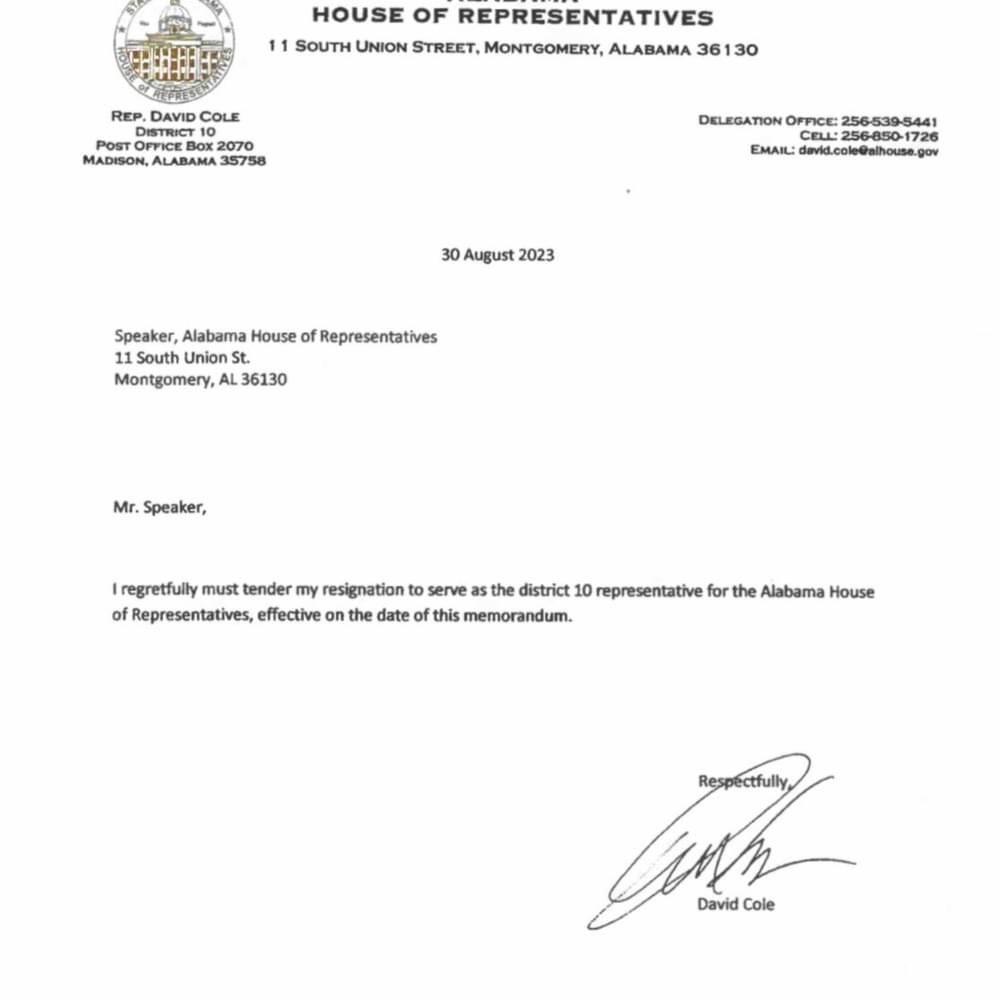 Cole was deposed at the state house in May, which never yielded any results. However, Cole's sworn testimony in the deposition grabbed the attention of the attorney general's office. Specifically, Boyd's lawyer claims Cole changed his voter registration to bolster his residency claims.
See also: State Rep. David Cole's arrest stems from changing voter registration to bolster residence claims, lawyer who prosecuted election challenge says
When a legislator leaves office prematurely, the governor will have to call a special election to fill the seat.
To connect with the author of this story or to comment, email craig.monger@1819news.com.
Don't miss out! Subscribe to our newsletter and get our top stories every weekday morning.