School choice is shaping up to be a potential consideration for lawmakers during the 2023 regular session, and one proposal on the topic has a conservative group hot under the collar.
This year, a school choice bill known as the Parental Rights in Children's Education (PRICE) Act is in the works, although it has not yet been filed.
State Sen. Larry Stutts (R-Tuscumbia) is carrying the bill in the Senate, and State Rep. Ernie Yarbrough (R-Trinity) will carry it in the House. The PRICE act is similar to a 2022 school choice bill, with some key differences.
Former State Sen. Del Marsh (R-Anniston), in tandem with former State Rep. Charlotte Meadows (R-Montgomery), introduced a school choice bill in 2022, which never received any House consideration after passing the Senate.
Despite broad conservative support, some school choice supporters claim the PRICE act is a "Trojan horse" that seeks only to grow government control over non-public education.
Focus on America (FOA), a conservative watchdog group, distributed an email this week warning that PRICE Act was ineffective in instituting school choice in the state.
"Focus on America supports school choice, BUT THIS BILL IS A TROJAN HORSE," The email read. "It makes it look like they're doing something, but this isn't the right way to do a school choice bill. We support the ISSUE, but not this bill."
The email claims the bill "enables tracking and regulation programs of ALL Alabama students," "creates permanent dependency on a state education program," and "opens the door to infringe upon freedoms currently enjoyed by the private school and homeschooling communities."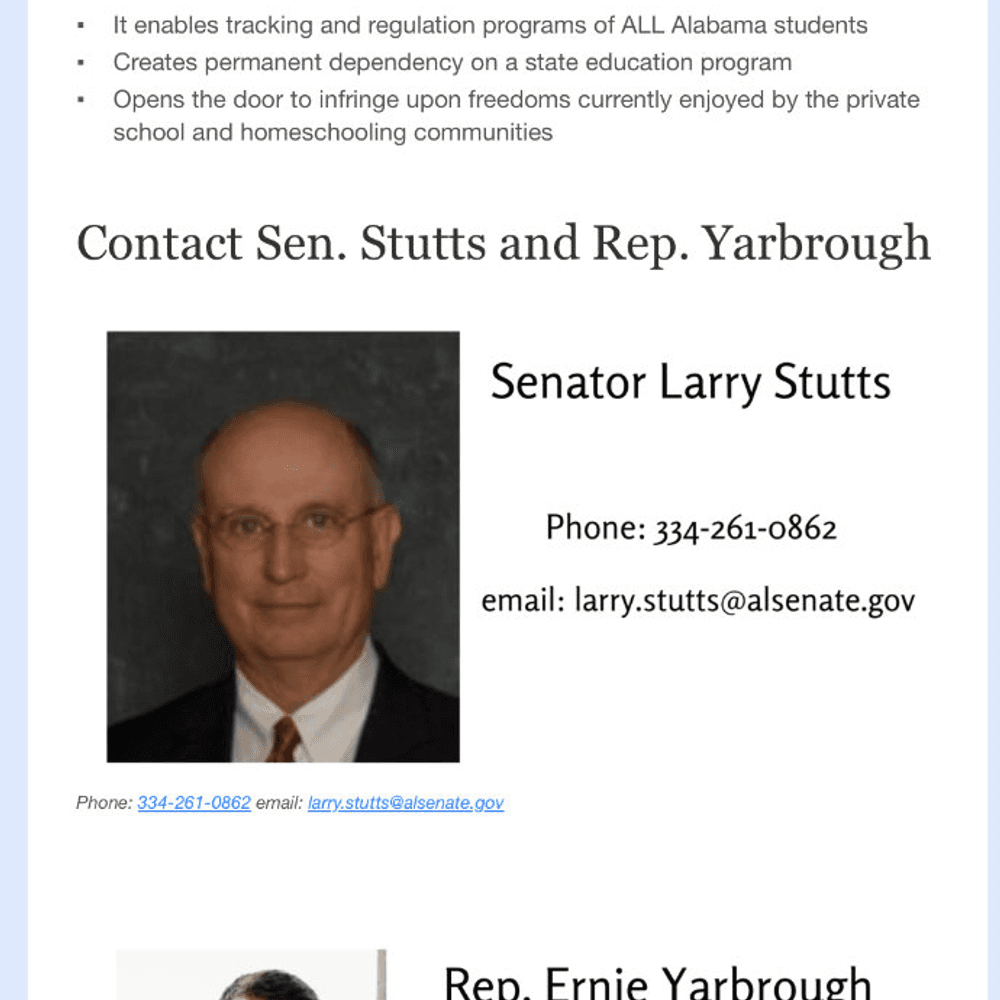 According to Stutts, the bill is not compulsory for anyone, creates no new testing or requirements and creates no database of which he is aware. He also said the Legislative Services Agency (LSA) has yet to complete the bill's final draft, so he is unsure where FOA derived its information.
"It's just simply not true," Stutts told 1819 News. "I mean, my question would be, have you read the bill? The final draft of the LSA version is not available, but some of those folks have seen the rough draft and the talking points and whatnot."
"The bottom line, they said it's a Trojan horse; it's just an opportunity to get the government involved in homeschooling and private schooling. The fact is the bill is very clear. It says in several places that you can opt in or opt out. If you homeschool and you don't want to set up an education savings account and get some of your money back to use for your homeschool expenses, then don't do it. It's not a requirement for anybody. So, there's no way it's taking anybody's freedom away. The freedom is, clearly, if you don't like it, don't participate. So, the idea that we are somehow going to take over homeschooling and private schools is the furthest thing from the truth."
As mentioned, the final draft of the bill is not available. However, the talking points provided by Stutts give insight into the actions undertaken in the bill. Of course, all bills go through revision through the legislative process and are subject to change.
The bill will allow all children to open an education savings account (ESA), with funds parents can access for homeschooling, private schooling and, in some cases, out-of-district schools. While any public or private school can participate in the program, none are obligated or compelled to.
The funds can be used for various necessities, such as textbooks, tuition, tutoring, language studies, therapies, and extracurricular activities such as art, music, literature and more.
The Department of Revenue and an appointed 13-person advisory board will administer the program. Besides those which go into ESAs, no funds will be removed from the public school system.
The bill does not change any current regulations on high school athletics, homeschooling, private schooling, or church-based schooling.
"The bill also states clearly that there's no additional requirements put on any of those entities," Stutts continued. "If you're not testing now, you're not required by this bill to test. If you're not participating in this or that, whatever you want to put on the list, then this bill does not require that you do that."
To connect with the author of this story or to comment, email craig.monger@1819news.com.
Don't miss out! Subscribe to our newsletter and get our top stories every weekday morning.