What started as a group of concerned residents over adult content in children's books in Prattville has grown into a statewide effort to remove "obscene" books from Alabama libraries and separation from the American Library Association (ALA).
For months, a group of concerned parents has brought appeals to the Autauga County library board, Prattville City Council and Autauga County Commission to address books for minors in the Prattville library with explicit sexual content.
As momentum grew, people in other areas began expressing interest in cleaning up the libraries in their localities and across the state.
The website, "Clean Up Alabama," was launched Thursday evening. The site contains a statement of goals and a petition to eliminate all state library affiliations with the ALA.
The ALA is a national non-profit dedicated to improving library systems through advocacy. The ALA admittedly promotes Diversity, Equity and Inclusion (DEI) and seeks to "apply a social justice framework to the ALA strategic directions." It has openly supported the inclusion of books that many nationwide find sexually inappropriate for minors.
Alabama also has a state library association, the Alabama Library Association (ALLA). The ALLA lost its status as an ALA chapter in 1961 for refusing to desegregate. However, it currently has chapter status and offers joint ALA and ALLA membership plans, though it is unclear when the chapter designation was restored.
The ALA recently announced it would distribute $1 million to fight so-called "censorship" in nationwide efforts to exclude certain books from public libraries. It also has a "fight censorship page," which offers financial, legal, and other support to libraries dealing with book challenges.
Alabama also has a state office for establishing public libraries called the Alabama Public Library Service (APLS). The APLS administers state and federal funds to libraries in the state.
APLS Director Dr. Nancy Pack told 1819 News the state office has no official alignment with the ALA, nor does it accept ALA grants.
For Clean Up Alabama, the issue lies with the inclusion of age-inappropriate books that are available for minors to pick up and read at will.
"In the past few years, many Alabama libraries have been stocking their shelves with books intended to confuse the children of our communities about sexuality and expose them to material that is inappropriate for them," The Clean Up Alabama site reads. "We believe it is the job of parents to determine when and how their children are exposed to sexual topics. Our movement is dedicated to safeguarding the well-being and innocence of children by advocating for a safe and enriching environment in the children's sections of our public libraries. We strive to uphold the values of our communities and protect taxpayer funds while promoting age-appropriate materials."
The group has a fourfold mission for cleaning up Alabama's libraries.
1. Removal of Pornographic, Obscene, and Indecent Books.
2. Withdraw from the ALA.
3. Redefining Library Policies.
4. Change in Leadership.
Alabama is not alone in this fight. Recently, the Montana State Library Commission voted to withdraw from the ALA for the newly elected ALA President Emily Drabinski's self-identification as a "Marxist lesbian."
Last week, Texas State Rep. Brian Harrison appealed to the chair of the Texas State Library and Archives Commission, asking her to disassociate Texas libraries from the ALA.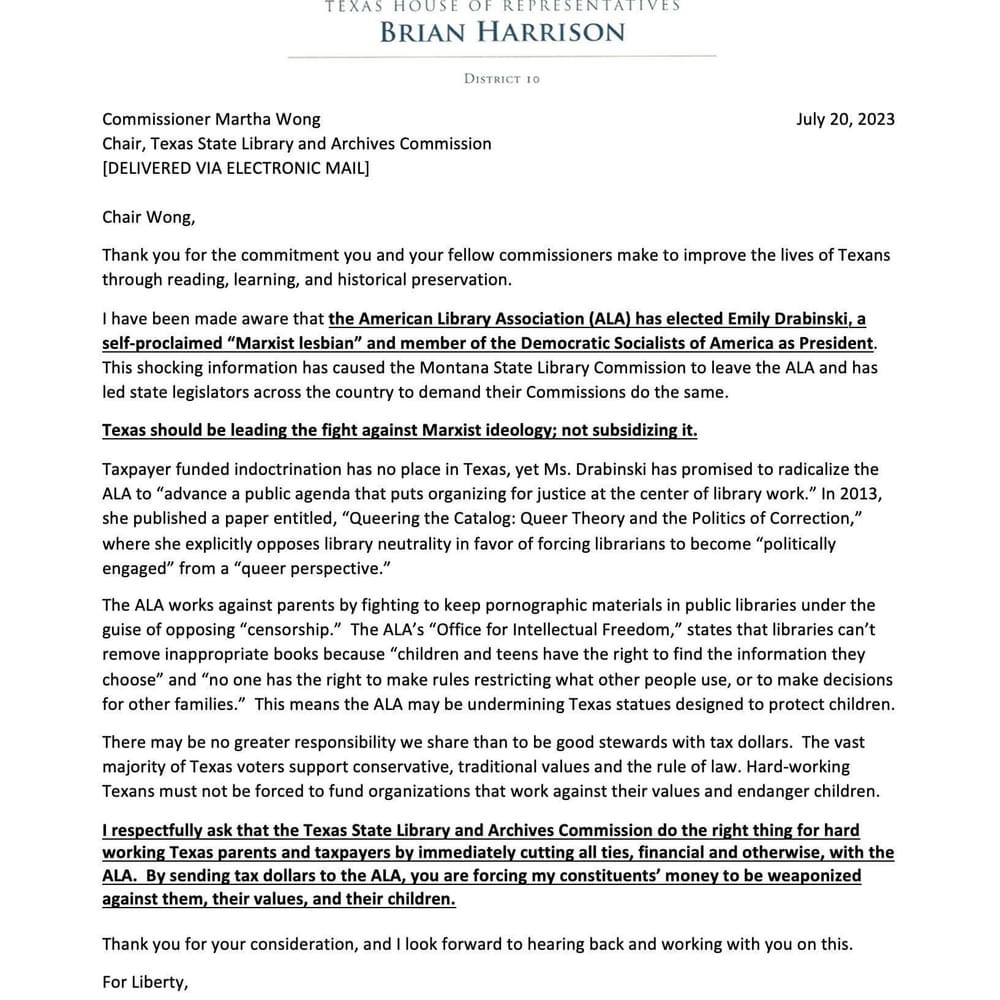 "Texas should be leading the fight against Marxist ideology; not subsidizing it," Harrison wrote. "Taxpayer funded indoctrination has no place in Texas, yet Ms. Drabinski has promised to radicalize the ALA to 'advance a public agenda that puts organizing for justice at the center of library work.' In 2013, she published a paper entitled, 'Queering the Catalog: Queer Theory and the Politics of Correction,' where she explicitly opposes library neutrality in favor of forcing librarians to become 'politically engaged' from a 'queer perspective.'
The ALA works against parents by fighting to keep pornographic materials in public libraries under the guise of opposing 'censorship.'
To connect with the author of this story or to comment, email craig.monger@1819news.com.
Don't miss out! Subscribe to our newsletter and get our top stories every weekday morning.