By Craig Monger
A student at the University of Alabama is showing his industrious side by starting a barbershop within walking distance for students.
Jack Mauldin, a junior, has seen a dream culminate into reality with the opening of his own business, Crimson Cuts. The barbershop, located at 2115 University Boulevard in Tuscaloosa, is now officially open for business.
The University of Alabama hosts an annual competition for students. The Edward K. Aldag Jr. Business Competition allows students to pitch their business ideas in front of a panel of judges for the chance of winning $50,000.
When Mauldin heard about the competition, he began to brainstorm ideas to pitch to the judges. Mauldin recognized something glaringly missing for the students attending the University of Alabama. According to Mauldin, he found a study that stated 50-60% of UA students did not own vehicles. He realized this posed a unique quandary for those who need regular haircuts since the nearest barbershop was two miles away. For the students who do not drive, two miles was a bit more of a trip than can be reasonably expected.
Mauldin initially planned to open a mobile barber station that would visit different dorms throughout the week.
"I have no experience with barbershops or cosmetology," Mauldin said. "I've just been figuring it out as I go. All I know is that we have over 4,000 freshman guys every year, and the nearest barber is two miles away. I saw a hole that needed to be filled. My original plan was to take an Airstream, gut it, fix it up, and take it to different dorms."
Mauldin made it through the final round of the competition but did not walk away with any prizes. However, he walked away with a winning business idea. He subsequently attended the University's Crimson Entrepreneurship Academy, a nine-week summer program that allows young entrepreneurs to develop and distill their fledgling business concepts.
"It was really great," Mauldin said. "You got to talk to, and learn from, these venture capitalists, angel investors, and business owners. It really helped me develop my ideas."
Mauldin was formerly a business major. After formulating his business plan, he switched to the University's New College Life Track, which allows students to acquire their degrees with a flexible schedule. Mauldin grew up overseas, traveling with his family because of his father's diplomatic work. Still, Mauldin's experience with his uncle – an entrepreneur himself – made him interested in business at a young age.
Mauldin eventually found an empty storefront on University Boulevard. The locale was prime, being on a very high–traffic street with plenty of restaurants and shops that students were known to frequent. The building itself, however, was quite old and in a particularly shabby state of disrepair.
"I think the building is 115 years old, and it was in pretty bad shape," Mauldin said, "It had holes in the walls, stained carpet, ripped up hardwood, it was bad."
Mauldin, seeing the potential in the storefront, decided to invest in extensive renovations.
"I signed the lease and did all of the renovations," Mauldin said. "I was two weeks out from our scheduled grand–opening, and I had no barbers."
With Mauldin not having any experience in the world of cosmetology, he decided to reach out to Terry McMiller, who owned several barbershops in the area. McMiller gave Mauldin thorough assistance on how to excel in his new business.
"Terry and I met for lunch, and we just sort of talked about what to look out for, what struggles to expect, and what we need to do to be successful," Mauldin said.
McMiller helped in the acquisition of several barbers to work at the newly renovated shop, and on Oct. 15, Crimson Cuts officially opened its doors for business.
You can find out more about the business on the Crimson Cuts website, at www.crimsoncuts.com.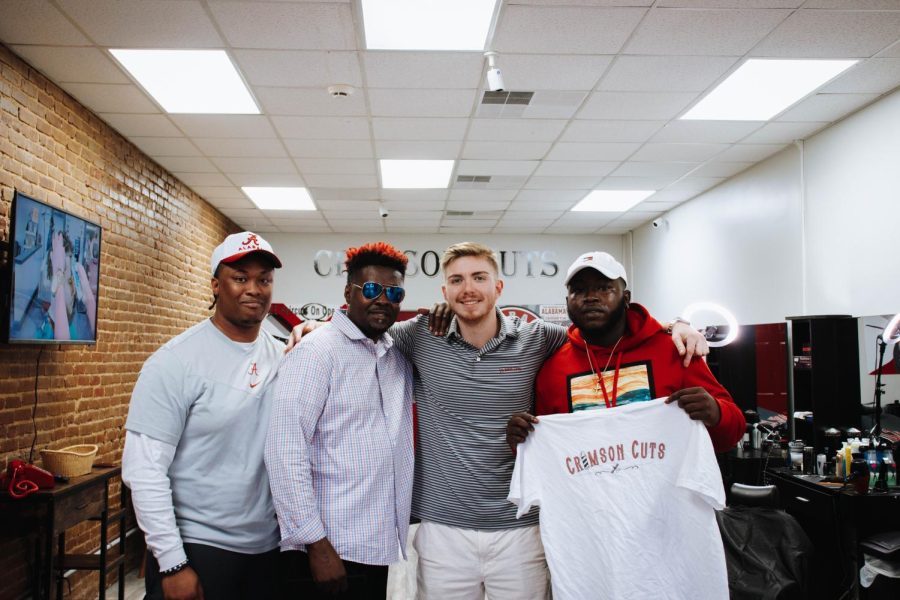 "We've had a great reception," Mauldin said. "we've had a great start. Everyone that's come here has been happy. Now, we just have to work on getting the word out there."
A month after Crimson Cuts opened, it seems to be doing quite well. In fact, Mauldin is looking to the future with plans of opening more shops in college towns.
"I know it sounds really ambitious, but we plan to open shops in several other college cities, specifically for students," Mauldin said. We are hoping to be at Auburn next."
The Auburn location would be under a different title, as would any other site, and would be specifically designed to inspire pride for students of the perspective universities.