MOBILE — Several of those arrested in Washington, D.C. on January 6, 2021, their families and supporters gathered Saturday in west Mobile County to tell their stories and garner support for those they call "J6ers."
Eagle Forum of Alabama West Mobile Action Group Leader Missy Gates organized the event.
"God called me to do this," Gates said. "There is no other way to say it. God spoke to me in the middle of the night … These are political prisoners."
Gates said her goal for the event was to allow the truth to be told.
Scott Fairlamb called from federal prison to open the event with prayer and to lead the national anthem. He thanked supporters and said after losing his business and marriage, things as simple as mail from strangers across the world who are supporting him had a great impact. He said he would not change anything because he believes what he is fighting for is worth it.
"I know I'm right where I'm supposed to be right now," said Fairlamb.
During the call, a recording reminding listeners the call was made from a federal prison sounded, and gasps were heard throughout the spirited crowd. Fairlamb signed off with the title of "political prisoner" and recited his inmate number. Fairlamb, a former MMA fighter, was sentenced to 41 months in prison for assaulting an officer.
James McGrew, a U.S. Marine Corps combat veteran, called from federal prison to take questions and tell his story. He is serving a 78-month sentence after pleading guilty to assaulting, resisting or impeding officers. He said he originally signed a 60-month deal, but the judge added 18 months during sentencing. His supporters said there isn't enough evidence that he did anything wrong, and they believe his sentencing is added proof that he's a political prisoner. He and his mother, Leslie, went together to Washington. She was at the event in Mobile on Saturday to talk about efforts to raise awareness about how J6ers are not being treated fairly.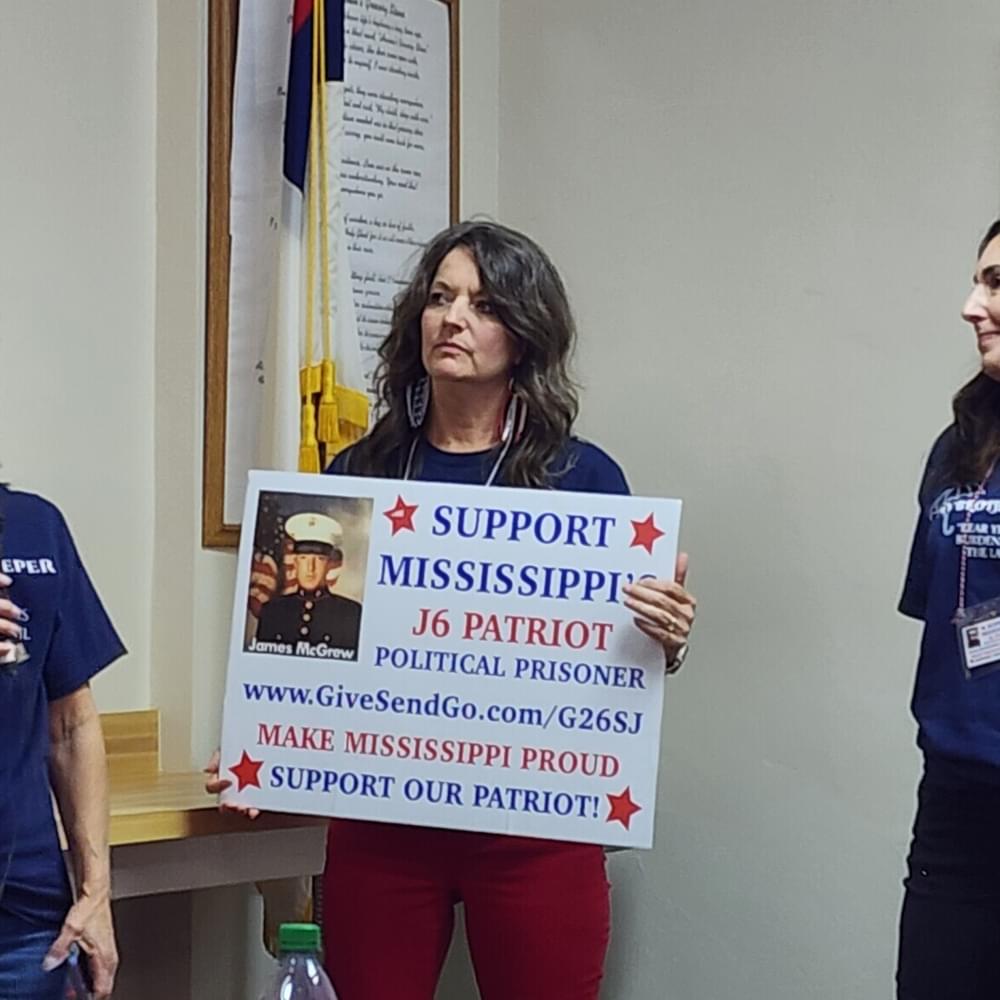 Another veteran, Robert Morss, a former Airborne Army Ranger and history teacher, also called in for the gathering. Morss was convicted of an official proceeding, assaulting, resisting, or impeding officers with a dangerous weapon and robbery.
"Now is the day that you can choose to look at our country, and you're looking at a chapter in our history to make something of yourself that is greater than yourself," Morss said.
Andrew Taake called in to talk about the time he has been in pre-trial detainment for the charge of assaulting, resisting or impeding certain officers and obstruction of an official proceeding, among other charges. Taake said his constitutional rights are being violated behind bars, including nutritional needs and lack of health care. He said he has a condition that does not allow his body to make enough testosterone.
"I find it interesting that people who want to change their sex can get these things, but it's impossible for someone who has a proven medical need," Taake said.
Albuquerque Head was sentenced to seven and a half years in prison and is serving time in a maximum-security prison. He received a steeper sentence than other rioters because he dragged a police officer into the crowd on January 6, prosecutors said. The officer's body camera then captured moments where he was beaten and shocked with a stun gun at the base of his skull. Prosecutors admitted Head was separated from the officer during the actual attack. His wife, Amanda, spoke at the event about Head, who she said was the breadwinner and primary caretaker for her family.
"It hasn't been easy," she said. "Sometimes I wonder how I've even made it through this long, but God finds a way."
His daughter, Patience, read a letter about her father at the event.
"It has made us so sad," she read. "I will almost be an adult when he gets out … All we want is for him to come home safely, but I am so glad he has people supporting him."
Approximately 130 people are currently behind bars in connection with January 6.
Anyone who would like to support J6ers may write letters, send care packages, donate to crowdfunding efforts or commissary accounts, spread public awareness and contact elected officials.
To connect with the author of this story or to comment, email erica.thomas@1819news.com.
Don't miss out! Subscribe to our newsletter and get our top stories every weekday morning.