By Hannah Caver, The Trussville Tribune
The historian for National Veterans Day in Birmingham wants to educate citizens on the significance behind Veterans Day in Alabama through Veterans Day Founding Education.
Dr. David Dyson spreads education about how America's Veterans Day started in Alabama. Dyson was appointed Historian and Author for National Veterans Day in Birmingham by Trussville native Mark Ryan, who serves as volunteer president for the organization, which started our nation's Veterans Day in 1947. Dyson also serves as founder of Life Leaders Institute with major programs Compassion Ranch and Patriotism in Action.
Dyson graduated from Shades Valley High School less than five miles from where the first Veterans Day Parade took place and never knew the history behind Veterans Day in Alabama. He didn't learn the history until he revised the book Patriotism in Action with Col. Stretch Dunn (USA Retired), one of two books they wrote together after the September 11, 2001 attacks on America.
"We thought we needed to add the meaning of our patriotic holidays to have a more complete patriotic guide," Dyson said. "I started researching on Veterans Day and was surprised to find the website showing Veterans Day started in Birmingham. I was both pleased to see this national distinction took place in my hometown and also disappointed this national distinction had not been developed as a positive brand for our state."
This was where the seeds of a calling began for Dyson. Soon after, the book included the history of how Veterans Day started in Birmingham plus the five main character traits mandated to teach in Alabama schools associated with the initiative.
"We expanded the book to serve as a historical resource for Veterans Day and a patriotic guide teachers, students, and other patriots can use," Dyson said.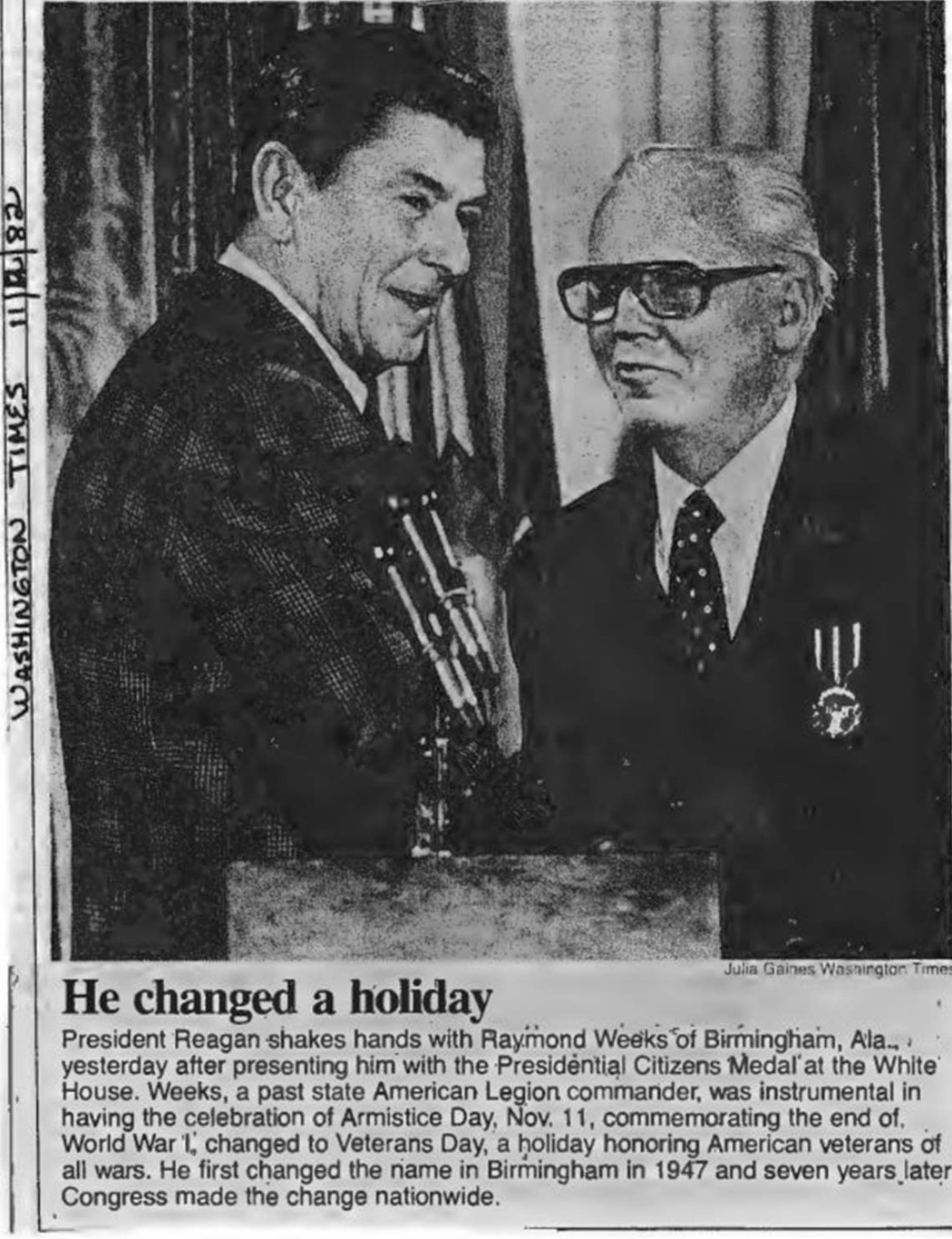 WWII Navy veteran Raymond Weeks petitioned General Dwight Eisenhower at the Pentagon in 1946 to establish "National Veterans Day 1947." General Eisenhower agreed. On November 11, 1947, he sent a telegram to Raymond Weeks encouraging Birmingham and expressing hope this commemoration of veterans and world peace could spread across the nation. It did. President Eisenhower signed into law Veterans Day as a national holiday in 1954. The National Veteran Award was established in 1954 by National Veterans Day in Birmingham.
On Veterans Day in 1982, President Reagan honored Weeks with the Presidential Citizenship Medal, recognizing him as the "driving force" behind the national holiday, at the White House during his nationally televised address to the nation. In her briefing recommending Weeks for the award, Elizabeth Dole described Weeks as the "Father of Veterans Day."
Over 25 years ago, Alabama mandated that 25 character traits be taught each year for an average of 10 minutes a day and include the Pledge of Allegiance.
Dyson said this story has great lessons for teaching some of Alabama's character traits—patriotism, courage, perseverance, citizenship, loyalty. It's inspiring for our students that someone like them, a former student from Alabama, had "patriotism" to serve in WW II and do something significant to honor veterans. He showed "courage" to try to earn support from General Eisenhower. He had to maintain "perseverance" for seven years after the first event in 1947 until the holiday became officially signed into law. "Citizenship" was displayed and rewarded by President Reagan. "Loyalty" was shown during the 40 years Weeks served.
Unfortunately, most Alabamians did not know this history.
"When veterans like LTC Glenn Nivens (USA Retired) told us in 2012 that ninety-nine percent of Americans and most Alabamians did not know Veterans Day started here and asked Patriotism in Action to help, we decided to launch an initiative," Dyson said. "We worked on proclamations from the Governor of Alabama and Mayor of Birmingham plus lesson plans provided by the State Department of Education."
Dyson reached out to then State Superintendent of Education, Dr. Tommy Bice, and requested teaching the history behind Veterans Day in schools. Bice agreed, and his team put a basic lesson plan on the Alabama Learning Exchange (ALEX). This year, State Superintendent Dr. Eric Mackey is sharing materials provided by Dyson with teachers across the state to enrich their Veterans Day programs and classes on the history and character traits.
Dyson explained a problem in 2012 ended up helping Alabama to strengthen its position as a national leader for Veterans Day.
"I anticipated investing a month to get the job done," Dyson said. "We made progress in the Department of Education with a promised lesson plan using our research before Veterans Day. Then, we had a meeting with people in the Governor's Office, Veteran Affairs, and Tourism, and they all agreed to help. Our next step was a proclamation from the Governor. Then, we learned, the job got tougher."
Thanks to research by Bob Horton of Veterans Affairs, we learned the U.S. Congress had passed a resolution ten years earlier that said Veterans Day started in another state in 1953 and 1954 (seven years after Alabama was already doing Veterans Day). So we knew the truth, but this congressional action would make public officials hesitant to support a different position. So we had to prove our case.
Dyson explained that Patriotism in Action, with cooperation from National Veterans Day in Birmingham and many more patriots, appealed to the United States Congress to prove Alabama led the national movement for Veterans Day.
"The book and poster told our story. We also sent the speech by Reagan showing the White House had already vetted this. We urged cooperation instead of a fight with the other state. After all, Alabama started Veterans Day though you cannot have a national movement without states like Kansas spreading the concepts and programs, Dyson said.
Eleven months after we started, about the time of Veterans Day, the U.S. Senate passed a resolution confirming Alabama had the longest-running celebration of Veterans Day in the United States. The resolution cited the first parade in Birmingham and Weeks for his leadership. The lost legacy had been restored.
"The history is official. Now it's time to implement until every citizen of Alabama knows this history," Dyson said. "The best way to do that is to teach in schools that it happened here. Teachers can add more of the history and inspiring character traits lessons during November 1 – 10. This state and national history can be supported every November by civic clubs, churches, and publications."
Dyson wants veterans and civilians throughout the nation to know Alabama is a patriotic state that has honored its veterans. Part of what we're thanking veterans for is providing us freedom of liberty. That helped America achieve freedom of rights, which gives us all freedom to flourish.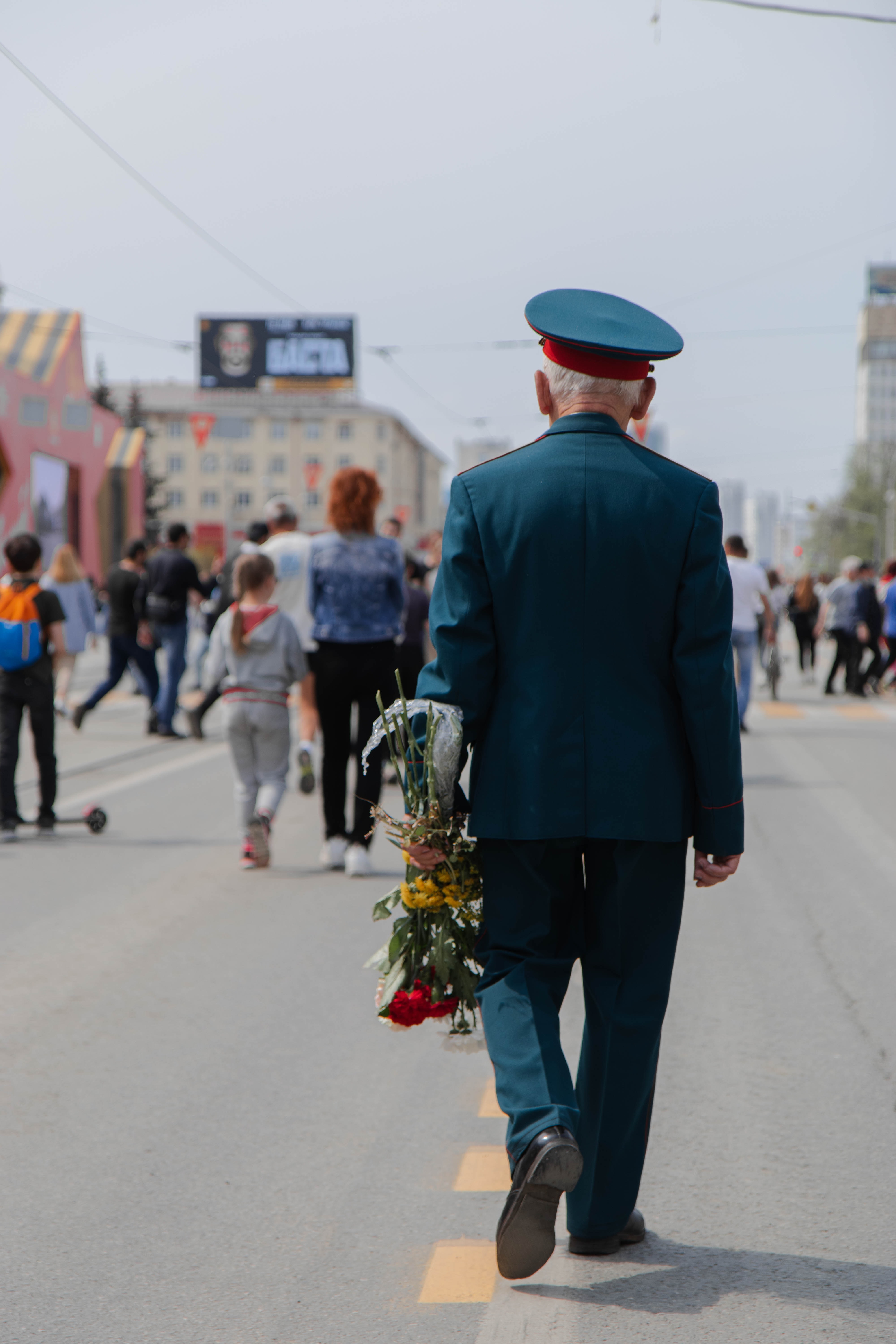 Dyson asks all schools that have a Veterans Day program in the State of Alabama to read the paragraph below:
America's first Veterans Day was organized in Alabama in 1947 by WWII veteran and former Alabama student Raymond Weeks. Alabama led the national movement after gaining support in 1946 from General Eisenhower, who, as president, established the federal holiday in 1954. The National Veteran Award was established in Birmingham in 1954 and is presented annually. President Reagan honored Mr. Weeks with the Presidential Citizens Medal in 1982 at the White House during his Veterans Day televised address to the nation. The United States Senate passed a resolution in 2012 confirming the historical roots of starting Veterans Day in Alabama. The book Patriotism in Action features the history of Veterans Day launched in Alabama and character traits demonstrated to inspire students (patriotism, courage, perseverance, loyalty, citizenship…). You can get complimentary resources to teach, speak, and promote this inspiring information at the web page, www.VeteransDayFoundingEducation.us
Dyson said that the best way to make this educational effort sustainable is through schools using this material in Veterans Day programs and lessons, annual stories in the media, civic clubs and churches, and anyone trying to commemorate the day in the ways intended.
"We can succeed by continuing to honor our veterans as many do so well and by adding the who-when-where in our lesson plans and annual traditions, so citizens will know Veterans Day started in Alabama," Dyson said.
Dyson thanks a few of our locals in and near Trussville: Mark Ryan serves as president of National Veterans Day in Birmingham. Col. Bob (USA Retired) and Nancy Barefield serve as chair of Patriotism in Action. As Ms. Senior Alabama from Trussville, Temple Wells brought us this story—her platform of service includes Veterans Day Founding Education and Compassion Ranch.