Days after the United States shot down a Chinese spy balloon that had crossed into American airspace, three more unidentified flying objects were blasted out of the sky after being detected over North America.
An object reportedly the size of a car hovering over Alaska was shot down Friday, and a "small, cylindrical object" was shot down Saturday over the Yukon Territory in Canada by U.S. forces at the request of Prime Minister Justin Trudeau.
Another object was detected over Montana later that evening, but American fighter jets sent to investigate could not locate it in the dark, according to U.S. Rep. Matt Rosendale (R-Mont.). Later, Sunday, what was believed to be the same object was seen over Lake Huron near Michigan, where it was soon shot out of the sky.
From extraterrestrials to more Chinses surveillance, speculation has run rampant as the public and government officials demand answers about the nature and origin of the three objects.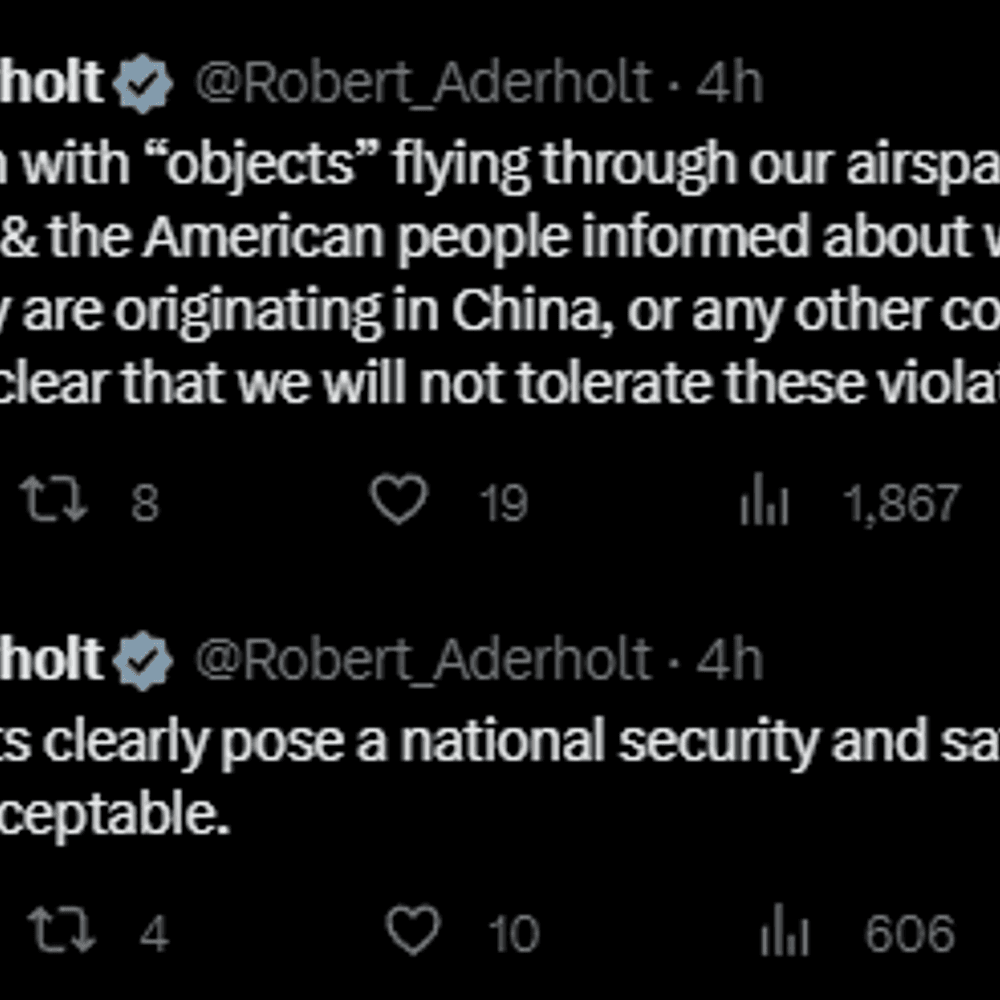 "The situation with 'objects' flying through our airspace must be fully investigated, and the American people informed about what is going on," U.S. Rep. Robert Aderholt (R-Haleyville) tweeted. "And whether they are originating in China or any other country, the President needs to be clear that we will not tolerate these violations. These objects clearly pose a national security and safety risk, neither of which are acceptable."
During a press conference Sunday night, the U.S. Pentagon said the objects did not appear to pose a military threat but did endanger commercial aircraft.
"We did not assess it to be a kinetic military threat to anything on the ground, but assess it was a safety flight hazard and a threat due to its potential surveillance capabilities. Our team will now work to recover the object in an effort to learn more," Brig. Gen. Pat Ryder said.
Since the Biden Administration's apparent mishandling of the Chinese spy balloon incident, the Pentagon said it has been "more closely scrutinizing" America's airspace by enhancing radar thresholds, "which may at least partly explain the increase in objects that we've detected over the past week."
The Pentagon said the three objects were much smaller than the Chinese spy balloon, appeared different in shape and "moved with the wind." And while there has been no known evidence suggesting alien spacecraft, General Glen VanHerck said during the press conference that he wasn't ruling anything out at this point.
Senate Majority Leader Chuck Schumer (D-N.Y.) said the objects shot down over Alaska and Canada were most likely balloons. ABC News later reported that an unnamed senior U.S. official said all three objects were likely some kind of weather balloons and not spy balloons. However, VanHerck said the Pentagon wasn't calling them balloons "for a reason."
To connect with the author of this story, or to comment, email daniel.taylor@1819news.com.
Don't miss out! Subscribe to our newsletter and get our top stories every weekday morning.