By Amanda E.H. Pritchard
Finding perfect pitch is the gift that keeps on giving at Opera Birmingham. Since 1955, opera has played an integral part in the magic of the Magic City. The opera was originally known as Birmingham Civic Opera then Birmingham Opera Theater in the '80s.
A packed house recently attended Opera Birmingham's annual "Sounds of the Season" performance, which included Christmas classics such as "Mary, Did You Know," "We Three Kings" and "Joy to the World." The performers in "Sounds of the Season" are all Alabamian singers sharing their talent and Christmas cheer with audiences.
Allison Sanders is one of these live and local performers. Drawn to opera's power and beauty, Sanders began singing opera at the age of 15.
"My mom is a Baptist preacher, so I grew up singing in church," said Sanders.
But, a crucial event captivated Sanders and from that point, her voice and training were focused on opera.
"I watched Grace Humbry, this beautiful brown woman singing her heart out in Carmen," said Sanders.  
Over the past 19 years, Sanders has developed her operatic style and is known as the "girl with the big voice."
Also impacted by opera at an early age is Opera Birmingham Executive Director Keith Wolfe.
"I've always sung," said Wolfe. "My high school best friend asked me to join the choir with him, then later in life Virginia Opera needed extras in the chorus."
Originally going to school to become a music teacher, Wolfe ended up in administration (and loves every minute of it).  
For those who've never experienced opera, Wolfe suggests giving themselves to the experience.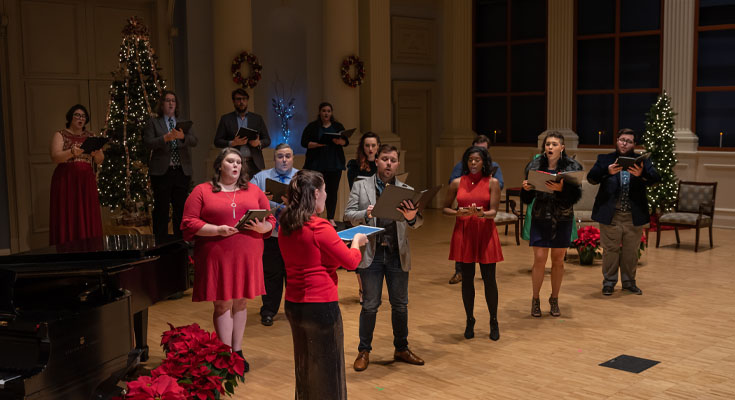 "There are pre-show talks for story operas," said Wolfe. "You can Google a quick synopsis and since most operas are in a different language there are supertitles in English above the stage. The writers understood the music. There are so many emotions on the stage. The singers can also act. Most operas are love stories and end in tragedy. They're not subtle at all."
Opera is like a beautiful relationship.  It's all about connection.  Sanders is deeply connected to Opera Birmingham's next performance scheduled for Friday, Jan. 21, at 7:30 p.m. and again on Sunday, Jan. 23, at 2:30 p.m. It's called DWB (Driving While Black).
"The new piece is heavy," said Sanders. "After thinking about it, I thought to myself, 'this is your life.' I hope by people seeing this, it changes perspectives."
Opera Birmingham's Spring show is the classic La Boheme. Nick Ward will be playing Schaunard, the musician who is one of the four main characters. 
Growing up in Detroit, Ward said he's loved music since he was young and grew up in a musical family. Like Sanders, Ward also grew up singing in the choir and was directed toward more classical performances. Ward was first introduced to Opera Birmingham in 2019 when he tried out for an annual competition where he earned first place.
"That was a nice surprise," Ward said.
Eager to encourage more people to experience and continue to attend the opera, Ward said don't be afraid.
"Every opera is different," Ward said. "It's a fun night out. You're going to be surprised. As performers, we want opera to be a good experience for people. Opera is grand and beautiful."
Connection is key for Ward too.
"As a performer, connecting with an audience allows you to show your heart to the world," Ward said. "The energy, attention and response from the audience [are] really inspiring."
Honored to be a part of Opera Birmingham and bring opera to the masses, Wolfe said, "There's great talent in this area. We're blessed with a community that has everything. Opera is a one-of-a-kind experience. Come have a good time."