By Brandon Moseley
The Senate passed the Fiscal Year 2022 National Defense Authorization Act (NDAA) Wednesday by a vote of 89 to 10. U.S. Senators Tommy Tuberville (R) and Richard Shelby (R) both voted for the NDAA.
"After months of delay by Senate Democrats, I am pleased we have finally passed a defense authorization bill," Shelby said. "But the promises in this bill are meaningless without enactment of a defense appropriations bill for FY22. It is time for Democrats to get serious and accept our offer to get the appropriations process back on track: return to the Shelby/Leahy framework – drop poison pills, restore legacy riders, and adopt equal increases for defense and non-defense spending. That is the only path to get the Pentagon the resources it needs to protect the nation."
Shelby said there is no time to waste when it comes to protecting the nation from global threats.
"We must show our adversaries that we remain the most powerful force in the world and that we are committed to the task at hand," Shelby said. "I stand ready to work toward that goal."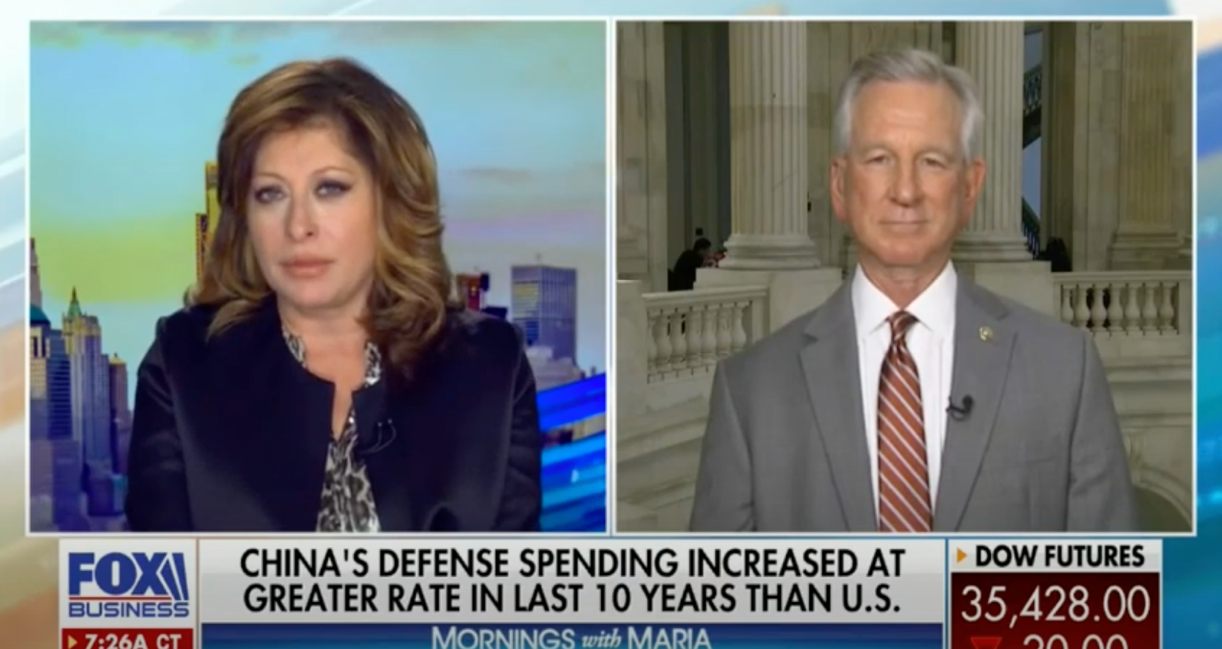 Tuberville (R-AL) joined Fox Business Mornings with Maria Bartiromo to discuss the importance of the U.S. Senate passing the National Defense Authorization Act (NDAA).
"Joe Biden's budget was $25 to $30 to $40 billion dollars less than what we all wanted," Tuberville said. "And that's not just Republicans, Maria. That's Democrats, also, on the Armed Services Committee. We bumped it [the NDAA] up $25 billion dollars, and we're still behind the spending of what China has. But, it shows you the importance to Chuck Schumer where our military is at. We [the Senate Armed Services Committee] finished this thing in July."
Tuberville said the act should have been passed months ago.

"We have huge problems: China, Russia, Iran," Tuberville said. "And today, I just saw on your show where China and Russia had a summit– Putin, Xi Jinping. They weren't trading Christmas presents. They're talking about, 'Hey, what's the best avenue for us to overcome the capitalist ... United States of America?' And so, we have got to put our best foot forward here. We have to get into some hypersonics. We have to get into high [energy] lasers, because that's the thing that's going … to defend our country and to defend our military, and we've got to be better because China is way ahead of us in a lot of different things, and we've got to show them that we're in the fight."
Tuberville said in a press release that there were major wins in the NDAA for the state of Alabama.
"Huntsville's Missile Defense Agency is a key player in securing our nation against threats from China," Tuberville said. "China is aggressively seeking to become the world's technological and military leader, so we must invest in new research and development efforts. This year's NDAA includes specific language to boost our hypersonic development and testing. It also furthers our current missile defense capabilities."
"Additionally, as Huntsville prepares to be the home of Space Command, it was important to fight for America's interests in space," said Tuberville. "I did just that by pushing the committee to include advanced satellite development for space-based communications. We also authorized an increase in funding to expand tactically responsive space launch technology."
Tuberville said Redstone Arsenal is leading the way with high-energy laser weapons.

"As the 187th Fighter Wing transitions to F-35's in the coming years, I worked to ensure funding was authorized for maintenance facilities and repairs so Alabama's airmen remain combat-ready," said Tuberville. "We also secured an authorization for funding to renovate and improve barracks at Ft. Rucker for soldiers to live in."
After years of much-needed funding, Tuberville said the Army is finally getting what it needs in some parts of Alabama.

"When I was chosen to represent our great state in the United States Senate, I came to Congress with a guiding principle: to listen to the people of Alabama and the needs of my state, and to bring their voice up to Washington, DC," Tuberville said. "I spent a great deal of time this year traveling to each military installation to hear firsthand about the needs of our defense industry. I listened to what our generals and admirals had to say, and set out to ensure our military has the resources they need to defend our country."
In July, the NDAA passed out of the Senate Armed Services Committee with an overwhelmingly bipartisan vote of 23 to three. Several amendments offered by Tuberville were adopted into this version, including amendments intended to support Alabama's installations and bolster the U.S. military's readiness in the face of adversaries like China and Russia.
A much more partisan version passed out of the House of Representatives. The two versions then went into conference committee where many of the House Democrats' provisions that troubled Republicans were removed.
"I want to ensure our priorities are heard and that our state and nation is in a good position to combat threats from our adversaries and defend our allies," Tuberville said
The legislation includes a 2.7% pay raise for members of the Armed Forces, and includes strong bipartisan support for America's nuclear deterrent, and provides new authorities to accelerate the military's acquisition and adoption of advanced capabilities.
"China continues to outspend us on National Security," said Tuberville. "In just the last 10 years, China's defense spending has increased by $200 billion while we, the United States of America, [have] decreased by $400 billion."
This version of the NDAA had already passed the House of Representatives, earlier this week.
The FY22 NDAA now heads to the President's desk to be signed into law.
To connect with the author of this story, or to comment, email brandon.moseley@1819News.com.