The Alabama State Senate is assumed to be one of the most conservative legislatures in the country, boasting a 27-to-8 Republican supermajority.
However, despite this seemingly overwhelming GOP advantage, two Democrats dominate the time recognized on the Senate floor: State Sen. Rodger Smitherman (D-Birmingham) and Bobby Singleton (D-Greensboro).
An 1819 News study found that the Alabama Senate was in regular session for approximately 72 hours, 39 minutes, and 44 seconds in 2023. Of that time, Singleton was recognized for approximately 22 hours, 57 minutes, and 16 seconds, while Smitherman was recognized for a whopping 33 hours, 19 minutes, and 55 seconds.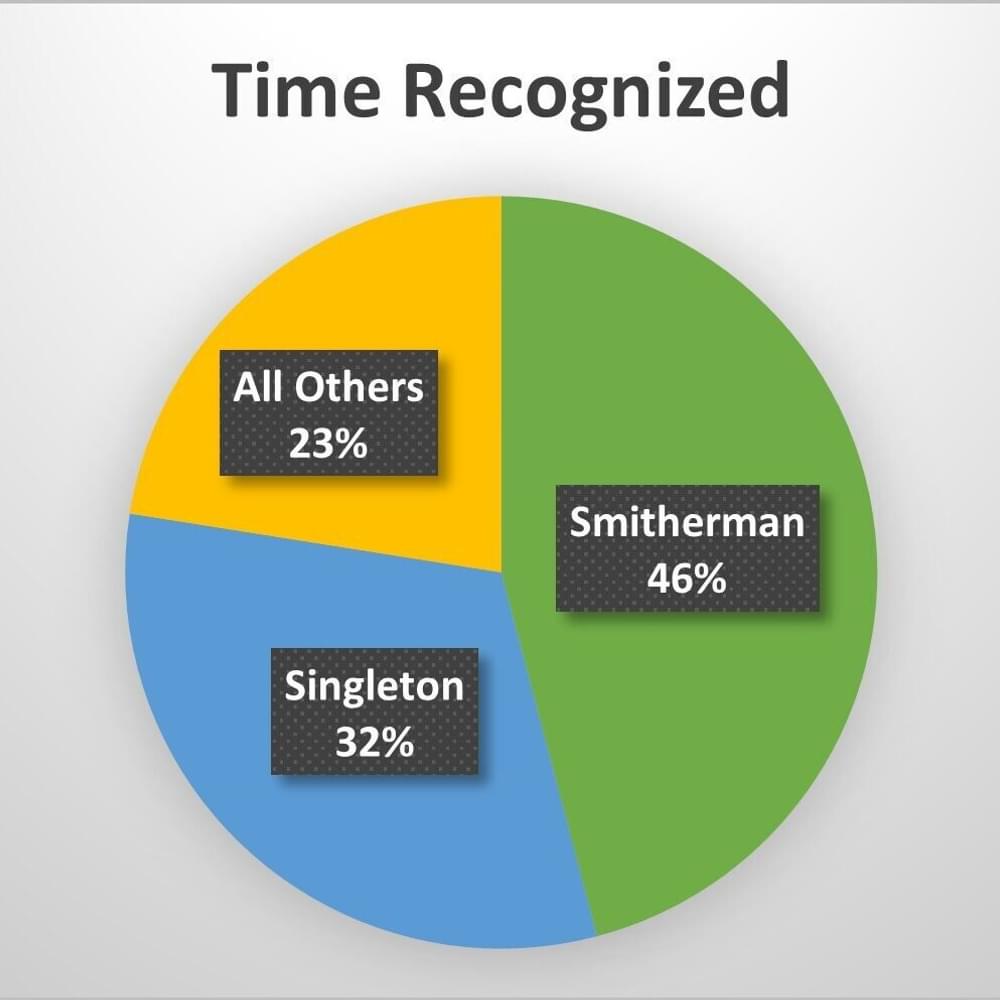 Being recognized does not necessarily mean they were speaking, though they often were. However, it did mean that Senate business could not proceed until they yielded the floor or ran out of time. When they did speak, it was often not germane or pertinent to the business being discussed.
Highlights as follows:
During a nearly 45-minute speech on April 12, Singleton sang hit songs from "School House Rock."
Singing begins at 38:00
On April 18, Smitherman told a story about getting pulled over by the police and discussed the upcoming Senate vs. House softball game. On May 17, he voted on the prevailing side of apportionment but spoke for over 40 minutes on the motion after it passed.
On May 31, while filibustering a Senate confirmation vote, Smitherman talked about a giant rat.
Smitherman discusses the rat at 1:05:38
During the same session, Smitherman talked about cooking squirrels.
Beginning at 1:03:29
On May 3, Smitherman compared himself to Brittney Griner when discussing a bill to ban biological males from women's sports in Alabama.
Watch at 1:01:05
Singleton and Smitherman have a penchant for arguing against the special-order calendar, a list of priority bills for the legislative day.
On May 9, Smitherman, along with State Sens. Vivian Figures (D-Mobile) and Merika Coleman (D-Birmingham), argued so vigorously against the calendar that it was never adopted, and the session adjourned with little to no business conducted.
Smitherman and Singleton held the floor for nearly two hours straight to start the May 31 session, filibustering a confirmation and opposing the special-order calendar. Singleton reminded his Republican counterparts that "we [Singleton and Smitherman] can find controversy in any" calendar.
Smitherman and Singleton work to slow down Senate proceedings even when not holding the floor. When bills are introduced, they often request that the full title be read instead of its abbreviation. If a bill passes, they sometimes request that it be read in its entirety. On May 25, Smitherman asked for a bill to be read at length. The reading lasted over 40 minutes until Smitherman ended it early in an act of Christian charity.
Bills the Senate ran out of time to address included legislation regarding school choice, ballot harvesting and a Critical Race Theory ban.
Under Senate rules, a 21-signature cloture petition can limit the discussion of a particular bill to one hour.
1819 News reached out to several former lawmakers for comment.
Former State Sen. Dick Brewbaker said, "[W]hen you have a supermajority like the Republicans have, there is no excuse not to pass legislation you want passed."
Brewbaker said Republicans were much more aggressive with cloture petitions when they took the Senate in 2010.
"At the start of the session, Jabo [Waggoner] would walk in with a stack of cloture petitions already signed," he said.
Former State Senator Phil Williams also recalled the Tea Party-era Republicans as a more decisive group.
"The first quadrennium, it was smoke," he told 1819 News. "We brought the scunion on a regular basis."
Williams explained that having a clear agenda can help invigorate a party and help get important legislation passed.
"We have got to see leadership willing to say, 'All right, fellas, here are the five things that we're going to accomplish and why. And the world needs to know about it. And then, by God, we're going to go in there and do it. Katie bar the door.; And we're not seeing that right now," he stated.
Former Senate President Pro Tem Del Marsh said it was disappointing that Republicans could not pass a true school choice bill this session.
"I will step out and say that I believe there are those who are wearing the Republican label, in my opinion, who are not Republicans," Marsh outlined. "One of the core beliefs among Republicans in this country is giving parents more parental control and believing in school choice. To me, it should be one of the easiest bills to pass in a state that is as heavily Republican as Alabama is. Unfortunately, I think there are people who have run with the Republican tag, who are elected as Republicans, but their core values are not, in terms of things like school choice, are not as solid as they should be."
To connect with the story's author or comment, email gnicktreglia@gmail.com.
Don't miss out! Subscribe to our newsletter and get our top stories every weekday morning.