U.S. Rep. Gary Palmer (R-Hoover) is officially running for a sixth term and stressing that the term limits pledge he signed in 2014 is to support legislation to limit terms to six years but not necessarily to limit himself.
However, Palmer admits he said he would only serve five terms in Congress during his campaign for the 2014 special election to fill the unexpired term of former Rep. Spencer Bachus.
Palmer argues that the pledge was incorrectly portrayed in an AL.com article stating that he agreed to limit his time in the House to six years.
He did sign a pledge with the group U.S. Term Limits, but the pledge was to co-sponsor and vote for the U.S. Term Limits Amendment, which, if passed, would limit members of the House to three terms, equivalent to six years, and members of the Senate to two terms, equivalent to 12 years.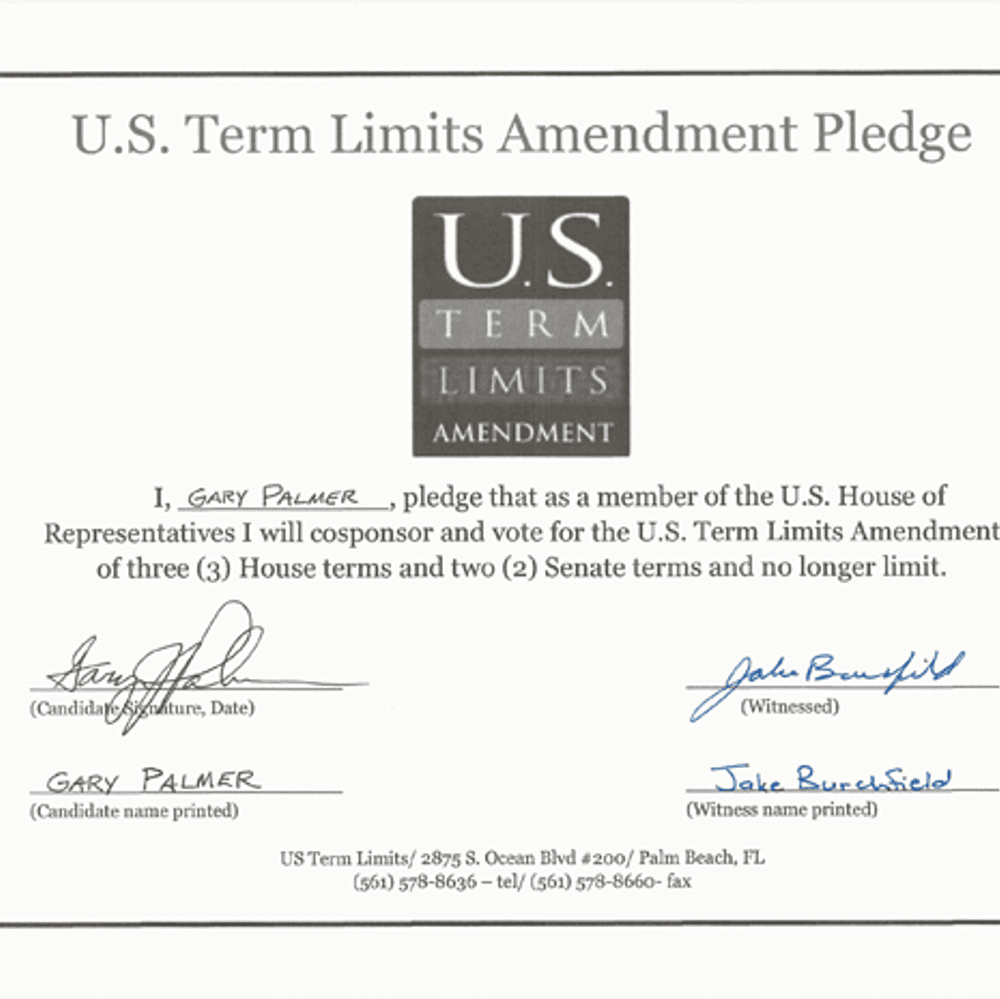 Though he didn't sign a pledge committing to five terms, Palmer admitted he initially said he would only serve five terms.
"I signed a pledge to co-sponsor a term limits bill, and I've done that in every congress I've been in," Palmer told 1819 News on Tuesday. "I never signed a pledge that said I'd only serve five terms. I did say that I would only serve five terms. I understand how people are going to respond to that. I own that. … I really struggled with the decision to run again, but I believe it's what I'm supposed to do."
Palmer, now the third-most senior Republican in the Alabama congressional delegation after U.S. Reps. Robert Aderholt (R-Haleyville) and Mike Rogers (R-Saks), said that experience mattered in Congress. Palmer chairs the House Republican Policy Committee and sits on the Republican Steering Committee, the House Oversight and Accountability Committee and the House Committee on Energy and Commerce. According to the Alabama Republican, the House Committee on Energy and Commerce is one of the most powerful committees in Congress and one a new member wouldn't get assigned to serve on.
He said he decided to run again after much deliberation and several people urging him not to forfeit his position.
Palmer said he planned to continue to support term-limit legislation and that the term-limit bill had a chance to make it to a vote on the House floor this year. Nevertheless, he said he doubted it would pass.
"If five Republicans voted against it, it's not going to pass," Palmer stated. "We only have a five-seat majority."
Palmer said that, if re-elected, his priorities would include opposing policies like the Green New Deal, supporting energy independence from China and Russia, and holding D.C. bureaucrats accountable.
To connect with the author of this story or to comment, email will.blakely@1819news.com or find him on Twitter and Facebook.
Don't miss out! Subscribe to our newsletter and get our top stories every weekday morning.