Editor's note: This story has been updated
TUSCALOOSA – During Thursday's Young Americans for Freedom (YAF) event at the University of Alabama (UA), attended by conservative commentator Matt Walsh, a UA doctoral student offered students waiting in line money to complete a survey that probed them about their associations with extremist groups.
Walsh hosts the Daily Wire's "The Matt Walsh Show" podcast and is also the author of a best-selling children's book, "Johnny the Walrus."
In his successful documentary, "What is a Woman?" Walsh questions the basic logic of the gender ideology movement.
This documentary has drawn opposition from left-wing campus groups and organizations, and Walsh said he had received death threats for his investigation.
About 50 to 60 protesters gathered at UA's quad preceding the event with signs, some containing vulgar insults and calling Walsh a pedophile.
The flyers, handed out to attendees in line to get into Walsh's speech, encouraged respondents to email apharrison@crimson.ua.edu, which, according to the University of Alabama's website, belongs to a first-year doctoral student in the Department of Psychology by the name of Alexandra Harrison.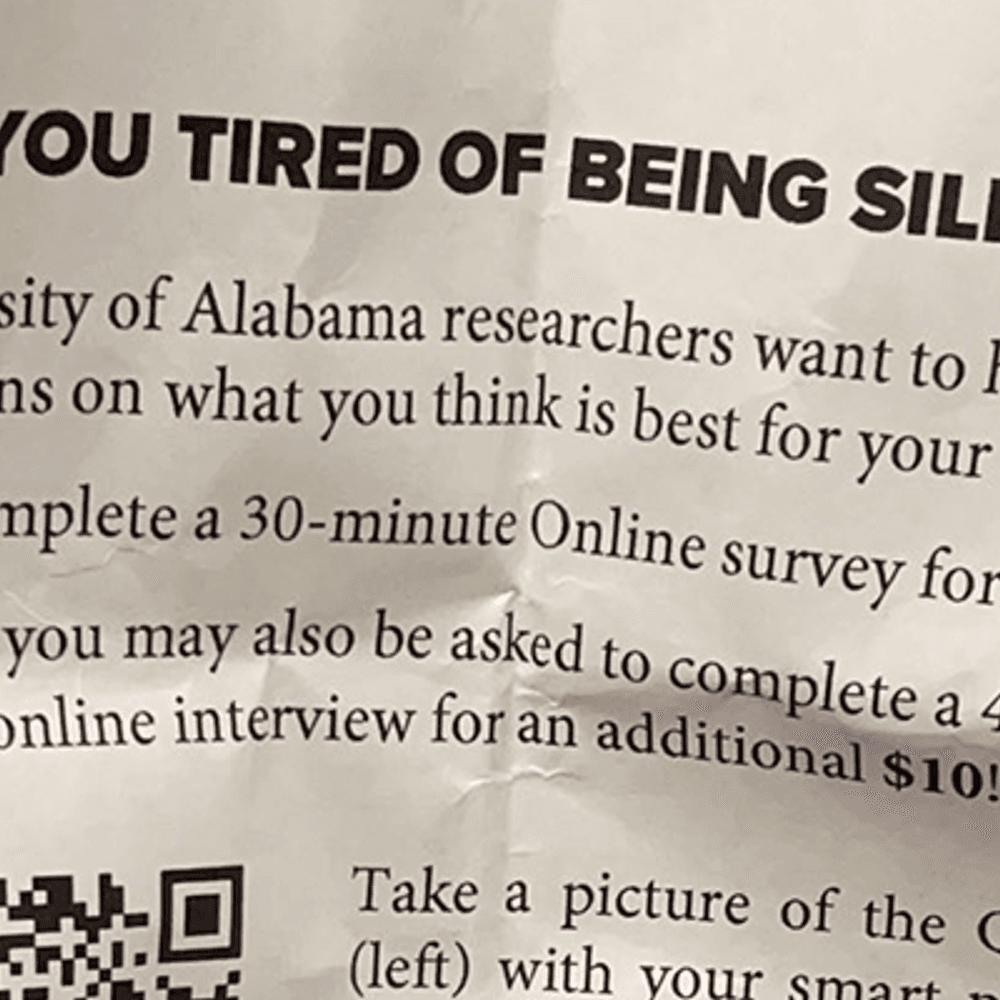 "Are you tired of being silenced?" the flyer read. "The University of Alabama researchers want to hear your opinions on what you think is best for your country."
The flyer invited participants to take an online survey for $7 and have the chance to qualify for an online interview for an additional $10.
According to her LinkedIn, Harrison's research focuses on how "antisocial behaviors" develop and how "political ideology, psychopathy and macro contextual factors may impact the development of violent behavior."
Harrison was previously a postgraduate research associate for the Yale Center for Emotional Intelligence and attended Penn State University to receive her bachelor's degree in psychology.
Her bio on the UA website says she works with Dr. Andrea Glenn, an assistant professor with the Department of Psychology and the Director for Cognitive, Developmental and Social Psychology.
Glenn's research areas include "disruptive behavior problems and antisocial behavior in youth and adults," "reducing inequality in youth outcomes through mental health intervention programs," "biologically informed prevention and intervention," and "mild traumatic brain injury as a risk factor for behavior problems."
The survey asked students to provide their race and whether they were members or had sympathies for radical groups such as the Ku Klux Klan, Antifa or the Proud Boys.
It also asked a series of questions about how respondents felt about gay people and whether or not they were willing to use violence against them.
Another series of questions asked how willing respondents were to use violence to "defend white Americans" and whether or not they've "purposely tried to hit someone with the vehicle … while driving."
Left-wing organizations on Alabama's campus have attempted to associate YAF with hate groups in the past.
Earlier this year, the liberal student newspaper on UA's campus, The Crimson White, attacked UA Student Government Association (SGA) presidential candidate Sarah Shield for attending a conference with YAF, accusing the organization of "racism, Islamaphobia, transphobia and other harmful ideologies."
1819 News reached out to Harrison, Glenn and UA to ask how this survey was funded and what other organizations were involved. All declined to comment.
UPDATE 3:00 p.m.:
UA provided a statement to 1819 News, saying, "This is one piece of an individual graduate student's research study aimed at investigating, among other things, the development of political beliefs and has been ongoing for months. As an aside, all users with a myBama account can create a Qualtrics account and survey through the University's enterprise license."
To connect with the author of this story, or to comment, email will.blakely@1819news.com or find him on Twitter and Facebook.
Don't miss out! Subscribe to our newsletter and get our top stories every weekday morning.