BIRMINGHAM – A night to celebrate six UAB men's basketball seniors turned into a showcase for five of them.
With Jordan "Jelly" Walker leading the way, the Blazer seniors contributed 69 points in UAB's 85-57 shellacking of Rice in a Conference USA game on Thursday night.
Walker's memorable evening included 32 points on 10 of 19 shooting from the field, 6 of 14 from 3-point territory and 6 of 6 from the free throw line. He also narrowly missed a double-double, dishing out eight assists while also contributing four rebounds and a steal.
The Long Island, New York, native had some special motivation in his final Bartow Arena game.
"Seeing my mom in the stands, that definitely put a little boost in me," Walker said. "She doesn't come to a lot of my games. She's on dialysis now so it's hard for her to travel. Her coming to my game meant the world to me. I would say my mom gave me a little extra boost."
Walker said his mother has been to two games this season and made it to about three last season. She picked a doozy on Thursday.
Rice (17-11 overall, 8-9 C-USA) had a 4-2 lead with in the first two minutes of the game. UAB (21-8 overall, 12-6 C-USA) put a quick end to any hopes for the Owls after that by scoring 23 points in succession over the next five minutes. All 23 points in that span were scored by seniors. It include a pair of 3-pointers by KJ Buffen, 10 points from Walker and Ty Brewer's fastbreak dunk. It ended with a three-point play and an emphatic alley-oop slam by Trey Jemison. It was Walker who delivered the pass on the alley-oop.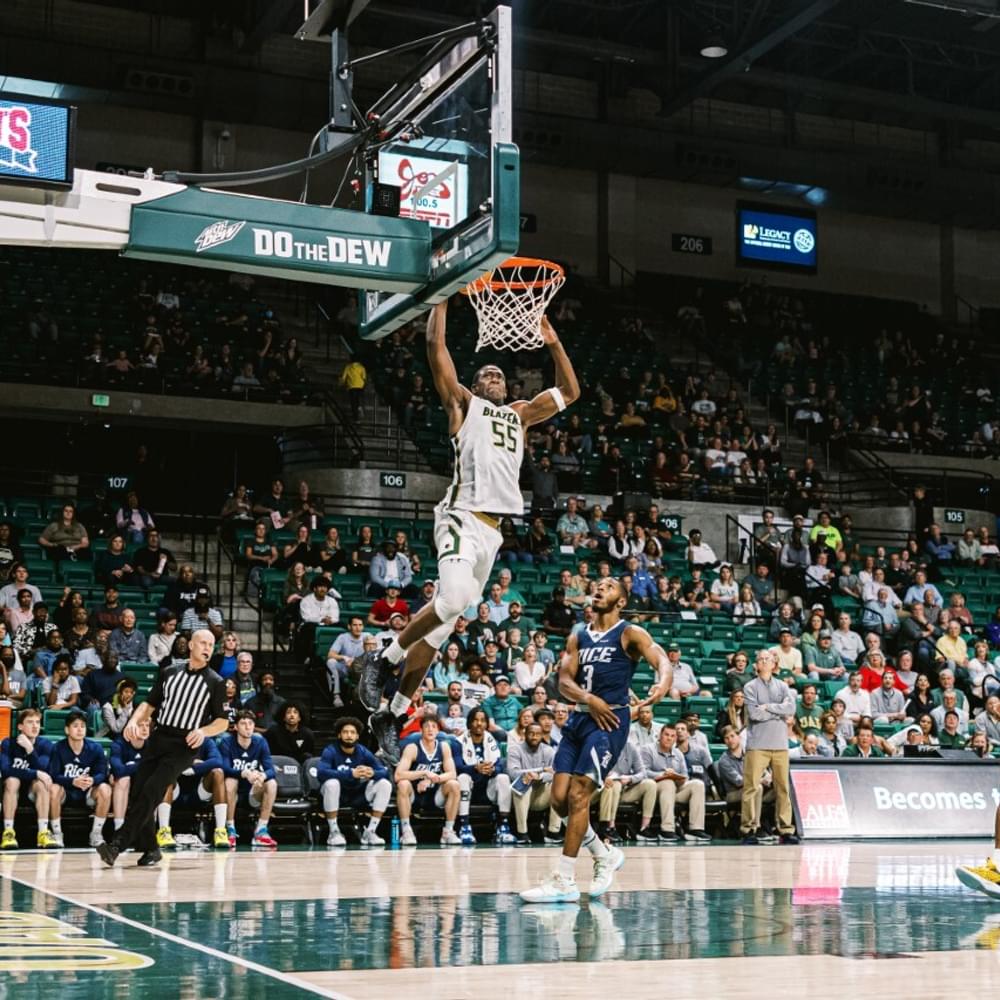 By the time the half ended, UAB had a 55-24 lead, and Walker had 21 points. Rice shot 29.6%, committed eight turnovers and didn't have a chance against an energized UAB team that dominated the Owls in both meetings this season.
"For a guy who's hard to please, that was even hard to criticize," said Kennedy, whose team's sixth senior Ledarrius Brewer missed the game with a fractured left wrist. "Man, we came out with great energy. We were defending, we were moving the ball. First half we had 14 assists off 20 made field goals. We had multiple guys step up and make plays. There were very few things we did poorly in that first half."
While the second half wasn't nearly as crisp, the Blazers were never threatened.
Kennedy started sitting his seniors down early. Walker went to the bench for good with 5:23 left, untucking his shirt and waving to the cheering Bartow Arena crowd on his way out. The other seniors weren't far behind.
"I wanted them all to leave on a good note," Kennedy said.
Jemison came up just short of a double-double with eight points and 13 rebounds. He also had two assists and three blocked shots. Buffen had 14 points, four rebounds, an assist and a blocked shot. Ty Brewer had nine points, five rebounds and two assists. Tavin Lovan had six points, six rebounds, two assists and two steals.
The win guarantees that UAB will finish either third or fourth in the C-USA standings and will have a first round bye in the Conference USA Tournament. It also gave UAB its eighth victory in the past nine games.
"An important win for us," Kennedy said. "Moving forward, it gives us momentum. Now we got to finish this thing right on the road."
Kennedy did take one loss on Thursday night with Walker breaking the tie with his head coach for most 30-point games in a UAB uniform. Walker now has eight 30-point games at UAB.
"I was purposeful," Kennedy said. "If he would have missed the shot (to go over 30 points), I don't know if I would have given him two or three more. But, we tried to run something for him, because I think he deserves it. He's a dynamic playmaker. Those records don't do me any good, but his confidence does."
Don't miss out! Subscribe to our newsletter and get our top stories every weekday morning.