She decided to become a student-athlete at an American university long before Anna Syrova boarded a plane in Odessa, Ukraine.
For the plan to come to fruition, she had to have a plan for the plan.
"Since I played tennis, I knew that a lot of girls from Ukraine, who played tennis, they went to college in America," said Syrova. "Me and my friends were trying to get me here. I was studying English. I was trying to pass the test to get here. It was a goal to come here. It wasn't just like a random idea. I would say it was like one year and a half. The last two or three months, I was studying every day for like two hours."
At the same time, Jacksonville State head coach Mike Mucci was figuring out if he wanted her on the roster. Jacksonville State's women's and men's rosters are filled with players from foreign countries. The women's roster includes players from Spain, France, Slovakia, Venezuela, Estonia, Russia and Finland.
Finding international players comes in different approaches. Sometimes it's word of mouth, or a coach could see highlights on social media. There are also agencies that help find interest between the prospective student-athletes and college programs. For Mucci, his first introduction to Syrova came through an agency.
"The problem was that Syrova had very little video to watch because she had taken a year away from tennis while enrolled in college in her home country," Mucci said. "She didn't have any results from like the last year. I was like. I don't really know what's going on here. But the more I looked at it and talked to her, I had a great feeling about it. Her results in the past had been really good. We decided it was a good fit. Luckily, it was an agency I'd worked with in the past, and I trusted him a lot. It ended up working out really well."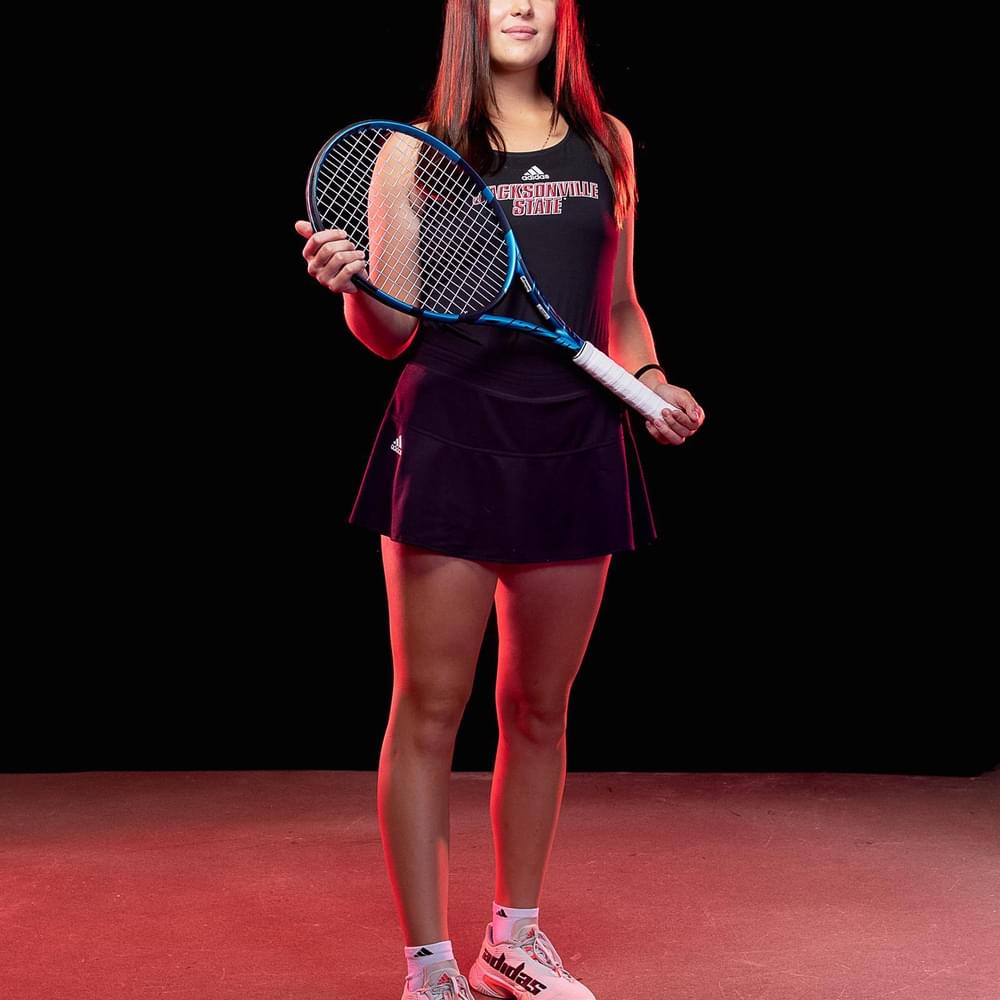 On the court, during her first season, things went well. She led the team with 12 wins in singles matches and was 7-9 in doubles. She did this while worrying about her family in Ukraine.
"To her credit, she probably had the best season of anybody on the team last year," Mucci said. "It just shows how strong she is and what she's able to do through those circumstances to have a really great season last year."
Russia invaded Ukraine in February of 2022. Syrova was in the midst of her first year in American college and her first college season in tennis. Odessa, the third most populated city in Ukraine, sits in the country's southwest corner and is a major seaport. Much of the fighting has come in the eastern part of the country, but no area is safe.
"The spring semester, a year ago, when it first happened, I felt so stressed," Syrova said. "One time, my mother couldn't reply for (a few days), and I didn't know what was going on. In Christmas, I was in Ukraine for a week. I would say my city, because I was just there in downtown, changed a lot. We don't have electricity for six hours on some days. I know, the last two days I was there, the people were out of electricity for 12 hours. They turned water off. Every day you hear the sirens and bombs, rockets. My city is pretty quiet right now, but more in the east side. It's more dangerous there."
At times, though, the danger reached her home city.
"One of the biggest things that happened was one of the houses was exploded," Syrova said. "Half of the people that lived there got killed. It wasn't expected. It wasn't a factory or something. It was just normal housing."
Through it all, she not only found a way to thrive on the tennis court but also endured in the classroom.
"I think I'm doing pretty good in academics," Syrova said. "In all my classes, I have As and Bs. When I first got here, I really struggled in classes. It was hard for me to understand everyone. I had headaches after every class. Now it's so much better. I'm much stronger."
Thus far this season, Syrova is 2-3 in singles matches, and she's teamed with Ella Tuomela to win all six of their doubles matches. As a team, the Gamecocks won five of their first six matches in the spring season, with the lone loss being a 4-3 setback to Mississippi State.
Syrova is majoring in management with thoughts of going into sports management. She is unsure where she'll go when she's finished her college education.
"It's hard to say," Syrova said. "I was thinking to go back home with an American education. Now, we'll see."
Don't miss out! Subscribe to our newsletter and get our top stories every weekday morning.