Talk to UAB football head coach Trent Dilfer about what he looked for when hiring a coaching staff and it won't take long to hear about a quality he calls "figure-it-outness." Not much after that, you're likely to hear about Sione Ta'ufo'ou.
"There's a lot of times you can't figure out what's going to happen," Dilfer said. "You better figure it out real quick. Sione, I talk about him all the time. He's the best figure-it-outness guy I've ever been around. That's what makes him such an in-game adjusting genius. He might have a horrible plan the first series of the game and they go down and score. It's fixed. Like, it's fixed, it will never happen again."
Ta'ufo'ou is the defensive coordinator on Dilfer's first UAB staff. He was also Dilfer's coordinator for the past three seasons at Lipscomb Academy, a former high school head coach in Northern California, a quarterback guru, a former strength and conditioning coach, and former linebacker in his playing days. Obviously, he didn't take a straight path toward coordinating a college defense. He uses that as a strength.
"I think it allows me to have perspective," said the San Carlos, California, native. "Perspective on what people are trying to do, how they're trying to do it. And, then, it allows me to build things that allow me to access that. Offense is trying to create space, defense is trying to take space away."
Ta'ufo'ou's competitive nature comes naturally. He grew up as the second oldest of four brothers. All of them were athletes. His oldest brother played rugby at San Diego State, and the other three all played college football. His brother, Will, is a former fullback at Cal who went to play for five NFL teams.
"Everything was competition," Ta'ufo'ou said. "Who can eat the fastest? Who is getting all the food? You name it, it turned into a competition."
For Sione, it also turned into a glimpse into the future.
"I think that's where I started coaching because I couldn't let my brothers make the mistakes I made," Ta'ufo'ou said. "I got to communicate with them. They took it and ran and did it on their own."
Ta'ufo'ou was in his mid-20s when he became the head coach of Menlo Atherton High in California. He spent five years at the school, leading his team to a CIF Central Coast championship game appearance in 2011. His other head coaching stop came from 2017-19 at San Jose Archbishop Mitty High.
"When I was young as a head coach, I'll be honest, it was like you've been given a ton of stuff and a ton of responsibility," Ta'ufo'ou said. "You figure stuff out. You make mistakes and you kind of learn. You learn a lot about yourself, you learn about what matters to you, you learn about what it means to be great or chase greatness."
His transformation into coaching quarterbacks began by meeting Tom Martinez, who was Tom Brady's first quarterback and won more than 1,400 games as a California junior college, while both were working at camp in Hawaii.
"We built a relationship and I said, 'Hey Coach, if you need somewhere to throw, I'll open the field any day of the week for you at Menlo Atherton,'" Ta'ufo'ou said. "From the first week we came back until he passed away, I opened those gates every Sunday. That's where I started to learn. For five years, I would stand and watch him coach and I would learn. Basically, I got involved more and more. When he passed away, those kids had nowhere to go. They knew of the location, so they came to the location and it started. I started coaching quarterbacks. I had been there enough that I learn the calls and the communication points and what he was looking for in ways to go about it."
His contacts during his quarterback training led to him meeting with Trent Dilfer, which led to a long working relationship, beginning with coaching at Elite 11.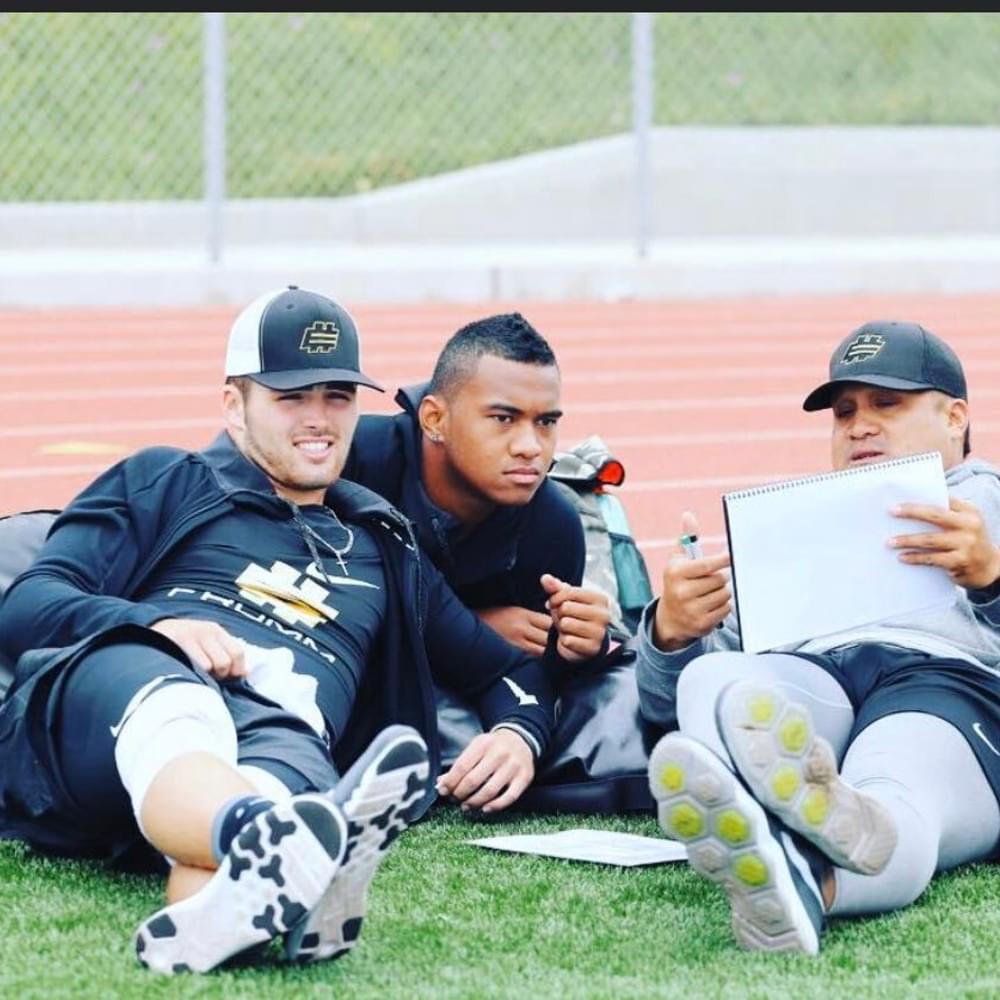 "I have known Sione since 2012 and found him to be one of the brightest football coaches I have ever been around," Dilfer said. "He is a great teacher, he inspires players to play to their potential, and he is an X's and O's mastermind. He is well versed in all three phases of football. Although he is our defensive coordinator, he could easily be an offensive coordinator or special teams coordinator as well. He is one of the most complete coaches I have been around in my 42-year football life."
His defense at Lipscomb Academy posted 14 shutouts in three seasons and allowed 5.5 points per game this past season. During his time in the program under Dilfer, the Mustangs were 37-4 with a pair of state championships.
It was a cross-country move that wasn't easy, but it paid off.
"I was getting married," Ta'ufo'ou said. "My wife, Alexis, and I decided this was a risk. We were leaving a lot. But, it's also another opportunity for growth. It's almost like a calling. It was an opportunity where you're not the smartest guy in the room. Go somewhere where you can be better. Go somewhere where things might be hard. I enjoyed every moment of it."
The opportunity to stay with Dilfer, with the move to UAB, was another one too hard to pass up.
"The first thing I would say, I trust Coach Dilfer," Ta'ufo'ou said. "I know his work ethic. I know his capacity to take and do a lot of things. In order to be great at this level, in my opinion, your leader needs to be great at a lot of things. He needs to be able to communicate and move and push boundaries and push us to be the best we could possibly be. I've enjoyed the last 12 years getting to know him, watching him operate the last three years at Lipscomb Academy and then watching him operate here now. It's been fun."
To connect with the author of this story, or to comment, email steve.irvine@1819news.com.
Don't miss out! Subscribe to our newsletter and get our top stories every weekday morning.