Oxford's Cider Ridge Golf Course experienced major flooding Wednesday, leaving standing water up to three feet deep in some areas.
Floods hit the Oxford-Anniston area as severe storms began late Tuesday night and continued into the morning.
The Oxford Fire Department warned drivers on its Facebook page of multiple impassible roads and informed them not to drive through flooded areas.
"The Oxford-Anniston area got hit pretty hard," said Oxford business owner Cory Etter.
Etter is the owner of Pine Hill Country Club and leases Cider Ridge Golf Course from the City of Oxford. He said the rains started around 10 p.m. on Tuesday and stopped around 4 a.m. on Wednesday. He estimated Pine Hill received seven inches of rain Tuesday night. Cider Ridge, just 10 minutes away, received close to five and a half inches.
Etter said Wednesday that he was not aware of any "substantial" damage.
"The water did cause some issues with one [of] the bridges out there, which hopefully we have that fixed now," Etter said. "It was from irrigation that was connected to a bridge on the back nine that overall shouldn't be too bad to fix."
The flooding is primarily affecting low-lying fairways. Most of the course's greens are elevated, protecting them from the standing water.
Etter said the flooding at Cider Ridge is due to excess water on the nearby Chocolocco Creek, stating, "It's way over its banks and is 400 or 500 yards from the edge of the creek."
When speaking with 1819 News, Etter said he was unsure if any houses were affected, but there was significant flooding around the course's maintenance building.
"Our superintendent and our employees were able to get to work with no problem this morning," said Etter. "Well, the creek continued to rise… and by the end of the day, our employees had a hard time getting out of the maintenance building to go home. It was a foot-and-a-half, two feet of water around the building…Once the water subsides a little bit, and we can get out and fully ride the golf course [Thursday], we should be able to see how much, if any, damage we've got."
Pam Roberts has lived at Cider Ridge for 19 years and said she estimates the water is around 20 feet from her house.
"It's not in our pool yet, but it's close," said Roberts.
Roberts said it was so deep in some places her children were able to go kayaking in the backyard.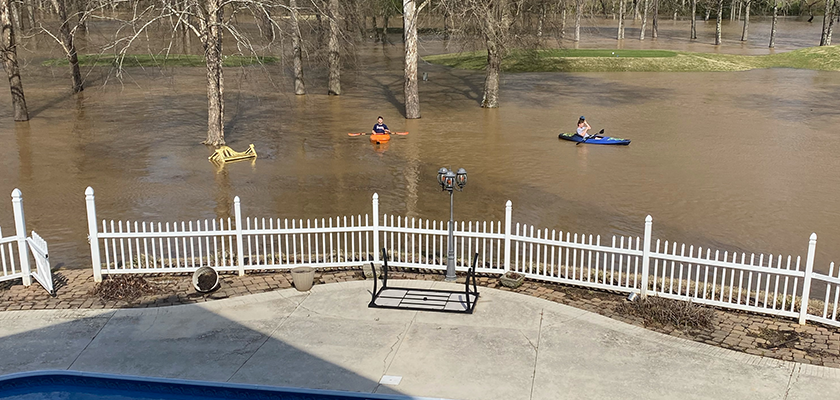 According to Etter, Pine Hill will open Thursday. He plans to open Cider Ridge on Friday.
"A lot of that will drain overnight and throughout this afternoon and then tomorrow afternoon most of the water will probably be gone," said Etter.
To connect with the author of this story, or to comment, email will.blakely@1819News.com.