Alabama could have its first openly transgender member of the House of Representatives after a runoff vote on Tuesday.
The special election for House District 55 will be decided in a runoff vote between two Democratic candidates. Without a Republican candidate in the race, the winner of the Democrat primary will go on to represent District 55.
District 55 includes downtown Birmingham and other suburbs just west of Birmingham, such as Fairfield.
Candidates Travis Hendrix, who won 27.91% of the vote in the Democratic primary, and Sylvia Swayne, who won 21.45%, will go head-to-head to fill the vacant seat. The seat became available after former State Rep. Fred Plump, Jr. (D-Fairfield) pled guilty to conspiracy and obstruction of justice in a money-siphoning scheme involving a public works fund in Jefferson County.
RELATED: Sentencing hearing for former State Rep. Plump delayed.
Although Swayne has no political experience in the state, he beat out six local Democratic leaders in the primary. Much has been made of Swayne's status as transgender, receiving coverage in Teen Vogue and Newsweek — an oddity for one seat in the Alabama Legislature.
Swayne has also received tens of thousands in out-of-state contributions from several LGBTQ organizations funding his campaign.
Swayne's opponent, Hendrix, is a Sergeant with the Birmingham police Department and has received the endorsement of Birmingham Mayor Randall Woodfin, House Minority Leader Anthony Daniels (D-Huntsville) and State Reps. Rolanda Hollis (D-Birmingham), Ontario Tillman (D-Birmingham) and Mary Moore (D-Birmingham).
Sources close to the campaign told 1819 News that while Hendrix would typically have the upper hand in a majority (72%) black district, some claim Hendrix is "too conservative" for the voting base.
Hendrix's campaign recently received backlash after some homes received door-hanging advertisements, displaying the contrast between Swayne and Hendrix. The flyer contained the message, "Sylvia was born to be a white man [and] lives as a white woman/transgender." However, Hendrix's campaign never claimed to have supplied or distributed the hangers.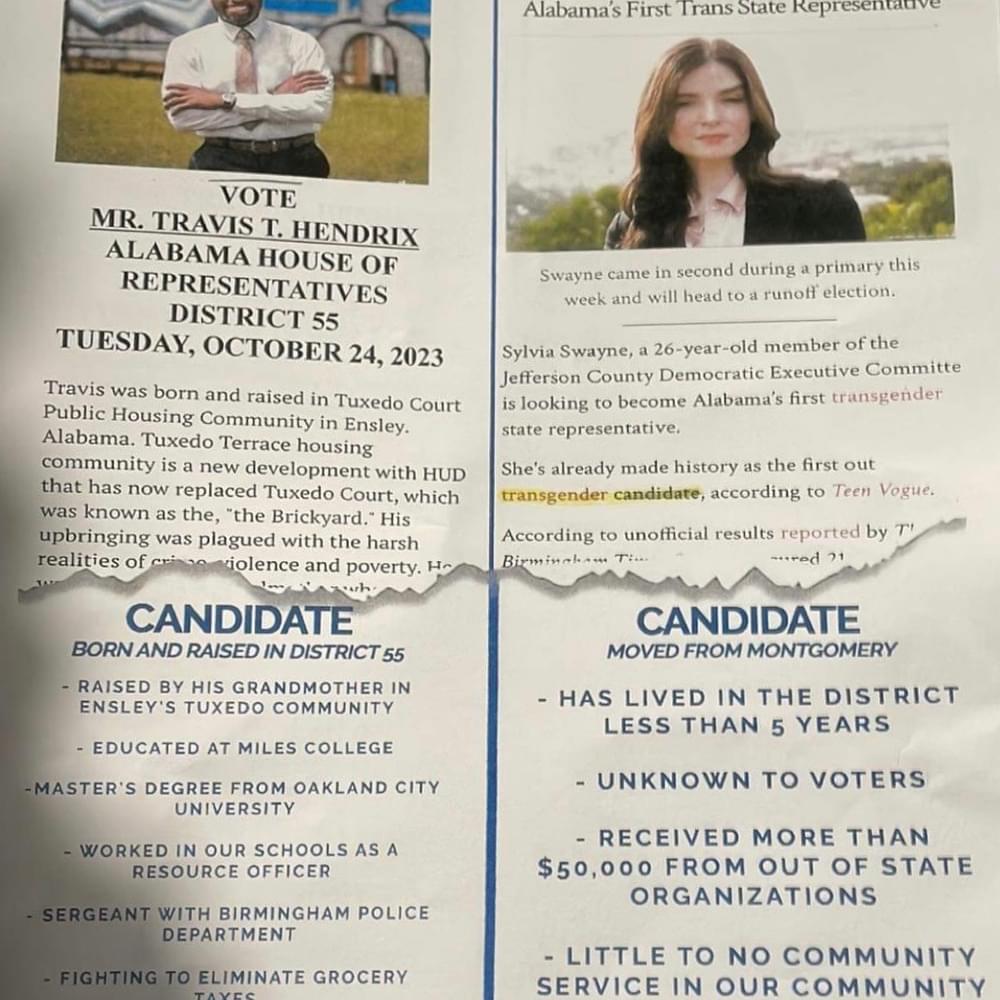 To connect with the author of this story or to comment, email [email protected].
Don't miss out! Subscribe to our newsletter and get our top stories every weekday morning.