"All we like sheep have gone astray; we have turned every one to his own way; and the Lord hath laid on him the iniquity of us all." - Isaiah 53:6
It wasn't all that long ago when a young lady took her husband's hand and walked alongside him on a journey to spread the gospel. It wasn't that long ago, but somehow the power of faith has allowed many changes in many hearts around the world, because of the couple's ability to follow the Lord. The journey all began in Alabama.
Mary Glynn Peeples is now 90 years old.
But before marriage and kids, her faith was not as strong as it is now. Of course, she was a believer in things but really becoming a Christian didn't happen until nearly 10 years after she entered the bonds of matrimony with her husband, Sam.
The couple, from Alabama, met on a double date. It wasn't the two of them on the date together; in fact, Mary was on the date with Sam's friend, and Sam was on the date with Mary's friend. But oh, how fate will see its way in our lives. Mary knew there was something special about Sam.
"The first thing I noticed about him was that he was very honorable, and I had a lot of respect for him," said Peeples. "He didn't speak a lot, but when he spoke it was worth listening to."
It wasn't long before the words were, "Will you marry me?"
And she said yes.
The couple married in 1955, and a year later Sam graduated from the University of Alabama's dental school. Sam spent the next three years in the Air Force, where he worked as a dentist.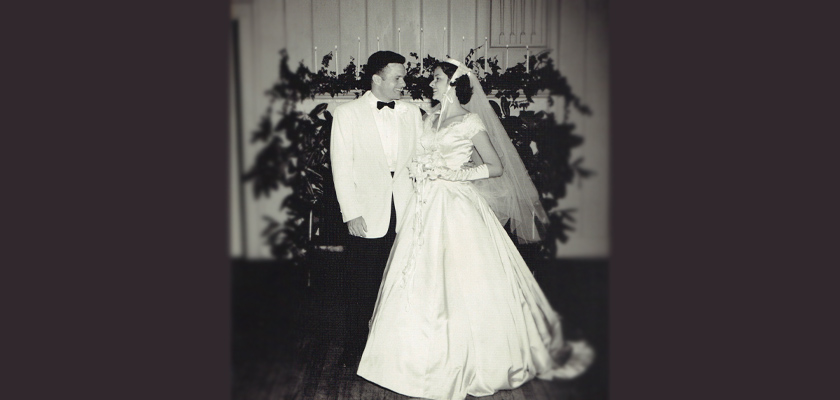 After the couple became born-again Christians in 1964, their journey really began. Sam brought Campus Crusade for Christ to the University of Alabama, and although Mary was along for the ride, she said Sam was the ringleader.
"He just had a love for evangelism," said Peeples. "I was not as loving of it as he was. He kind of dragged me along. I did what he wanted to do because I loved him."
The couple had three children and were eventually called to do missionary work. She had never lived anywhere but Alabama so the call to do mission work in Asia was a big change for Peeples.
"Dr. Bill Bright, who founded Campus Crusade, challenged us to move to Asia," said Peeples. "When he presented me with that idea I said, 'Where is Asia?'"
During their time in the Philippines, the couple led a school for Asian Christians, and they taught Bible classes in various churches.
After three years, the couple headed to Washington, D.C. where they spent two years helping to start the Christian Embassy to reach people in government.
"It's important that people know Christ as their savior," Peeples said. "We entertained people in leadership positions. We had lunches, dinners, teas and coffees and shared faith with those people."
Among those in her memory bank was Bill Armstrong, from Colorado. Peeples said Armstrong eventually became a Senator and was asked by George H.W. Bush to run for Vice-President.
"Of course, he declined," said Peeples.
But speaking to those people in such powerful positions was important to the couple; even if their message wasn't truly heard by each and every listener, they knew they were doing what they were called to do.
"These days, prayer is taken out of school, Bible reading is taken out of school, and God is being ignored," Peeples said. "That removes any type of authority and that's dangerous."
By this time, Mary Glynn Peeples was all-in on spreading the Word.
"It's been a slow decline [in faith for our nation], and I consider it due to immorality," said Peeples. "The standard for living properly comes from the Bible…These congressmen were interested to know what the Bible had to say about issues."
It was during their time in Washington that the Peeples' got the burning desire to delve into family Christian counseling. They realized answers to issues were all in black and white, right there in the Holy Bible.
"We didn't want to go to college to get a degree," said Peeples. "So, Dr. Henry Brandt was our mentor. He was a clinical psychologist in Flint, Michigan. We spent one week a month for two years with him. He taught us how to listen to peoples' stories and what was important and what was not."
Peeples said Brandt taught them how to listen for violations of the Bible. When someone came to them with an issue, they heard their history, identified those violations and found the answer in scripture.
"It's not what happens to you, it's your reaction to what happens to you," Peeples said. "That's the most difficult principle."
Over the next several years, the couple traveled to put on seminars about how to live life, manage stress, enrich marriages and parenting. One of the seminars was entitled, "Parenting without Stress."
So, is that actually a thing?
Peeples says it is, as long as you have God.
"It's absolutely possible," she said. "It's all about our reaction when things don't go our way. Children never seem to do what parents want them to do, and parents get angry. Children don't need to be raised by angry parents, but if you're not a Christian, you can't get rid of the anger."
Although Sam passed away in 2012, Mary has continued her mission. She still does Biblical counsel and weekly Bible studies with adults and children.
"I'm 90 years old, and I am slowing down a bit but I love it and I just have a heart to teach people the truth because the truth sets you free," Peeples said. "There's so many miserable people in this world and I just want to help show them that it can be different."
Allison Stallcup, of Mountain Brook, knows firsthand how God has used Peeples to touch lives.
"I met her 22 years ago," Stallcup said. "My mother sent me to her house for a stress seminar after I graduated from college."
Stallcup said from the moment she met Peeples, she knew she would be a part of her life for a long time.
"I just fell in love with her instantly," Stallcup said.
And Stallcup was right. Since that first meeting in 2000, she has been visiting Peeples every week. For her, Stallcup said Peeples is more than a mentor and has become family. She even named her second son after Peeples and her children are now able to learn and grow by meeting with Peeples as well.
"She knows the Bible and applies it to her daily life in a way that is special," said Stallcup. "A lot of people will study the Bible and know what it says, but it's really a wise person that puts it into practice, and she's done that."
Peeples said her advice is to be available to others and encourage them by sharing faith.
"And it's hard to do these days because we are so criticized," said Peeples.
But with a little help from scripture, Peeples is able to inspire others in a healthy and faithful way.
"We study the Bible together, and she teaches me different verses and how to apply them to whatever situation I might be experiencing, with relationships or circumstances in my life," Stallcup said.
Peeples' favorite Bible verse is Isaiah 53:6: "All we like sheep have gone astray; we have turned every one to his own way; and the Lord hath laid on him the iniquity of us all."
In fact, she wrote a book about it. She has written three books total. The other two are about parenting and depression. Peeples said she will send copies to anyone interested. You can email her at maryglynn@aol.com to request a copy.
In the meantime, Peeples said although her husband is no longer with her, she is at peace knowing where he is.
"I thought I would die when my husband died because we had such a great relationship," said Peeples. "But after he died, I decided that I had to think on truth to survive, and the truth is that he is in Heaven and Christ is in me. So, when I go to bed at night and miss him, I think about that and that excites me."
When she joins her Heavenly Father, Peeples said she hopes one thing:
"I hope that I have left the fact that the information in the Bible is the most important information in the world," said Peeples. "Jesus told Nicodemus, 'You must be born again,' and Nicodemus said, 'How do you do that?' Most people want to do what's right but they don't know how. Never tell anyone what to do unless you can tell them how to do it."
To connect with the author of this story, or to comment, email erica.thomas@1819news.com.
Don't miss out! Subscribe to our newsletter and get our top stories every weekday morning.