By Erica Thomas, Managing Editor
We are in the season of giving and one Hoover girl is using her platform to give to others in a big way.
Lucy Helland, 11, is USA National's Miss Yellowhammer State Pre-teen. Although she has only been in the pageant realm for a short amount of time, the fifth grader at Southminster Day School has already noticed the power and influence that comes with holding a title.
"It's been such an amazing experience and you meet so many amazing girls," Helland said.
It didn't start out easy for Helland. She wasn't the type to play dress-up in her "younger years" and her focus wasn't on the stage.
"When I was three or four, my aunt made me do a pageant and it did not go very well," Helland said. "My confidence wasn't where I would want it to be. I was not a big girlie-girl when I was very young. I liked playing in the mud with my cousins."
But after seeing a pageant on television, Helland was inspired to get in touch with her inner girlie-girl, and the rest is history. She has competed in multiple pageants and even made it to the national stage.
After winning her first USA National Miss state pageant, Helland was able to compete in Nationals at Disney World. Through that experience, Helland has met other young ladies with the same goals. One of those goals is to help others.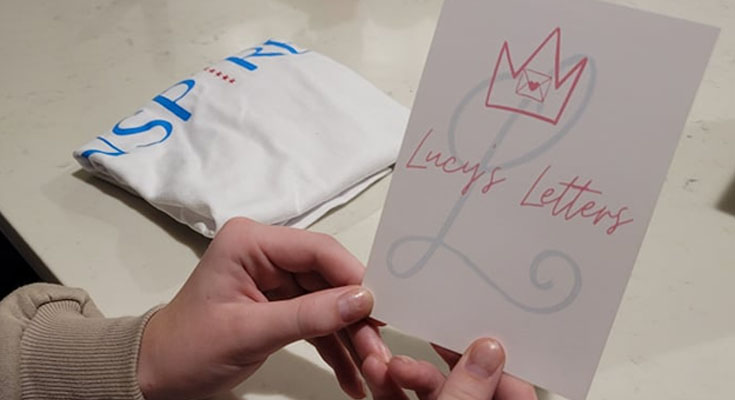 As part of her platform, Lucy started "Lucy's Letters." She sends handwritten letters to people to brighten their day.
"I've always just loved getting mail and I thought it was so cool," Helland said. "I just love writing personalized, just very heartfelt notes and receiving them."
The inspiration behind Lucy's Letters came after her parents told her how their love story began. Her father was in the military when he met her mom, and the pair had to send handwritten letters to each other during deployments. At one point, Lucy was able to read some of those letters and it struck a chord in her that she couldn't ignore.
"So, I started with my platform to inspire other young girls to write letters and send personalized packages to men and women in the military," Helland said. "I write letters to people in nursing homes, too. I love doing that for Valentine's Day and Christmas. I love going to the Salvation Army and writing letters to all of the amazing people that live there. I really write letters to anyone."
Helland's good deeds don't end with a stamp. Just this year, she collected money to buy pillows for foster children. She was able to purchase 300 pillows for Garret's Place, a non-profit organization in Bessemer that provides assistance to foster children.
"They're having a Christmas party and they get a pillow, pajamas, underwear, gloves, socks and a hat," Helland said. "And they'll have food and get to go see Santa."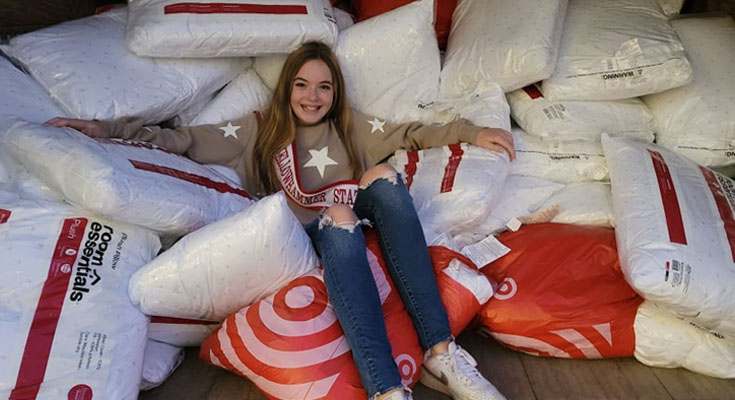 As Helland watches Miss Alabama Lauren Bradford prepare to take the national stage at the Miss America competition this month, the sparkle in her eye represents a child with big dreams, thanks to inspiration gained from her experience in Alabama's pageant circle.
"She is the most amazing, inspiring young woman I have ever met," Helland said of Bradford. "She is just so amazing and talented and I think it's so inspiring how she can be from sweet home Alabama and be able to go to the Miss America stage. She is so confident and excited for it."
That confidence has rubbed off on Helland.
"I am a girl that once was not confident and now [have] the confidence of maybe three girls, and I have met some amazingly inspiring, beautiful women," Helland said.
Although her smile radiates on stage, Helland has stayed humble by reading nightly pageantry devotions and sharing them with friends.
"I love saying a prayer [beforehand] with all of my friends," Helland said.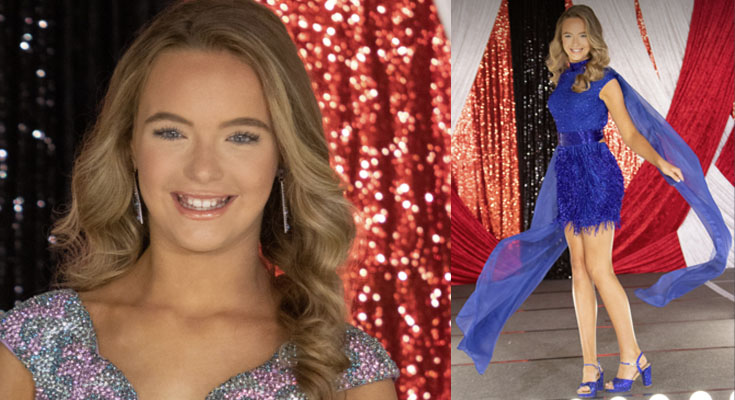 Meeting other young ladies and community service are important to this little girl with a big heart. At the rate she's going, we will be seeing more of Lucy Helland.
"I see myself [competing] in pageants as long as I possibly can," Helland said. "Honestly, I love all of the girls who compete."
To connect with the author of this story, or to comment, email erica.thomas@1819News.com.