Roy Brook stands in 100-degree weather, bone-chilling sleet, and piercing rain. The 73-year-old knows most every interstate and side road in Alabama because he has walked them.
Brook works in silence, always on the fringe and never in the way.
He doesn't get paid for standing outside, sometimes as long as nine hours at a time.
But he loves God.
And his country.
"I have always been a patriot," said Brook. "Even as a kid, the flag meant a lot to me."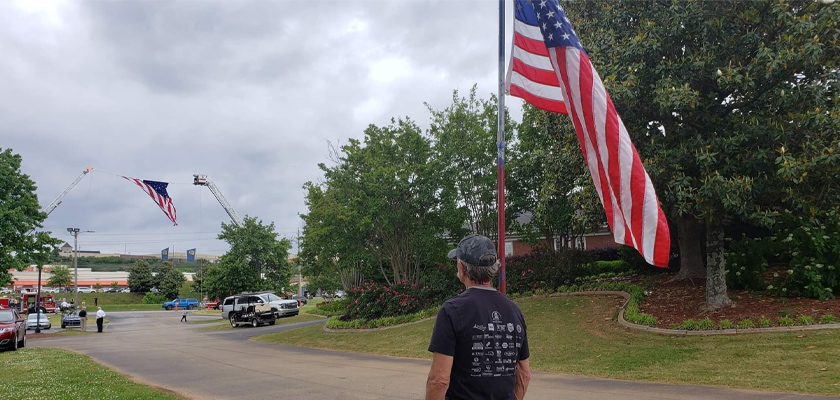 He calls it "The American Flag Project." It started in 2016 after Brook retired from driving trucks. Brook said he and his wife were sitting in their Bessemer home on Memorial Day weekend, and he felt the urge to honor our servicemen and women.
"I am not a Veteran, but I did have a flag and an old pool skimming pole," Brook said. "I felt like the Holy Spirit talked to me. We loaded up, put on our best Patriotic clothes, and drove to the intersection of highway 280 and 459. The traffic was very encouraging that day, and I knew I had found my calling."
From that point on, Brook started traveling. He has been all around Alabama holding the flag, and even ventured to neighboring states Kentucky, Mississippi, and Tennessee to show his love for America. Brook now attends military and first responder funerals as well. He enjoys holding the flag so much that he has shown up at festivals, grand openings, football games, and ribbon-cutting ceremonies all over the state.
"It consumes between 10 to 40 hours a week, but I promise you it's the best job I've ever had," Brook said. "When an event is over, I leave. I don't draw attention to myself. I just want people to remember how great our country is and how many brave souls have died, so we have the freedom to stand on the side of the road."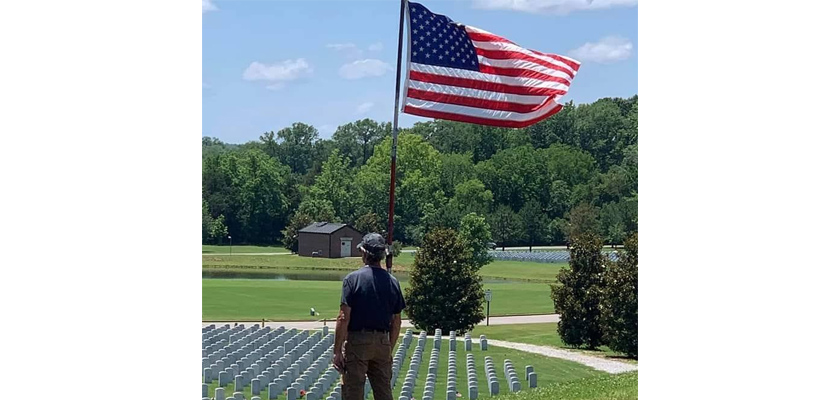 Brook said sometimes he walks and sometimes he stands still.
"People honk and wave, pump their fists, some give the peace sign, and others yell my name," Brook said. "There is so much love out there. When the veterans salute me, I can feel it in my bones. I am so proud to live in this country. People even volunteer to hold my flag so that I can use the restroom."
Brook said he never worries about getting hit by a car or some radical trying to take him out.
"I think God protects me out there," he said. "Even in extreme weather, it doesn't bother me. I may be hot or cold for the first 30 minutes, but then I get into the zone, and it goes away.
"I plan to do it as long as I can. I'm healthy, and 73 is just a number. And I'm really excited because I just got a brand new flag and pole, so I don't have to use the pool skimmer anymore.
"Members of the American Legion Post 205 in Clay-Trussville surprised me with it, and I love it," said Brook.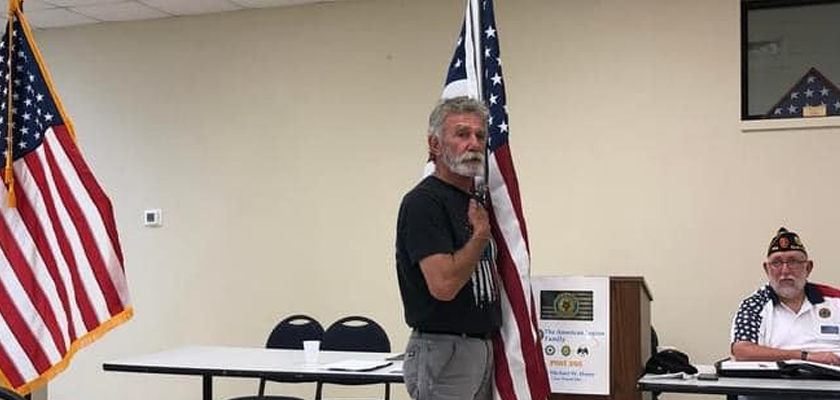 Jimmy Fitzgerald is one of those Legion members who met Brook about five years ago.
"We wanted to show him how much he is appreciated," said Fitzgerald. "Seeing Roy continue to show up for our heroes is an overwhelming feeling of gratitude. He doesn't ask for anything. Roy doesn't look for kudos, which makes him so special. He has a heart for America. I would love to see the national news cover Roy because his contribution is that important."
Fitzgerald said he has never met a more humble man than Roy Brook.
"Just being around him, you feel the tingle of Patriotism," Fitzgerald said. "No one else in our state is doing what Roy is doing."
And that's quite a compliment coming from Fitzgerald, a Patriot Guard Rider who, along with others, attend the funerals of members of the U.S. military and first responders at the invitation of a decedent's family. Fitzgerald also served in the Alabama Air National Guard - 20 years active guard and 34 years total - as part of the 117 SFS (Security Forces Squadron).
And the friendship between the men is as sweet as it sounds.
"I am on a mailing list with the Patriot Guard, so I hear about military funerals that way," Brook said. "Some people tag me on social or email me; others text me. First responders will let me know."
When asked why he never sits, especially when he is on the concrete curb for hours, Brook's response was as straightforward as his calling.
"You can't sit and hold the American flag," Brook said. "That is disrespectful. If people gave up their lives, I can certainly fight through some exhaustion. In general, I don't understand people that complain. They have no concept of what a real problem is. Just go to another country and see how others live. America is the greatest country in the world!"
Brook said his two sons and two grandsons are proud of him, making him smile.
"My youngest son just retired from the Army after eight years," he said. "So, I do this for him, too. I hope the younger generation can believe in something enough to stand for it. I would tell the kids coming up these days to believe in your country. Speak well of your country. Help people here in America. Just be faithful in something because commitment means everything."
So, the next time you are out and about, and you see a man quietly carrying a big American flag, now you know his name.
Roy Brook.
A true American patriot.
"My only message to our servicemen and women - thank you! You make America." Brook added.
To connect with the author of this story, or to comment, emailnews@1819News.com
Don't miss out! Subscribe to our newsletter and get our top stories every weekday morning.