Alabama Attorney General Steve Marshall applauded the decision of the Alabama Bureau of Pardons and Paroles to deny the parole of convicted child murderer Judith Ann Neelley, saying her death sentence should never have been commuted.
On Thursday, the parole board denied Neelley's potential release for the second time since her incarceration.
Neelley and her husband, Alvin Neelley, kidnapped Lisa Ann Millican, 13, from a Georgia mall. The pair took Millican to an Alabama motel where the girl was repeatedly raped, injected with drain cleaner and then executed by a gunshot to the head.
According to court documents, Judith Neelley injected the drain cleaner to kill Millican. When that failed, she shot her in the head.
Neelley was convicted of murder in 1983, and jurors recommended a life sentence. The judge disregarded the jury's recommendation and sentenced her to death. Her husband was sentenced to life and died in prison in 2005.
In 1999, then-Gov. Fob James commuted Neelley's death sentence, giving her life in prison instead.
Marshall took to social media to applaud the board's decision to deny her parole and joined Gov. Kay Ivey in criticizing the former governor's commutation of Neelley's sentence.
"PAROLE DENIED-Judith Ann Neelley should have been executed 20 yrs ago, but the disastrous commutation of her sentence allows parole to be considered every 5 years," Marshall tweeted. "Denied parole is a small victory for Lisa's family, but so long as I am AG, we will fight to keep Neelley locked up."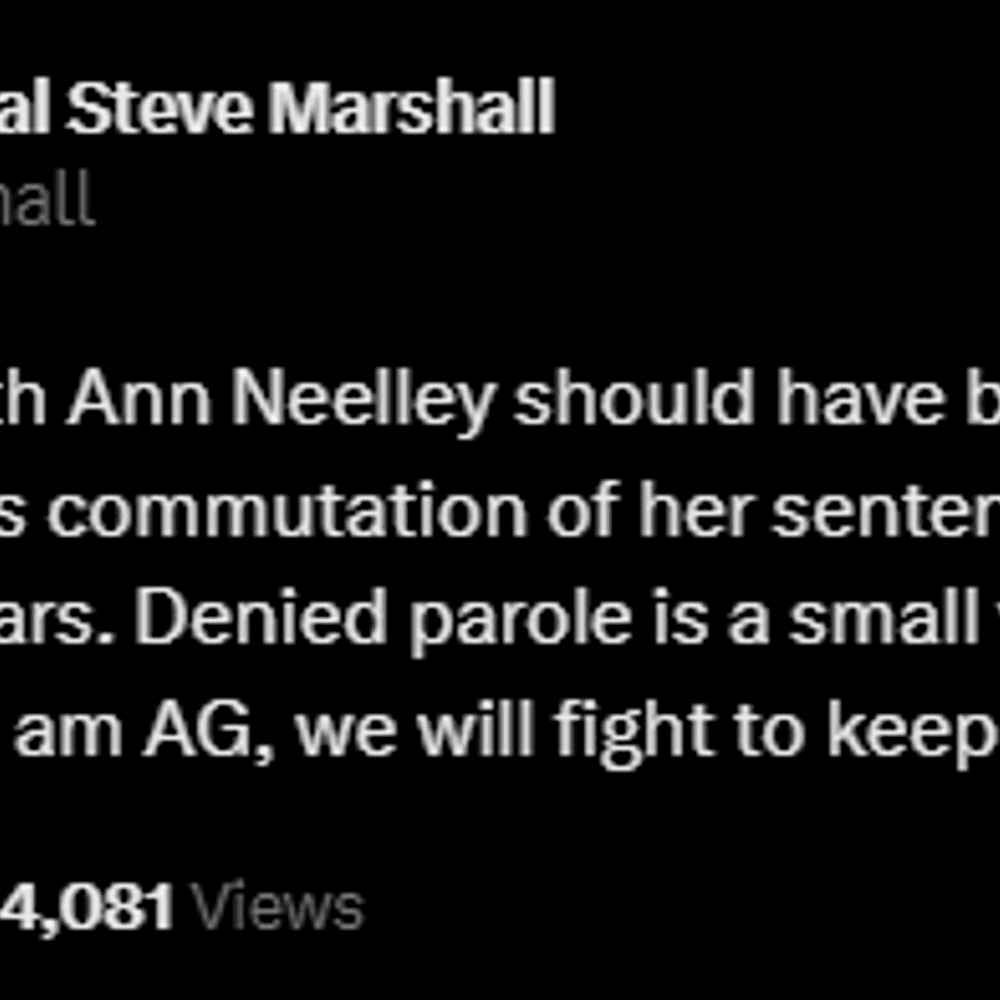 Ivey sent an open letter to the parole board last week, imploring board members to deny the request and criticizing James's decision.
"I believe it was a mistake for Governor James to commute Ms. Neelley's death sentence in the first place – and certainly to do so in the way that allows Ms. Neelley the possibility of parole," Ivey wrote. "Now, every five years, the wounds of these families are reopened as they wait with bated breath for your decision."
To connect with the author of this story or to comment, email craig.monger@1819news.com.
Don't miss out! Subscribe to our newsletter and get our top stories every weekday morning.