Terri Mundy's son, Jack, had just turned 24-years-old when he died last year from an accidental overdose. Now, Mundy is warning other parents about how Jack got his hands on a deadly drug that he thought was something else.

Jack grew up in Vestavia, was the youngest child in the family, scored a 30 on his ACT without studying, and loved his dog, Woodford. But none of that saved him from dying of a drug overdose. Jack died three months before graduating college at the University of Alabama and becoming a professional chef.

Mundy said her son took something he bought off the popular app, Snapchat, and never woke up. After dealing with sleep issues, Jack was put on Trazodone, according to his mother. After his doctor retired, he had to find a new doctor in Tuscaloosa. While waiting for a new doctor, Mundy said her son turned to his phone for relief.

"[H]e had four different sleep apps on his phone and was trying everything," Mundy said. "He turned to Snapchat to get some Xanax and what he unknowingly received was Xanax laced with a lethal dose of fentanyl."
According to the Drug Enforcement Administration (DEA), Mexican criminal drug networks are mass-producing illicit Fentanyl and fentanyl-laced fake pills using chemicals sourced largely from China and are distributing pills through U.S. criminal networks. These counterfeit pills are designed to appear nearly identical to legitimate prescriptions such as Oxycontin, Percocet, Vicodin, Adderall, Xanax and other medications. Criminal drug networks are selling these pills through social media, e-commerce, the dark web, and existing distribution networks. As a result, the fake pills are widely available.
Debbie Webber, a special agent with the DEA said in 2021, there were over 100,000 drug overdose deaths. Webber said that number came from the Centers for Disease Control and Prevention (CDC).
"So, do the math," said Webber. "That's 274 people a day."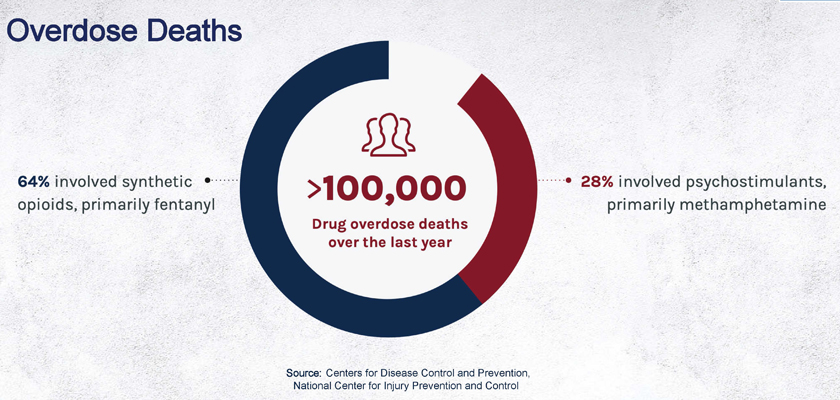 To put that into perspective, Bryant-Denny Stadium at the University of Alabama has one of the nation's largest on-campus football stadiums, with a current seating capacity of 100,077. This is about the same number of Americans that died from accidental drug overdoses in just 12 months.

According to the DEA, counterfeit pills have been seized by the agency in every U.S. state in unprecedented quantities. More than 9.5 million counterfeit pills were seized in 2021, which is more than 2019 and 2020 combined. The number of DEA-seized counterfeit pills with fentanyl has jumped nearly 430% since 2019. DEA laboratory testing further reveals that as of 2021, two out of every five pills with fentanyl contained a potentially lethal dose.

"It's important to note that fentanyl is tasteless, odorless and only requires a minuscule amount to intensify a high," said Mundy. "Although the potential to become lethal is significant, it shockingly remains an attractive and profitable addition to drug business and it's not going anywhere."

"Social media is magnifying the crisis," said Webber. "Kids, teens, and young adults use platforms such as Snapchat, Facebook, Instagram, Tic Tok, and YouTube to buy pills and drugs."

Mundy said Snapchat's Snapcash feature has made it easier to buy and sell all in one place, from your phone. Webber said the scariest part, even if parents are checking their kid's phones, they often won't see it because drug dealers are using emojis to communicate, a secret code of sorts, instead of spelling it out with words.

See this graphic provided by the DEA: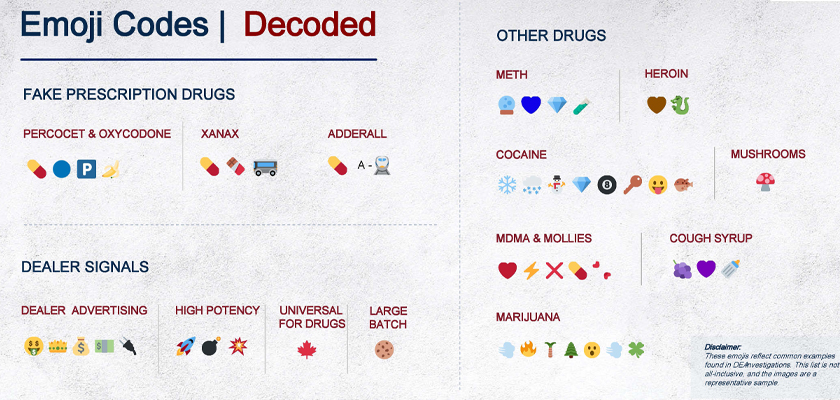 Mundy did not blame Snapchat for her son's death but said the popular app and other similar apps can be a breeding ground for bad behavior that goes unchecked.
"You know that saying, 'we are only as sick as our secrets,' well, Snapchat is an app built for secrets in my opinion," Mundy said. "Drug dealers are never going to stop and they are coming at our kids from every direction, especially on the social media platforms they know teens and young adults are frequenting."
Since losing Jack, Mundy has talked to other moms in Alabama who have lost their kids to accidental overdoses.

"Dealers are lacing drugs with fentanyl because they want people to get a more intense high, so they become return customers," said Mundy. "A better high equals a more loyal customer base."
Webber said a big problem with these "street pills" is people are making the drugs with no chemistry degree. They're often mixing them in their bathtubs and sinks. Therefore, there are not measuring anything.

"If you put a pill into your body that a doctor or pharmacist did not prescribe, you are playing Russian roulette with your life these days," said Webber. "If you buy any type of medication through social media, it's a real danger."

Webber said the DEA is very busy with cyber investigations, including all platforms of social media.

"We are still going after dealers every day," said Webber. "We have multiple cyber investigations- dealers can't hide behind the internet. There is still a trail, and we have full-time people dedicated to finding them. We even have informants online, and undercover investigators focused on fighting this drug crisis. More and more kids are getting phones and getting on social and they are doing it at a younger and younger age. Parents need to be aware of the dangers and fentanyl is so cheap, dealers will never stop using it, and it will never stop being deadly."

Mundy said since Jack's death, she has occasionally gotten visits from him in her dreams. She said she is grateful for that.

"If other parents are reading this article, I encourage all of them to always check on your kids," said Mundy. "If you get a gut feeling that something is not right, talk to them, even if it feels odd or uncomfortable. This temporary feeling pales in comparison to learning to live without them for the rest of our life. We as parents are not equipped for that, it's unnatural. I spent 24 years loving Jack unconditionally, and in a moment he was gone. Now I watch old videos to hear his voice and laughter."
Snapchat has not responded to a media inquiry about the deadly use of drugs sold on its platform. However, in its community guidelines, Snapchat states the following:
Don't use Snapchat for any illegal activity — including to promote criminal activity; facilitate or participate in cybercrime; or to buy, sell or facilitate sales of illegal or regulated drugs, contraband, weapons, and counterfeit goods or documents.

We prohibit the promotion of regulated goods or industries, including illegal gambling, tobacco products, and alcohol.
To connect with the author of this story, or to comment, email [email protected].