A new study about a voter roll maintenance company, that works with the state of Alabama, shows cause for concern over possible political influence and the release of personal information of not only voters but also people who have declined to vote.
1819 News first reported about issues raised over the Electronic Registration Information Center (ERIC) in February. A deep look into contractual agreements and documents from ERIC showed originating ties between George Soros and ERIC. But now, more information has been released and confirmed about connections with another well-known liberal progressive, and election officials in the state of Alabama say they are taking steps to make a change.
Personal information of people has also been shared with other groups and Alabama's front-running candidate for Secretary of State is responding.
What is ERIC?
According to its website, ERIC is a non-profit organization with a mission to assist states in improving the accuracy of their voter rolls and increase access to voter registration for all eligible citizens. ERIC claims to help states maintain voter rolls by identifying potential registered voters who have passed away, moved out of state or have duplicate registrations. It currently works within 31 states:
Alabama, Alaska, Arizona, Colorado, Connecticut, Delaware, Florida, Georgia, Illinois, Iowa, Kentucky, Louisiana, Maine, Maryland, Michigan, Minnesota, Missouri, Nevada, New Mexico, Ohio, Oregon, Pennsylvania, Rhode Island, South Carolina, Texas, Utah, Vermont, Virginia, Washington, West Virginia and Wisconsin.
Louisiana Secretary of State Kyle Ardoin announced in late January that his state was suspending participation in ERIC. Ardoin said he heard of accusations that ERIC was partly funded by possible "partisan actors" that may have access to data "for political purposes."
David Becker Connection
ERIC was formed in 2012, with assistance from the Pew Charitable Trusts. Verity Vote, a non-profit that released a new study on the inner workings of ERIC, found that David Becker, who created the program, has acted as a partisan-progressive in the past.
"His bias was exposed in a probe of ethics violations while at the DOJ; he worked as the Director of a far-left organization called People for the American Way and then went to work for Pew," the study stated.
Becker is still working as a non-voting ERIC board member. He also founded the "non-partisan" 501(c)(3), CEIR (The Center for Election Innovation and Research), which received more than $70 million from the Chan Zuckerberg Initiative in 2020, according to the investigation. The funds were granted as an initiative between Priscilla Chan and Mark Zuckerburg to "promote safe and reliable voting in states and localities during the COVID-19 pandemic.
"The Center for Election Innovation and Research, CEIR, mirrored the CTCL [Center for Tech and Civic Life] pattern but, instead, funneled money to mostly progressive secretaries of state in order to gain access to data needed to inflate the Democrat voter rolls and drive Democrat turnout," the study found. "Pennsylvania's Department of State (DoS) received $13 million from Zuckerberg through CEIR. Michigan's DoS received nearly $12 million."
The state of Alabama did not receive a grant, investigators said.
Alabama Secretary of State John Merrill told 1819 News that the state did not receive a grant from CEIR because of its connection to Becker.
"We don't want anything to do with David Becker," said Merrill."…I have led an effort to have David removed as an ex officio member. And I have led [efforts] to eliminate positions of ex officio board members and it looks as if that is going to occur at their next meeting in the first quarter of 2023."
Merrill said he met Becker in 2014 when he was invited to a Secretary of State orientation briefing in California. He said the trip was paid for by the Pew Charitable Trust.
"There are other meetings like that that David has hosted since that time," said Merrill.
Merrill said his experiences with Becker over the years have led to him reaching out to ERIC and other Secretaries of State to make a change.
"David Becker has a checkered past and is recognized in election circles as a liberal partisan and the ERIC board through membership and leadership and paid capacity or through an ex officio association does not have any place for a partisan member," Merrill said.
When it comes to taking Zuckerburg funds, Merrill is not surprised.
"David is going to go after all liberal money he can gain access to because he has an agenda," said Merrill.
Merrill believes Becker's influence on ERIC has been "moderate and is losing ground every day."
Information Sharing
As 1819 News previously reported, Verity Vote pointed out that the contract with ERIC prohibits states from disclosing information associated with ERIC. The refusal to disclose information shared with the company appears to be a violation of the National Voter Registration Act (NVRA).
"Public Interest Legal Foundation (PILF) has a case pending in US District Court over the 'protection of data' section of the ERIC agreement," the study states. "PILF demonstrates that the member agreement violates the Public Disclosure Provision of the National Voter Registration Act of 1993, NVRA. The ERIC Membership Agreement prohibits members from disclosing records that they are legally required to disclose."
Also, a possible violation of the NVRA, member states must provide ERIC with DMV records, including DMV records of those who have already declined to register to vote. States are not allowed to share records of those who decline to register.
When it comes to CEIR, it appears the organization is working directly with ERIC, and at times through Becker. Emails discovered proved that Becker has set up meetings with ERIC member states.
Information has been sent to CEIR, according to electronic documents obtained by Verity Vote.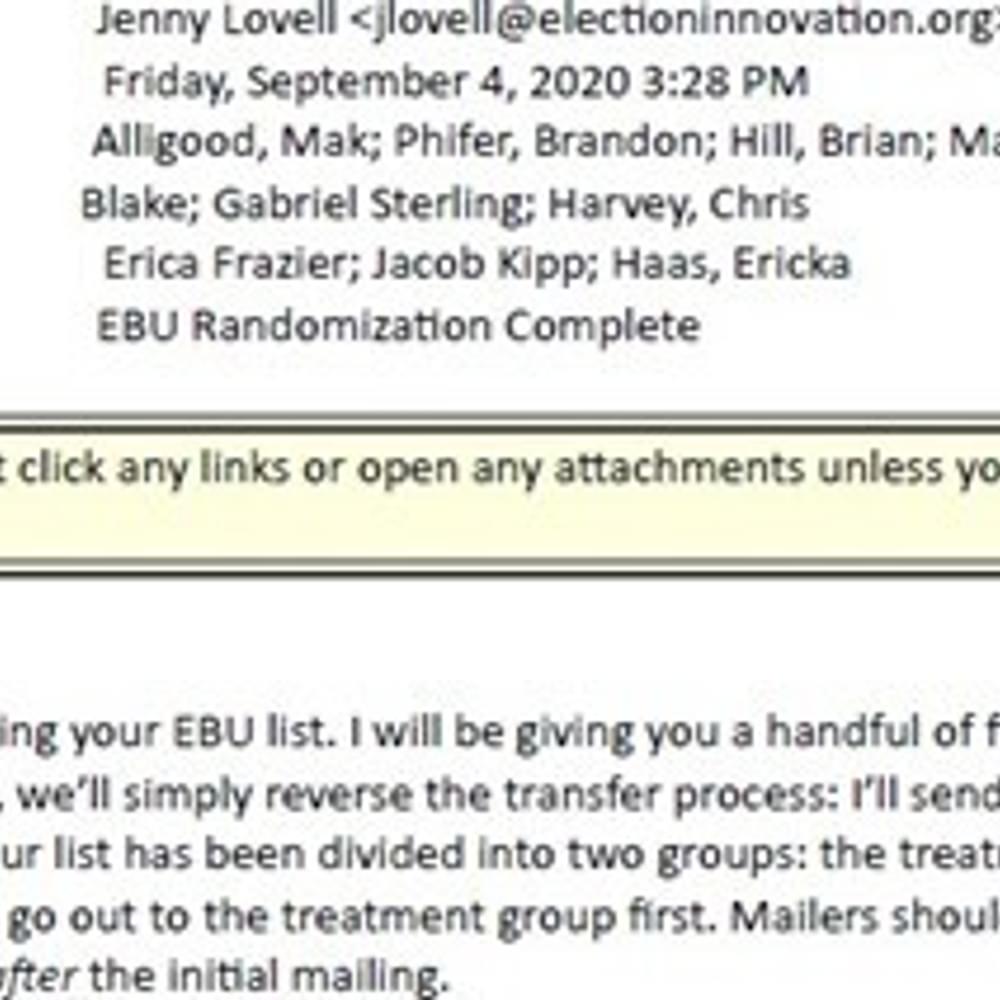 "An email received from a FOIA request submitted to the Georgia Secretary of State's office reveals that ERIC is transferring Enterprise Backup Utility (EBU) data to CEIR," Verity Vote stated. "This is NOT voter registration data but data from people who have chosen not to register to vote. CEIR is creating targeted mailing lists from the EBU data. See below email from Jenny Lovell, former research manager of CEIR. She explains that the data from Georgia should be sent to ERIC for transfer to CEIR. That transfer process is reversed so Georgia can download the mailing lists from ERIC. Lovell is now a data lead with Democracy Works."
This information-sharing is the most concerning part of the new study, as far as the Republican candidate for Secretary of State Wes Allen is concerned.
"That's very, very concerning that personal information could flow from ERIC systems to the Center for Election Integrity and Research," said Allen. "To me, that is the most troublesome information from the report."
Allen, who has been speaking to constituents about concerns over ERIC since he was on the campaign trail in January, said he has been speaking to lawmakers about the state discontinuing the use of ERIC.
"I'm still committed, day one, to start the process of getting us out of ERIC in the state of Alabama," Allen said. "…Rest assured, we are going to remain committed to getting us out of ERIC."
Does it work?
Merrill said earlier this year that ERIC has identified more than 19,000 potential dead voters, more than 22,000 potential cross-state movers, and more than 24,000 voter records of potential duplicates.
Merrill also said ERIC can assist in locating and removing illegal immigrants from voting. He supported the program, saying the state is getting what it needs from the $28,000 a year contract.
"No state has the capacity to do what ERIC does,'' Merrill said. "No state has the financial resources to do what ERIC does. No state has the ability, the personnel, or the extra budget to do what ERIC does.
However, after 18 months of looking into ERIC, Verity Vote found the company only has three employees and the non-profit investigations organization claimed, "there is no evidence that ERIC leads to improved accuracy of voter rolls."
Merrill believes ERIC only needs three employees because they use computers to compile and share information. He said he is working to make sure an audit is done to "validate the integrity, the security, transparency and the credibility to its members,"
According to Verity Vote, the Wisconsin Legislative Audit Bureau did its own work to find out if ERIC is working. In Oct. 2021, the Bureau reported a 52% error rate. When it came to registered voters in the state who possibly moved within state lines from Sept. 2017 to July 2019, the Bureau found voter rolls included 428,500 individuals on that list. But so many of those were duplicates or erroneous that the final count by those looking into ERIC ended up with only 232,579 eligible voters.
Merrill maintains that ERIC is a valuable resource.
"I love my children, too," said Merrill. "That doesn't mean they didn't deserve whoppins' every once in a while that I didn't give them…I never said it was perfect and I maintain that today. It is the best thing out there that currently exists for the purpose of assisting a state with election integrity, security and transparency when comparing voter rolls and when comparing dual-participation in member states across the union. That is and remains the facts."
Other Findings
Other findings on CEIR from Verity Vote include:
CEIR is creating the lists of voters who should be targeted for voter registration efforts and laundering the lists back through ERIC for distribution to the states.


CEIR is promoting and launching a new, free service for election officials called RE- VERE, which is aimed at combating "disinformation" in real time; a task that no one could succeed at but is poised to distribute partisan propaganda. This tool will use cell phone and email information obtained from states to send targeted messages to voters.
Merrill said at the end of the day, he wants ERIC to make sure it is fulfilling original commitments, including making sure there are not duplicate registrations and ensuring member states are able to identify duplicate voters in order to allow states to prosecute. He said along with the audit, he and a group of other secretaries of state would like to see bylaws changed in order to remove ex officio members when needed.
To view the entire investigative report results, click here.
To connect with the author of this story, or to comment, email erica.thomas@1819news.com.
Don't miss out! Subscribe to our newsletter and get our top stories every weekday morning.