This is the story of Ali Elizabeth Turner — an ex-hippie chick and Vietnam War protester who now resides in Alabama. She is a fierce soldier supporter and spreads the word of God's love to anyone who will listen to her.
But to fully understand Ms. Turner, you have to understand her past. And a notable portion of it was her part in protesting the Vietnam War.
"It was the '60s, and our country was going nuts. I was a kid who had two older siblings who were attending college on the West Coast, and as the adoring little sister, I hung on their every word. In addition, I also truly wanted to make a difference and bought into the idea that socialism would cure everything," Turner said.
"I objected to the Vietnam War because, of course, one had to rebel against anything 'the Establishment' thought was right, coupled with the fact that we were being lied to about what was going on, and [I] bought the leftist narrative. It is now well-known that Walter Cronkite's broadcast from Vietnam emboldened the Viet Cong to keep fighting when they literally were going to surrender within a few hours," Turner added.
Turner says although she was radicalized by 12 years old, most of it didn't happen until her first year of college at Oberlin.
"While I was not for 'violence' per se, I was part of groups that tried to shut down Wright-Patterson Air Force Base, the Cleveland County Courthouse, and tried to burn down the Shansi memorial that was on the Oberlin Campus. I also was given money to go get protesters out on bail after the Courthouse incident. Literally, a thousand bucks were stuffed into my pocket by this old lawyer. 'Legal Aid' was my new pro-tem job and label for the purposes of that protest," Turner said.
And although Turner's parents were not thrilled with her choices, they also didn't try to stifle them.
"I think my parents were heartbroken and scared about what was going on with us," she added. "However, they had a deep commitment to the First Amendment, and we would have lively discussions at dinner. Please remember, this was the era of 'Never trust anyone over 30,' and we thought 'we were all that,' as kids always do. To my father's credit, when the whole Wright-Patterson AFB protest happened, he said, 'I may not agree with you, but I will fight like hell for your right to believe what you want to believe.'"
But after years of leaning left, Turner had an epiphany.
"It happened at the Cleveland Courthouse protest in my freshman year at Oberlin College. The protest had broken up, bail had been posted, and we were heading back to the U-Haul trucks. A member of 'Students for a Democratic Society' started yelling, 'Bring the war home! Bring the war home!' Despite being radical, I always told the Black Panthers, 'If you pick up the gun, you become the pig.' This post-protest incident was a wake-up call. Thankfully, no one responded to the guy, and there was no violence," Turner said.
As Turner finished that fateful first year of college, she had another mindset shift, gave up her scholarship to the College and the Conservatory of Music, and enrolled in theological school.
"The Jesus People movement hit in the middle of my senior year of high school, and it greatly affected my school," she recalled. "I got saved all alone in my bed, but because there wasn't much in the way of discipleship, my life as a newly born-again believer was full of confusion, and let's just say the first 18 months of my Christian life, especially while at Oberlin, were a mess. It wasn't until 1972, when I withdrew from Oberlin, that my Christian life took off. That coincided with the end of my radical life, and then recovery from being a Marxist began when I attended and then graduated from Pacific School of Theology. I grew in God, His Word and His Spirit."
Looking back now, Turner says it's clear that her adoration for socialism was misguided.
"I had been looking for love, purpose and community in all the wrong places, and there was as much doomsday in the media back then as there is now," Turner explained. "I fully converted when I finally understood that Jesus loved me, died for me and wanted to have a relationship with me. The God-shaped hole in my heart was finally filled."
And all these years later, Turner still gets emotional talking about those years.
"I think now that the war in Vietnam was necessary, given Mao, Ho Chi Minh, Pol Pot and the rest. It was our first Afghanistan - poorly handled and perniciously political. But I still get emotional for so many reasons: grief over being deceived and being an Alinsky talking-head idiot, serving the God of second chances; in a word, 'she that hath been forgiven much, loveth much,'" she said.
More than three decades after Turner found God, she says He called her to Baghdad for three years. She was there for the return of Iraq to the Iraqis, Saddam's ongoing antics in court, all three Iraqi elections and Saddam's trial and later execution.
"I believe God called me to Baghdad to say thank you and to say I'm sorry. I also believe it was to spread the gospel. And just like Israel was called out into the desert to worship, I was given the same opportunity, which I did. Having the opportunity to lead worship in Saddam's palace ballroom at an event with 400 soldiers from around the region, watching and hearing them singing their hearts out, is something I shall never forget," Turner said.
"The most interesting person I met, and there were so many, was a man named Mr. Aram, who had narrowly avoided being poisoned at Halabja. And I heard the most amazing stories from hundreds of Iraqis, coalition soldiers, interpreters, Navy SEALS, Army Rangers and contractors from around the world," Turner added.
And it was in Baghdad Turner joyously recalls leading two Iraqis to Christ.
"The Sunnis I led to Christ were both interpreters," she outlined. "One had a dream about Jesus when she was three and told me she 'had been looking for Him ever since.' The other was a young man who was greatly impacted by praise and worship music in Saddam's fishing lodge, which is where everyone worshipped weekly. He was blown away by the prospect of being loved by God, something he had never heard of. It always ends up being about that, doesn't it?"
And after spending those three years serving the soldiers, Turner left Baghdad and returned to America. She eventually wrote a book called "A Ballad for Baghdad."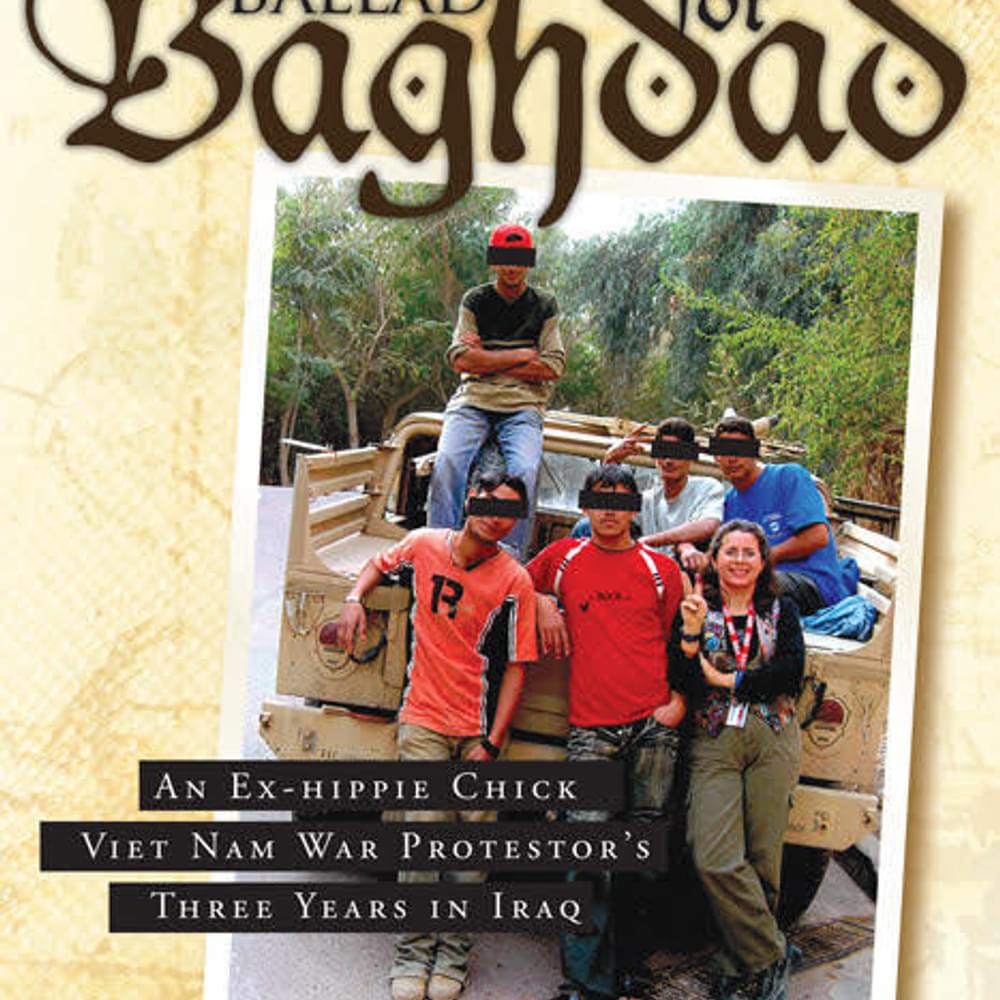 "My book is about life in the 50s, 60s and 70s, coming to Christ and living a life of great adventure. It is also about the stories of the soldiers and the Iraqis. I wrote the book because I gave my word that I would. I wanted to protect the stories of the people with whom I was in danger and make sure those stories were told," Turner said.
"The overall message is: … do what God puts on your heart, no matter the cost, and trust Him. You'll be amazed by what He does. My testimony is that God can redeem anyone and that it is not what happens to us. It's what we do with what happens to us that has the power to make the good, the bad and the ugly into something redemptive," Turner emphasized.
When asked if 2022 reminds Turner of what she lived through in the past, her answer was direct.
"The state of the country is so much like it was 50 years ago, and then revival came. I believe with all my heart that we will see it again, and it will be messy, difficult, glorious and worth it," she stated.
In the meantime, Turner spends much of her time praying and leading others to prayer.
"I pray for my family, my country and the Kingdom that God will move powerfully in all three. I also pray to make Him smile and help others do the same. I want my legacy to be that I continually said yes to God and that I fully loved Him, others and myself. I hope that my journey teaches that God's grace is scandalous, His love is crazy, and His joy is our strength, always," Turner added.
Turner says her life to this point has been well loved, and she still has so much to do.
"We minister as a family in several ways, including feeding and sheltering people who are at risk, supporting Pure Hope Foundation, which restores trafficked women, and Women's Resource Center in Athens, which is a crisis pregnancy center," she explained. "We are strong supporters of veterans as well. We also publish Athens Now, a local community paper that is also read in 80 countries, and each Monday, I have a radio show, The Tennessee Valley Spotlight on WKAC."
If you would like to scoop up a copy of Turner's book, "A Ballad For Baghdad," you can find it on Amazon. And no matter your opinions of Operation Iraqi Freedom, we can all learn from the stories that go beyond politics. It's there that courage, compassion, miracles and humor still live today.
To connect with the author of this story, or to comment, email news@1819news.com.
Don't miss out! Subscribe to our newsletter and get our top stories every weekday morning.