Maybe Jefferson County Commission President Jimmie Stephens summed it up best.
"Remember that line from the movie, "If you build it, they will come?" said Stephens, referring to the famous line from the movie "Field of Dreams."
"Well, we built it. And here they come."
Stephens, along with Birmingham Mayor Randall Woodfin, the city council, the county commission, several state legislators and a host of other dignitaries were on hand Tuesday at Protective Stadium to make it official.
The USFL – United States Football League – is back, and Birmingham will be its home.
Home to not just one team, the Stallions, but the entire league - all eight teams for the preseason and 12-week regular season. In this first season, the league will play 10 games in 10 weeks starting April 16, and every game will be played at either Birmingham's Protective Stadium or Legion Field. There will be two weekends of playoffs after the regular season.
If the team names sound familiar, it is because this iteration of the USFL has kept team names from its 1983-85 version. Besides the Birmingham Stallions, there will be the Houston Gamblers, New Orleans Breakers, Tampa Bay Bandits, New Jersey Generals, Pittsburgh Maulers, Philadelphia Stars, and Michigan Panthers.
All eight teams will be headquartered in Birmingham, spreading practice sites, offices, and training facilities among four yet-to-be-named locations, according to Daryl "Moose" Johnston, former NFL fullback, broadcaster, and now Executive Vice President and Director of Player Personnel for the USFL.
"There are still some logistics to work out,'' Johnston said, laughing. "Like laundry.
"We're close to announcing four locations for practice facilities around Birmingham. We'll have teams on a morning-afternoon rotation. Four teams will practice in the morning, and then have meetings and workouts in the afternoon while the other four teams' schedules will be the opposite."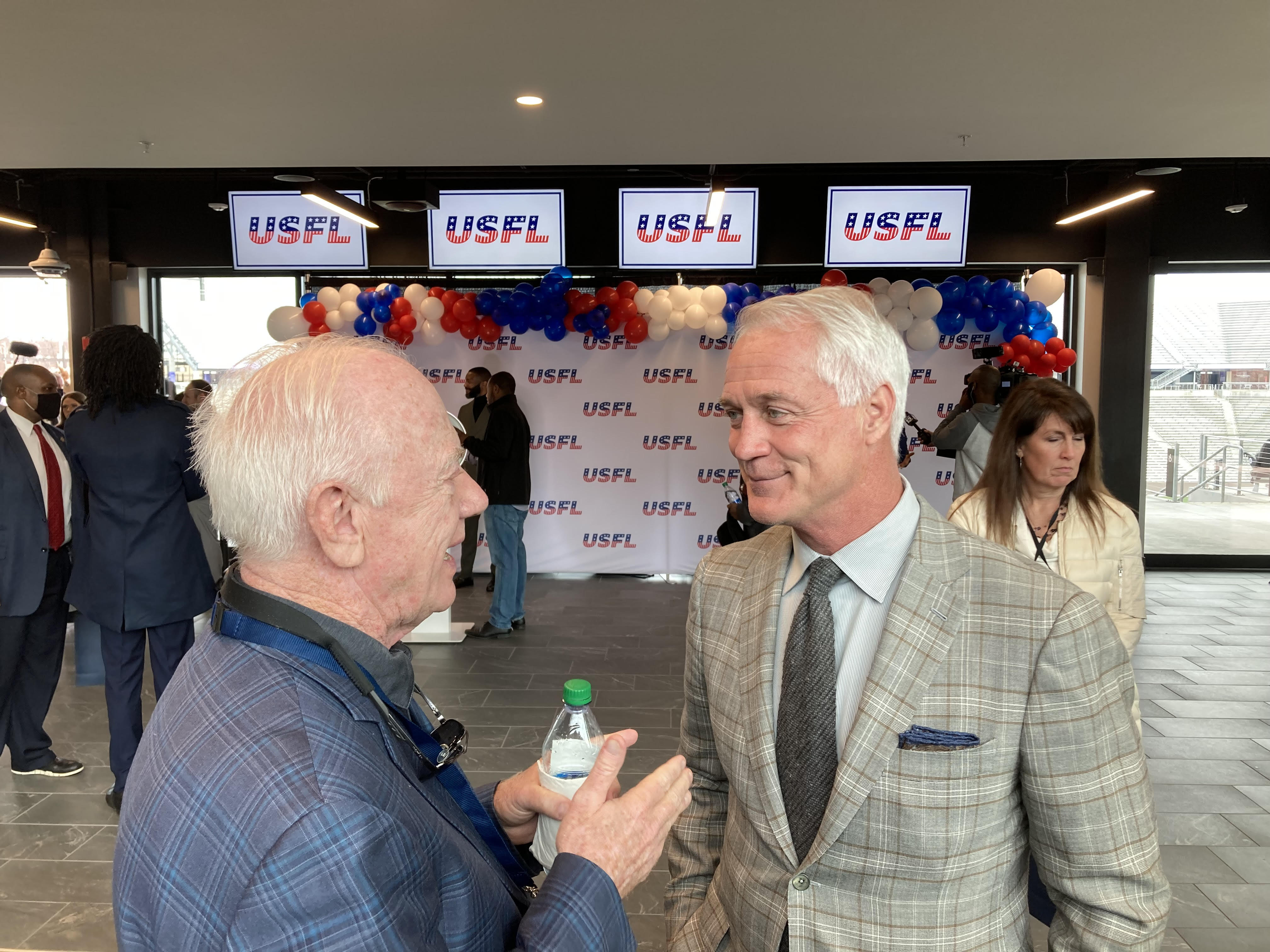 The first game will be between the Stallions and the Generals and will be televised simultaneously by Fox and NBC, the television partners for the league - the first time a professional football game has been featured on two network broadcasts simultaneously since Super Bowl I in 1967.
The two networks will use a variety of broadcast platforms to televise the league – nine games on NBC, nine on USA Network, four on Peacock, 14 on Fox, and eight on FS1 - but with all teams and all games located in Birmingham, the city will get a lot of exposure.
Not to mention the economic benefit of housing, feeding and entertaining close to 400 players, plus coaches, assorted staff, and league officials for at least four months.
"Y'all,'' said Birmingham City Council President Wardine Alexander. "This feels like a touchdown."
Unlike the original USFL, where each team had individual owners and those owners went after star players who had NFL careers, such as Reggie White, Jim Kelly, Steve Young, Doug Flutie, Brian Sipe, Herschel Walker and, with the Birmingham Stallions' Cliff Stoudt, Joe Cribbs, Tom Banks and Buddy Aydelette, this league will be modeled along the lines of a developmental league.
Johnston said the league is already lining up players who will sign contracts committing them to enter the USFL draft, to be held February 22 and 23. All positions will be paid the same, with 38 players on active rosters and a reserve or practice squad of seven more.
"With the XFL,'' another league that came to Birmingham and of which Johnston was Director of Player Personnel for the Dallas Renegades, "we had a draft pool of players but they were not contractually obligated so some of the players in the pool did not show up. This time we're getting contracts from players to enter the draft pool with a commitment to be with us for the entire season.
"However, the season will end in time for some of these guys to heal and have a chance to get an NFL invite. Let's be honest: the guys coming to us have something – maybe they're too short, or not a lot of production – and can prove themselves (in the USFL) and get a chance at the NFL. Our goal really is to lose 10-12 guys a year to the NFL."
The Stallions will be coached by Skip Holtz, son of legendary coach Lou Holtz, a veteran of 22 years as a head coach at the college level and an overall record of 152-121. He most recently coached Louisiana Tech in Conference USA, where he won the West Division in 2014 and took the team to two bowl games. He was let go by Louisiana Tech after a 3-9 season in 2021.
"When the coaches gathered for league meetings, they told me they didn't know for sure where I'd go,'' Holtz said. "I said I hoped it would be Birmingham. You know, a coach once said of his fans that, 'they need to get a life.' Well, in Alabama (the fans) have a life. And it's football.
"I've been coaching for 22 years. My 23rd year may be the most exciting ever."
Holtz did throw a reminder to the old Stallions, who went 36-18 in three years, reaching the Eastern Conference finals in 1984 and Eastern Conference semi-finals in 1985, losing both times to the Philadelphia Stars.
"I know the Stallions' name and reputation,'' Holtz said. "We will build on that, and want to put a product on the field that will make people proud."
Six of the league's eight head coaches have been announced: besides Holtz, there is Kirby Wilson (Pittsburgh Maulers), Kevin Sumlin (Houston Gamblers), Mike Riley (New Jersey Generals), Todd Haley (Tampa Bay Bandits) and Bart Andrus (Philadelphia Stars).
The league has a three-year commitment from the television partners, and Holtz said, "There are challenges, but this is solid. It will be interesting to see how it grows for the next three years. … I don't think there is a better time to start. This will be a stand-alone football league, 10 more weeks of football, 10 more games."
Protective Stadium will be home to the USFL, as well as UAB, Birmingham Legion soccer, the Birmingham Bowl and the upcoming World Games.
Tickets are $10 and can be purchased through TicketMaster or at USFL2.com, and an adult ticket includes three free for kids.
To connect with the author of this story, or to comment, email news@1819News.com.