With just a week until the May 24 primary, the Alabama GOP primary for US Senate has become a horse race.
The choice to represent the GOP in the November election appears to be a three-way battle between Katie Britt, former chief of staff for retiring Sen. Richard Shelby; Rep. Mo Brooks, who has represented Alabama's 5th Congressional District since 2011; and Mike Durant, President and CEO of Pinnacle Solutions, Inc.  
Lillie Boddie, Karla DuPriest, and Jake Schafer are also on the ballot but do not poll well enough to appear to be serious contenders.
Polling suggests a close finish. Most recent data shows nearly a third of voters remain undecided. Among those supporting a candidate, the Moore Information Group poll from May 2 showed Britt leading the field with 27%, followed by  Brooks and Durant in a tie at 20% apiece for the second position. A McLaughlin and Associates' poll from May 7 gives Britt a larger lead at 37%, with Durant second at 27% and Brooks at 22%.  A Cygnal group poll from May 10 for the Alabama Daily News and Gray Television has Britt in front of Brooks and Durant at 32%, to 23% and 21% respectively.
If no one reaches the 50% mark in this year's May 24th primary, the top two finishers will advance to a runoff election on June 21st.
As the candidates prepare to make their final push, 1819 News asked Professor Robert G. Blanton, Chair of the Political Science Department at the University of Alabama Birmingham, for his outlook on the race.
"The big takeaway is that support seems to be solidifying around Britt, as she has a substantial lead in funding across all categories," said Blanton. "Her biggest challenge coming into the race was establishing name recognition, and funding reports and recent polls both indicate that she has been successful in getting her name out there and establishing herself as a viable Republican candidate."
Professor Richard Fording is the Marilyn Williams Elmore and John Durr Elmore Endowed Professor in the University of Alabama's Department of Political Science. He also spoke to 1819 News about Britt's maturation as a candidate.
"I think Britt's young age and lack of experience may have been hurting her at the beginning of the campaign when fewer people knew who she was," said Fording. "Her more recent ads have probably been effective in convincing closing what may have been a 'toughness' gap. I suspect more voters are now convinced that despite her young age, she is tough enough and conservative enough on some of the issues that conservatives care about."
Brooks has struggled to retain the frontrunner status he held coming into spring when he had former President Donald Trump's endorsement. Since Trump withdrew his support in March, the race has narrowed and, depending on which poll was taken at which time, the rankings have flip-flopped.
So what has kept this race so close and what factors are most likely to matter as Alabama Republicans make their final decision?
Considering the many similarities in the candidates' positions, voters are looking for ways to distinguish between the three front runners. One way to sort the candidates is by looking at where the bulk of their financial support comes from.
1819 News previously reported on the role outside money has played, mainly in the form of Super PACs. The growth in the cost of election in the United States raises concerns about the role of money in politics. Recent elections have shattered campaign fundraising and spending records. The Harvard Political Review reported that the amount of money spent in the 2020 U.S. cycle alone would eclipse the GDPs of nearly one in three countries globally.
In 25 of the 35 (71%) U.S. Senate races during the 2020 election cycle, the candidate that outraised and outspent their opponent won the election. If money had absolutely no influence on election results, it would be reasonable to expect something closer to a 50-50 ratio.
Simply put: money matters.
As seen in the graph, donations from traditional PACs show a strong advantage for Britt.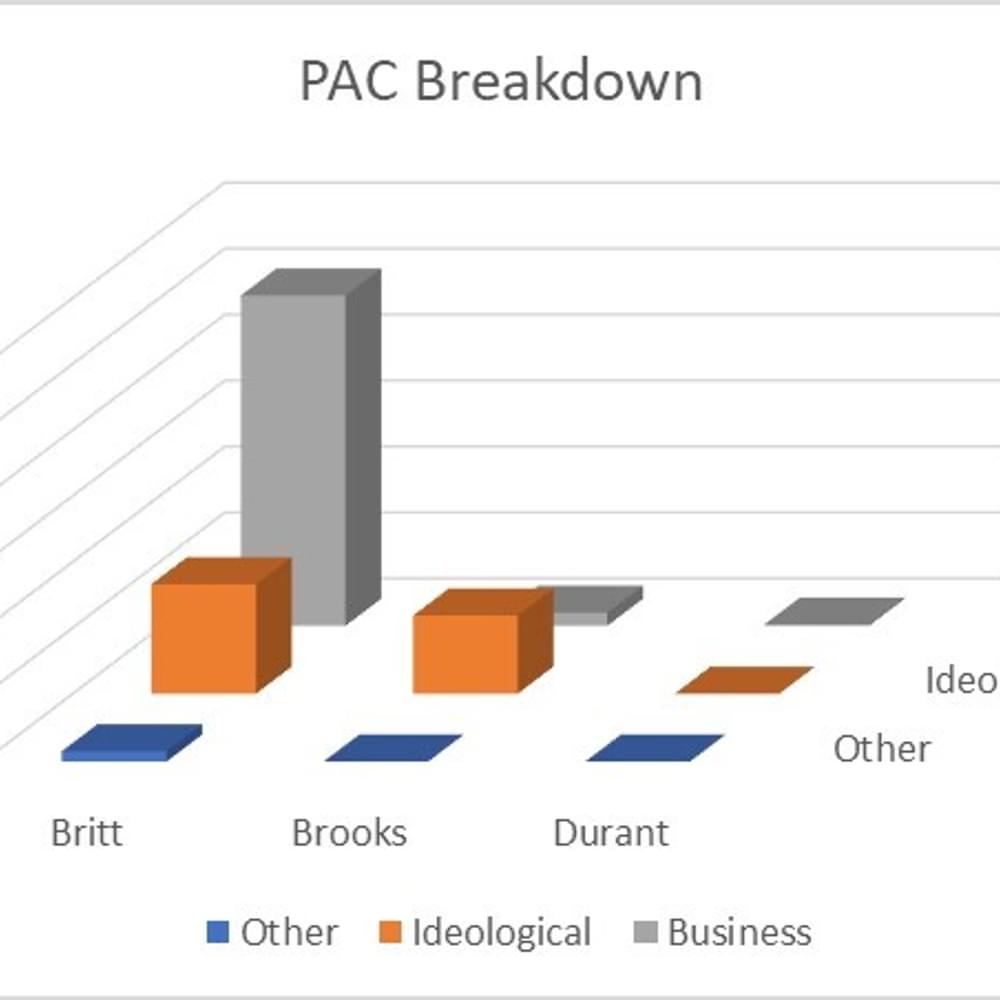 Another important factor to consider is in which industries individual donors work. That's not to say certain businesses will, without a doubt, influence a candidates' potential governing decision-making. But looking at where the money backing a candidate comes from can suggest future policy decisions, allocation of government spending and a candidate's values.
According to opensecrets.org, again, Britt is the overwhelming favorite of the business community - not surprising considering her role as former president of the Business Council of Alabama.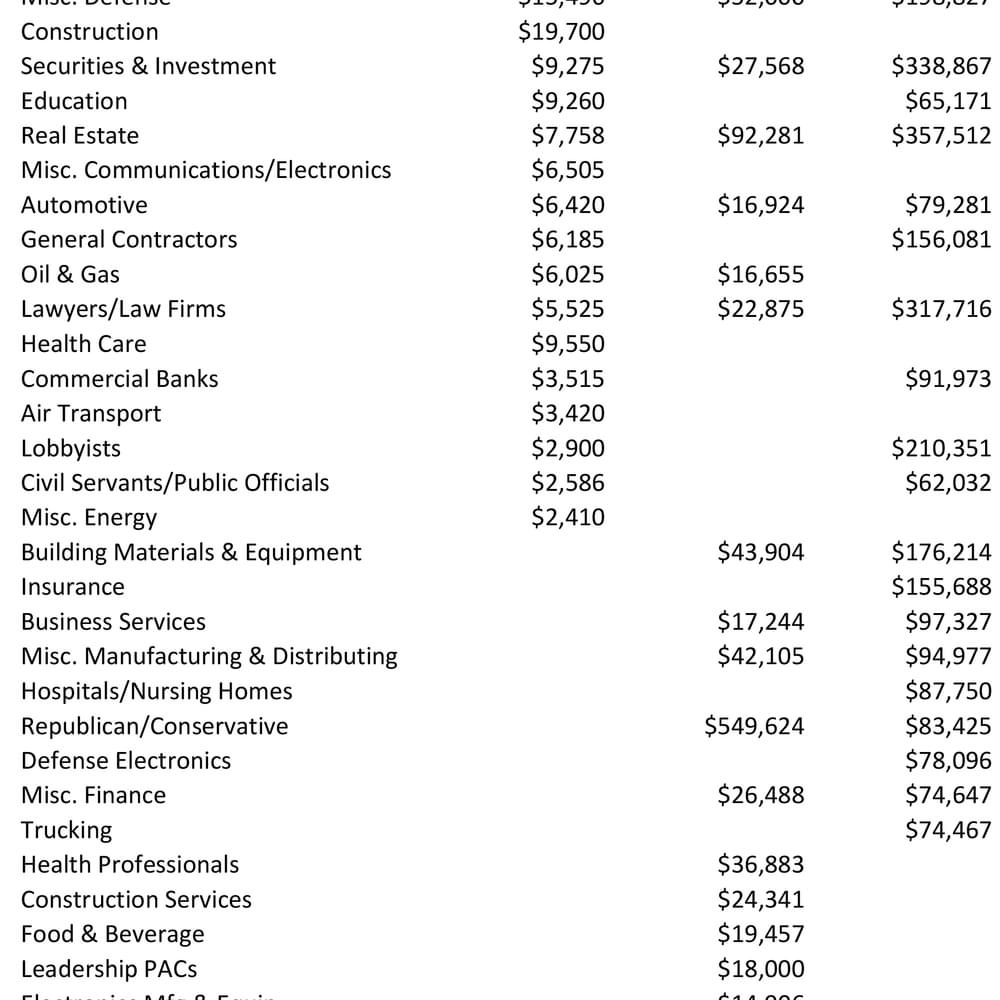 Brooks has lagged behind both other candidates in fundraising, with the strength of his campaign dependent on retirees and conservative donors, groups with which Britt also does well.
Durant's campaign has been mostly self-funded, with the candidate having loaned his campaign $6.8 million. The most recent filings showed he had the largest amount of cash on hand heading into the final month of the primary campaign.
"Durant may be a spoiler in terms of drawing voters away from Brooks, though he is ultimately a novelty candidate," Blanton said. "The poll results do indicate that his message is not sufficiently effective or distinctive to take root among Alabama Republicans." 
In the likely event of a runoff election, how might the dynamic change?
"It's hard to imagine either Durant or Brooks being able to move towards the middle to pick up additional voters, so they would likely continue to portray themselves as the only 'true fighter' for the conservative cause," said Blanton.
Brooks' favorability rating, according to a number of polls, seems to have a ceiling of around 47%. This could prove significant in the event of a runoff against either Britt or Durant.
In the event of a Britt v. Brooks run-off, the race could become an interesting match of the old guard Republican establishment against the Trump wing. 
"Britt would likely market herself as more of a pragmatic conservative, though continuing to pay homage to the usual hot-button issues," said Blanton.
"While she is careful to differentiate herself from Richard Shelby, I do believe that her work with the Senator puts her firmly in the "comfort zone" of many Republicans as well as Alabama voters in general."
"I suspect more voters are now convinced that despite her young age, she is tough enough and conservative enough on some of the issues that conservatives care about," Fording said. "And I also suspect that Britt has benefited from the significant advantage she has in outside spending, especially the negative ads against the other two candidates."
The primaries for both parties will be held Tuesday, May 24.
To connect with the author of this story, email sean.taylor@1819news.com or on Twitter @morninganthem.
Don't miss out! Subscribe to our newsletter and get our top stories every weekday morning.