The ads are usually outrageous, and intentionally so. The goal is to put a political candidate in the worst light possible, to convince voters that the candidate they thought they knew is not the candidate that is; to, at the very least, create doubt but hopefully sway support.
And at the end, the ad is required to say, "XYZ PAC is responsible for the content of this advertising. Paid for by XYZ PAC and not authorized by any candidate or candidate's committee" despite the very partisan nature of the message.
So if it's not the candidate's official campaign, who is behind these ads?
The answer is a combination of sources, both from within and outside of Alabama.

In the Alabama race for U.S. Senate, over $8.2 million has been spent in support of GOP candidates. However, over $6.4 million has been spent during that same period in opposition to certain GOP candidates, or what political types call "attack ads."

On Friday, April 15, all three candidates filed their first-quarter disclosures with the Federal Election Commission (FEC). Mike Durant led the field in total receipts of $7,260,000.76, disbursements of $3,164,522.82 and cash on hand of $4,096,476.94. Katie Britt was second with receipts of $6,410,402.74, disbursements of $3,151,270.21 and $3,228,570.53 on hand. Rep. Mo Brooks' receipts totaled $2,718,304.22, with $2,285,556.87 in disbursements and $1,570,248.53 on hand.
Separate from those donations are expenditures made by outside groups. According to OpenSecrets.org, Brooks has had over $3.8 million in outside funds spent against him, which is over twice the $1.9 million in outside funds being spent against Britt, and nearly five times as much as the $823,791 being spent against Durant. However, Alabama RINO Pac, based out of Austin, Texas, has spent $626,971.73 opposing Mike Durant.
A group called Alabama's Future, supporting Britt, is the largest super PAC involved in this race, with over $4 million spent in 2022 ($3.6 million against Brooks). According to the most recent Federal Election Commission (FEC) report, Alabama's Future reported $5.1 million in total contributions. In one particular ad, the group hits Brooks over previous comments regarding President Trump and immigration.

The second-largest single-candidate super PAC in the race, Alabama Patriots, had an FEC-reported $3,195,168.46 in total contributions. However, OpenSecret.org reported that Alabama Patriots PAC has spent over $3.5 million in support of Durant.

For his part, Brooks benefited from $1.7 million spent by the Club for Growth Action, a national group that reported $38,480,154.57 in total contributions. That same group spent $1.9 million in ads opposing Britt. As an example of the national focus of Club for Growth, the group also spent $59,000 opposing Rep. Liz Cheney (R-Wyoming), among others.

If all these numbers sound confusing, welcome to the wide world of political sports: campaign financing.

How important are these super PACs in influencing elections? One OpenSecret.org report found a very strong advantage for incumbents.

In the U.S. Senate races during the 2020 election cycle, 26 of 31 incumbents were re-elected. In races where incumbents were defeated, it required, on average, over 40% more money spent on behalf of the challenger to unseat the incumbent. During that same cycle, races for the House favored the incumbent in a whopping 372 of 387. The increased expenditures required to unseat an incumbent House member averaged roughly 30%.

When trying to understand the current system of political donations, there are two words that begin the journey – "Citizens United," a case decided by the U.S. Supreme Court in 2010, which removed limits on amounts of political contributions from corporations.

As John Dunbar of the Center for Public Integrity succinctly summarized, the majority opinion saw it as a matter of First Amendment protections.

"Spending is speech, and is therefore protected by the Constitution — even if the speaker is a corporation," said Dunbar.

The late Justice Antonin Scalia wrote in his concurring opinion, "The individual person's right to speak includes the right to speak in association with other individual persons. Surely the dissent does not believe that speech by the Republican Party or the Democratic Party can be censored because it is not the speech of an individual American."

Scalia's close friend and fiercest rival on the bench, Justice Ruth Bader Ginsburg, called it the worst decision of that Court at the time.

Stephanie Holden Smith is a former Deputy Director of Finance for the State of Alabama and currently serves as principal of the Thatcher Coalition. She is also a regular contributor to 1819 News.

"The impact of PACs on the political process is immeasurable," said Smith. "There is not a quid-pro-quo per se, but the PACs know, and all the elected officials know, even without saying it, that what they're buying is access. Especially in a state with a limited number of staffers, the influence of lobbyists and PACs over the process is bigger than most other states."

Dr. Marissa Grayson, an Associate Professor & Pre-Law Advisor in the Department of Political Science at Samford University, explained to 1819 News how outside money affects politics in Alabama.

"While super PACs are not supposed to coordinate with individual campaigns or parties, most do," said Grayson. "One of the reasons candidates in Alabama have chosen to focus on national politics, specifically partisan issues, is because of the effects of outside money. While candidates do not get direct funds from super PACs, they can benefit significantly from the money spent by the groups."
Prior to Citizens United, there were four types of PACs, which were nonconnected committees, Separate Segregated Funds (SSFs), Hybrid PACs and Leadership PACs.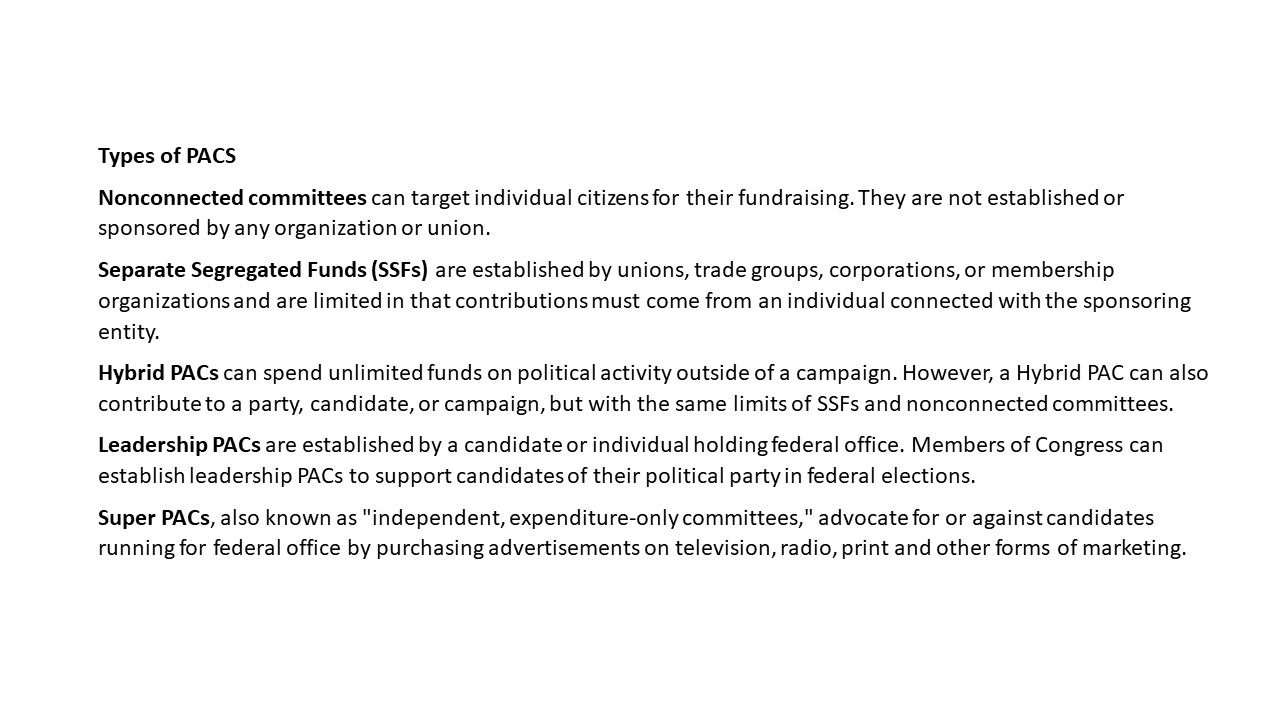 Nonconnected committees can target individual citizens for their fundraising. They are not established or sponsored by any organization or union.
Separate Segregated Funds (SSFs) are established by unions, trade groups, corporations, or membership organizations and are limited in that contributions must come from an individual connected with the sponsoring entity.

Hybrid PACs can spend unlimited funds on political activity outside of a campaign. However, a Hybrid PAC can also contribute to a party, candidate, or campaign, but with the same limits as SSFs and nonconnected committees.

Leadership PACs are established by a candidate or individual holding federal office. Members of Congress can establish leadership PACs to support candidates of their political party in federal elections.

Citizens United created a fifth type - super PACs. A super PAC is what is technically known in the federal election code as an "independent, expenditure-only committee." These are relatively easy to create under federal election laws.

The role of a super PAC is similar to that of a traditional political action committee. A super PAC advocates for or against candidates running for federal office by purchasing advertisements on television, radio, print and other forms of marketing.

There are conservative super PACs, such as those involved in the Alabama election, and liberal super PACs, most notably Priorities USA Action, which spent more than $133 million supporting Hillary Clinton's bid for the Democratic presidential nomination in 2016 and backed President Barack Obama in 2012. Priorities USA Action has also spent money opposing Brooks in Alabama.

Candidates and traditional candidate political action committees are prohibited from accepting money from corporations, unions, and associations. The federal election code prohibits those entities from contributing directly to candidates or candidate committees. Although unable to contribute directly to political campaigns, super PACs can spend unlimited funds on other political activities.

The other major difference is that some of the money that flows into a super PAC is untraceable, what is commonly referred to as "dark money." Individuals can mask their identities and their contributions to super PACs by giving funds to outside groups which then give the money to a super PAC.

The biggest restriction on a super PAC is that it is prohibited from working in conjunction with a candidate it is supporting. According to the FEC, super PACs cannot spend money "in concert or cooperation with, or at the request or suggestion of, a candidate, the candidate's campaign or a political party."

"Many wealthy donors are more attracted to donating to less-regulated outside groups than parties," Grayson said. "Another reason for this is that it is easier for outside groups to spend money without having to disclose individual donors or businesses. This has an effect on the types of candidates we see get money."

So far in 2022, super PACs have been active in Alabama politics.

"The effects of outside spending and how it is shaping the messaging of candidates is seen with the current Alabama Senate race," Grayson said. "Super PACs, most of which are out of the state, have already spent millions of dollars trying to control the result of the open seat race."

Nationally, there are 2,049 super PACs. In 2022, super PACs have raised $805,852,390, yet to date have only spent $125,150,539.

In early 2020, OpenSecrets released a report entitled "More money, less transparency: A decade under Citizens United." One of the primary findings was a shift in the balance of power away from the political parties in favor of outside groups that can spend unlimited amounts on candidates.

According to the report, "Election-related spending from non-party independent groups ballooned to $4.5 billion over the decade. It totaled just $750 million over the two decades prior."

Smith described how this has impacted political parties.

"A lot of times, what a party ends up opining on or having influence on are the social issues rather than fiscal issues," Smith said. "Where in the past, the party has been influential on both of those, or even more so on the financial side, and the grassroots would focus on the social issues.

"Now, tying it back to Citizens United, or the influx of corporations and PACs in the political sphere in an unlimited fashion, it creates a shift in that dynamic."

Dr. Daniel DiSalvo is a senior fellow at the Manhattan Institute and a professor of political science in the Colin Powell School at the City College of New York–CUNY. He believes this trend largely started before Citizens United, with the Bipartisan Campaign Reform Act (BCRA) of 2002, better known as "McCain-Feingold," after the sponsors of the bill.

"The bigger change in some ways is coming prior in McCain-Feingold, which is really what is driving the money away from political parties into outside groups," DiSalvo said. "Unless there is a revision of McCain-Feingold, I would expect this trend to continue.

"Money is important as a measure of whether the candidate is plausible. Many people see this as the rich buying elections, but the political science evidence, from my reading, does not bear that out."

For example, DiSalvo said, "Hillary Clinton easily outspent Trump and lost."

1819 News reached out to the campaigns for Britt, Brooks, and Durant, but none returned the request for comment.

Alabama Democrat and Republican primaries will be held on May 24. Election Day is Nov. 8.

To connect with the author of this story, or to comment, email [email protected].
Don't miss out! Subscribe to our newsletter and get our top stories every weekday morning.