The brother of a man killed while working for the Alabama Forestry Commission in 2022 says he wants something done before another life is lost.
Brett Savage, of Deatsville, had been working as a communications tech for the Commission for three months when he was killed on the job. The 36-year-old husband and father of five was working on a decommissioned guyed tower when it fell on him.
Dusty Savage, his older brother, said Brett was on the site with only two other people at the time of the incident. One was his longtime friend who helped him get the job; the other was his supervisor.
Savage said the family hasn't been given a lot of details of what happened, and they want to know how this kind of incident will be prevented in the future. They also want the public to know the loss that has been suffered.
"He was carefree and he was a family person, big time," said Savage. "He made all the other husbands look bad. He was that guy. He was genuine about it though. Everybody in the community knew him. If he met you, before you left you was going to know him. He was one of those people that made an impact."
After high school, Brett Savage went to Troy University after high school but quickly realized college was not for him. His brother said he worked for a long time at a factory in Pine Level, but then his friend approached him about another opportunity with the Forestry Commission.
"He was tired of the factory and he was wanting something with better insurance and things like that," Savage said.
So, in 2022, he changed careers and became a communications tech. It wasn't long before the Savage family was informed that Brett Savage would not be coming home.
"We had just leased a new building for our psychiatry practice," Savage remembered. "We were all excited about it and we were doing work on that building and on the afternoon of June 5, my dad showed up with my wife. I met them at the door and my dad just said, 'Hey buddy, your brother died today.' I was in disbelief for a long time. It took me a while to process. Now we bought a new building. I really didn't go back to that building much after that. I just quit working on it and we left it like it was."
The loss was followed by confusion and lack of answers to many questions for the Savage family. They have contacted several agencies and people involved but realize no one is taking responsibility.
"I don't think they should've been out there doing it," said Savage. "They didn't have any training on it. And also, it's a tall tower and one guy is cutting a wire. Why are the two other guys standing next to it? Why aren't they standing somewhere safe? I actually heard from somebody that their backup plan was if the tower fell a certain way they would run in the other direction but he ran the wrong way."
OSHA was informed of the fatality and looked into it but cannot fine a state agency.
State Forester Rick Oates told the family in an email that since the incident happened in Washington County, the Washington County Sheriff's Office investigated. He told the family that the wife of Brett Savage was given the report stating the death was accidental.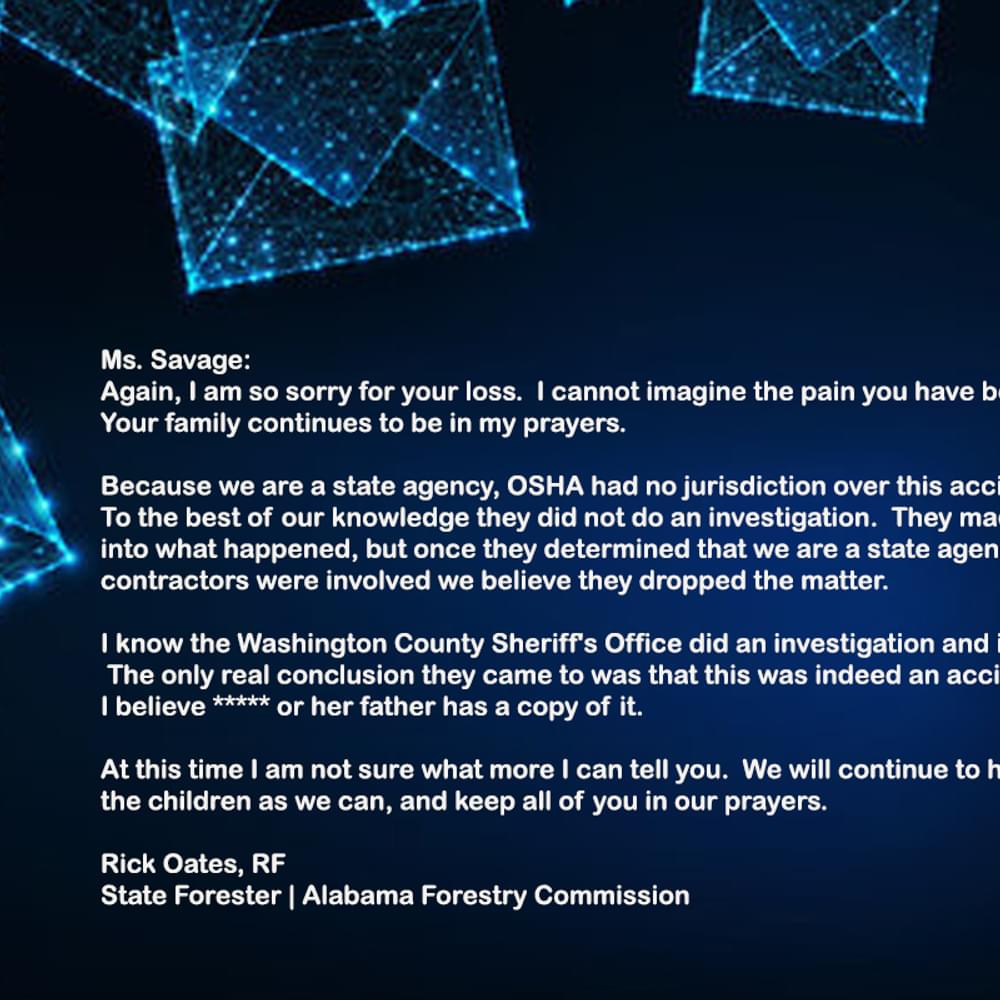 But that still leaves the family wondering what will be done to protect others from the same fate. Savage believes someone with training and possibly a contractor should have been performing the job.
"There needs to be some kind of awareness so they don't just take some kid into a field and cut down a tower and kill him," Savage said. "Then nothing happens when they don't have any kind of certification and they ought not even be out there. That shouldn't happen."
Wireless Estimator, an online tower and communications publication, spoke with former OSHA investigator Jocko Vermillion, who said he has seen similar incidents in the past where OSHA gives state agencies a pass.
"From your information, it is sad that this wasn't thoroughly investigated. For example, they didn't have training. Furthermore, an investigation could prevent this from happening in the future," Vermillion said. "It's tragic. They got away with killing somebody."
Experiencing the impact of a state agency being immune to the law, Dusty Savage says he hopes the issue is addressed.
"I think they should be held accountable because honestly, anybody else in Alabama would be in jail," he added. "If you were out there with no certifications doing that and somebody got killed, the people responsible would be in jail. I'm not trying to get anybody put in jail but this doesn't need to happen to other people. And they shouldn't be exempt from an OSHA investigation just because they're a state agency."
To connect with the author of this story or to comment, email erica.thomas@1819news.com.
Don't miss out! Subscribe to our newsletter and get our top stories every weekday morning.