Under"Dawgs" no more.
In a game that lived up to all the hype of the past week, the two best teams in college football – which is to say the two best teams in the Southeastern Conference – went after each other like the heavyweights of college football they are, trading blows in the College Football Playoff National Championship game, with No. 3 seed Georgia (14-1) beating No. 1 seed Alabama, 33-18.
The game was played in Indianapolis' Lucas Oil Stadium.
The Crimson Tide finished the season 13-2.
It was Georgia's first national championship in football since the magical Herschel Walker-led team of 1980 and erased years of the frustration of Alabama having continually thwarted every Bulldog dream of a championship. The Tide had won seven in a row over Georgia, including three SEC Championship games and one national championship game.
"I told the boys we're burning the boats and the only way home was through them [Alabama],'' said Georgia coach Kirby Smart, who had lost all four of his previous games against the Tide. "And they did it."
The loss denied Alabama coach Nick Saban his seventh national championship as head coach of the Crimson Tide and his eighth overall. But there is no reason to think he won't bring Alabama back, not given the level of talent that returns from this team in what, given the players lost from last year's national championship team, could have been considered a rebuilding year.
In fact, despite the loss, oddsmakers have picked Alabama as the team to beat next season. Caesars Sportsbook on Monday opened Alabama as national championship favorites for the 2022 season at 5-2, ahead of Georgia at 9-2 and Ohio State at 7-1.
"I'm extremely proud of this group, our team, for what they were able to accomplish this year, the adversity that they overcame," Saban said. "They're a really great bunch of winners. They won going away this year. They came from behind and won, and won close games to have the opportunity to play in this game.
"And I just feel really poorly that we didn't finish the game better than we did in the fourth quarter because we played a heck of a game against a heck of a team for the first three quarters of the game."
This game ended in very un-Alabama-like fashion. Trailing by eight, 26-18, the Tide's Heisman Trophy-winning quarterback Bryce Young was bringing Alabama back down the field in the final two minutes to set up every Georgia fan's worst nightmare: a possible overtime and potential repeat of the 2018 national championship game when Alabama came from behind to beat the Bulldogs, 26-23.

Instead, Georgia defensive back Kelee Ringo intercepted Young and returned it 79 yards for a touchdown – the longest Pick Six in championship history - with 54 seconds left, to deny defending national champion Alabama a successful defense of last year's championship.
"We still had an opportunity when it was 26-18 when we're going two-minute [offense] down the field to score a touchdown and go for two and tie the game and have a chance in overtime," Saban said. "And we threw a pick-6."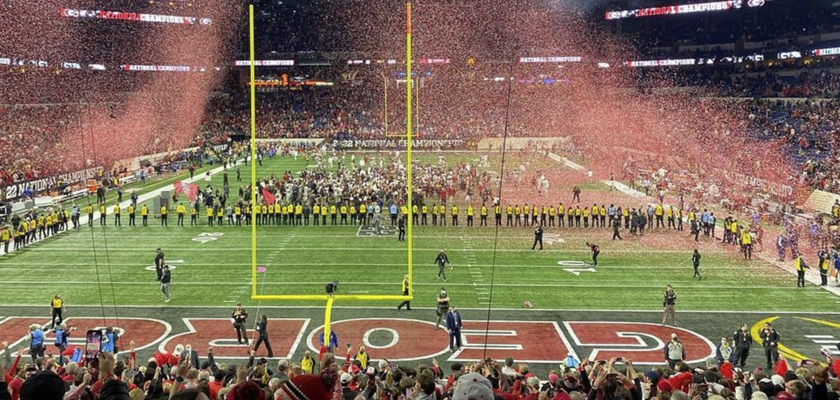 Young said "One reason or another. Didn't execute. And the ball touches my hands every play. And it's my job to put the ball into the end zone. I wasn't able to do that tonight. ... at the end of the day, as leaders, it's on me. We just weren't able to execute and finish like we wanted to."
A Georgia defense that had been the best in the country through 14 of the teams' 15 games – the exception being embarrassed by this same Alabama team, 41-24, in the SEC Championship Game - returned to form. Alabama's 18 points were its lowest point total of the season. Young finished the game completing 35 of 57 passes for 369 yards with one touchdown, but two interceptions. Brian Robinson, who set an Alabama rushing record in the Cotton Bowl semi-final victory over Cincinnati, was held to 68 yards on 22 carries. Because quarterback sack yardage is included in a teams' rushing total – Young was sacked four times for a minus-43 yards - Alabama finished the game with only 30 yards rushing.
Georgia quarterback Stetson Bennett IV, a former walk-on, was named the game's Most Valuable Player. He completed 17 of 26 passes for 224 yards and two touchdowns, the biggest coming after what looked like an incomplete pass was ruled a fumble that Alabama recovered on the Bulldogs' 16-yard line. Four plays later Young found Tide tight end Cameron Latu in the end zone for Alabama's only touchdown and an 18-13 lead.
But Georgia answered with a four-play, 75-yard touchdown drive with Bennett hitting Adonai Mitchell with a 40-yard touchdown to put the Bulldogs back on top for good, 19-18.
"There was no way we were going to let a turnover like that stop us,'' said Bennett, who was three-for-three on what proved to be the game-winning touchdown drive. "I had to do that, otherwise we were going to lose."
In some ways, these two teams were mirror images of each other – and for good reason. Smart freely admits he built the Georgia program to copy what he learned from being one of Saban's top assistants at LSU, the NFL Miami Dolphins, and as defensive coordinator at Alabama before leaving to become head coach at his alma mater.
"I love Kirby," Saban said. "I think Kirby has a lot of respect for us. He did a great job for us for a long time. If we had to lose a national championship, I'd rather lose one to one of the former assistants who certainly did a great job for us and has done a great job for his program and his team.
"If any team deserves -- they deserve it. They played great all year. We were the only team to beat them, in the SEC Championship game. And we just couldn't finish the game tonight like we wanted to. But I think Kirby has done a really really good job there. I congratulated him on the win. I'm really proud of him. And I'm proud of the way he's been able to coach his team and the consistency that they've played with all year.
"But we did a good job in the SEC Championship [beating Georgia 41-24] and nobody can take that away from this team. I'm proud of this team and what we accomplished."
The SEC is the only conference to have had a team in the CFP every year, and it was the second time Alabama and Georgia played for the national title.