It might be the most unique homeroom you've ever seen. Students at W.S. Neal High School in East Brewton aren't learning farming skills in a classroom, but in a new barn on campus.
The facility currently houses 22 cows. Students feed, groom and take care of the animals that they have raised from calves, which will then be sold. Some students buy their own calves and can sell them at a profit of between $500-$1000. Others "borrow" calves from local farmers, and then pay the farmers after a sale.
Agriscience teacher Josh Coleman leads middle schoolers and high schoolers who are not only learning about livestock and careers in agriculture but getting critical life skills as well.
"Responsibility, hard work, managing finances, they're responsible for getting their own buyers," said Coleman. "Most of these kids have never been around cows or calves."
Coleman said teaching the class in an outdoor setting is really enjoyable.
"It's different, it's not in the classroom, not standing up in front of a class lecturing. It's outside, hands-on," said Coleman.
Senior Sadie Stone has found her career path through the class and looks forward to owning her own farm.
"It's a lot of hard work and it keeps me busy pretty much the entire school year," Stone said. "I want to start my own once I graduate."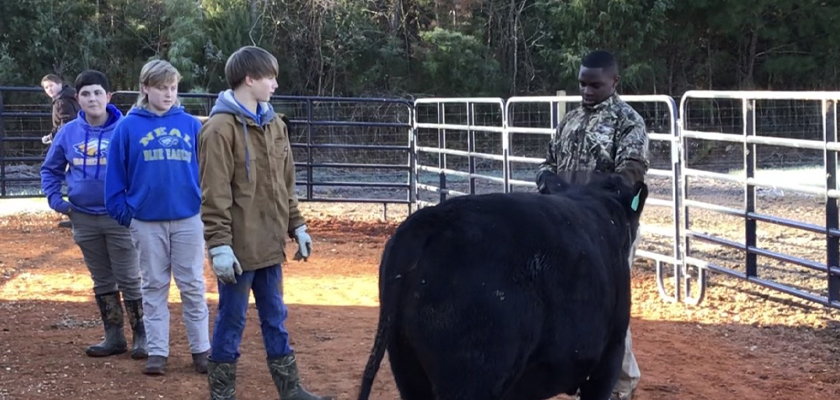 Senior John Rhodes wants to continue his family's legacy.
"My grandfather and all them were farmers and it kind of gets me closer to them, and it's a nice project since it helps me connect with these animals," Rhodes said. "Learn some life skills along the way."
As for homework, students take turns caring for the animals on the weekends. Right now, they're preparing for FFA competitions in March.
The facility, with the interior built by students, is one of the few in the state that is on campus and was dedicated to longtime ag teacher and principal Philip Ellis. It was paid for by several grants and local donations from Gulf Coast RC&D, Poarch Creek Band of Indians, Bondurant Lumber, State Representative Alan Baker, County Commissioner Raymond Wiggins, along with parents and local farmers.
To connect with the author of this story, or to comment, email [email protected].