In a news release from Jefferson County Schools last week, a poster depicting communist revolutionary Ernesto "Che" Guevara appeared on a classroom wall at Clay-Chalkville Middle School in the background.
1819 News received the news release and noticed the poster while reporting on another story.
Guevara was a significant figure in the Cuban Revolution, the armed revolt conducted by dictator Fidel Castro in 1959 to overthrow Cuban dictator Fulgencio Batista, who had the backing of the U.S. government. Guevara served under Castro after the revolution, presiding over the organization of firing squads to eliminate people who disagreed with Castro and pioneered the use of concentration camps (some of those imprisoned were priests, dissidents and homosexuals) in Cuba until he had a falling out with the Cuban regime.
Though a staunch self-proclaimed Marxist, Guevara's face became a fashion statement of the counterculture of the 1960s and 70s. Forty-five years after his death, his portrait is one of the most reproduced images in the history of photography. Today, his face still appears on many t-shirts, flags and posters around college campuses and leftist circles in the United States.
According to Jefferson County School Board President Ronnie Dixon, the Guevara poster was on the wall as part of an end-of-year project.
Superintendent Dr. Walter Gonsoulin responded to inquiries from 1819 News with a statement.
"The poster 1819 News is asking about is in an 8th-grade social studies classroom," said Gonsoulin. "It should be noted that there is a wide range of posters including Dr. Martin Luther King Jr., Mahatma Gandhi, Julius Caesar, Socrates, Malcolm X, Bruce Lee, and The Beatles.
"Part of understanding history is finding the connections between past events/people and the present world. The posters are a reference tool for helping students understand how certain concepts (revolutions, philosophies on government, and ideologies) have continuity throughout history. Any assertion that any individual poster is an attempt to promote a certain viewpoint or political agenda is simply not correct."
Dixon said the posters also included Jesus, God and Mohammed. He said they have since been removed from the walls.
But the image of Guevara, in particular, brings strong, negative emotions to the Cuban American community, who say the image has largely been torn out of its historical, social and political context.
"It is so sad that a character as sinister and murderous as Che Guevara is still idolized," said Jorje Grana, producer and host of EWTN-Radio Católica Mundial, the Birmingham-based network's international broadcast to the Spanish-speaking community. "This man committed a lot of murders with his own hands, and many were executed by firing squad because he signed the order to do it and none of them had the opportunity to have a trial to prove their [innocence]. Relatives and friends of many of them currently live outside of Cuba, here in the USA and in many other countries and are witnesses of the evil of that Argentine [Guevara was born in Argentina] turned idol. The image that the Cuban government sells about his humility and love for the people and the poor are a big lie, but unfortunately, the world is still blind and only sees what the press and the corrupt mass media present daily in the news."
Many on the left praise Guevara for improving literacy in Cuba and committing his life to battle poverty and imperialism. Many on the right cite his advocacy for violence and the countless human rights violations that Guevara and the Castro regime he worked for committed as reasons he shouldn't be revered.
In the background of the video press release from the school system, multiple drawings were hanging on the wall in another shot.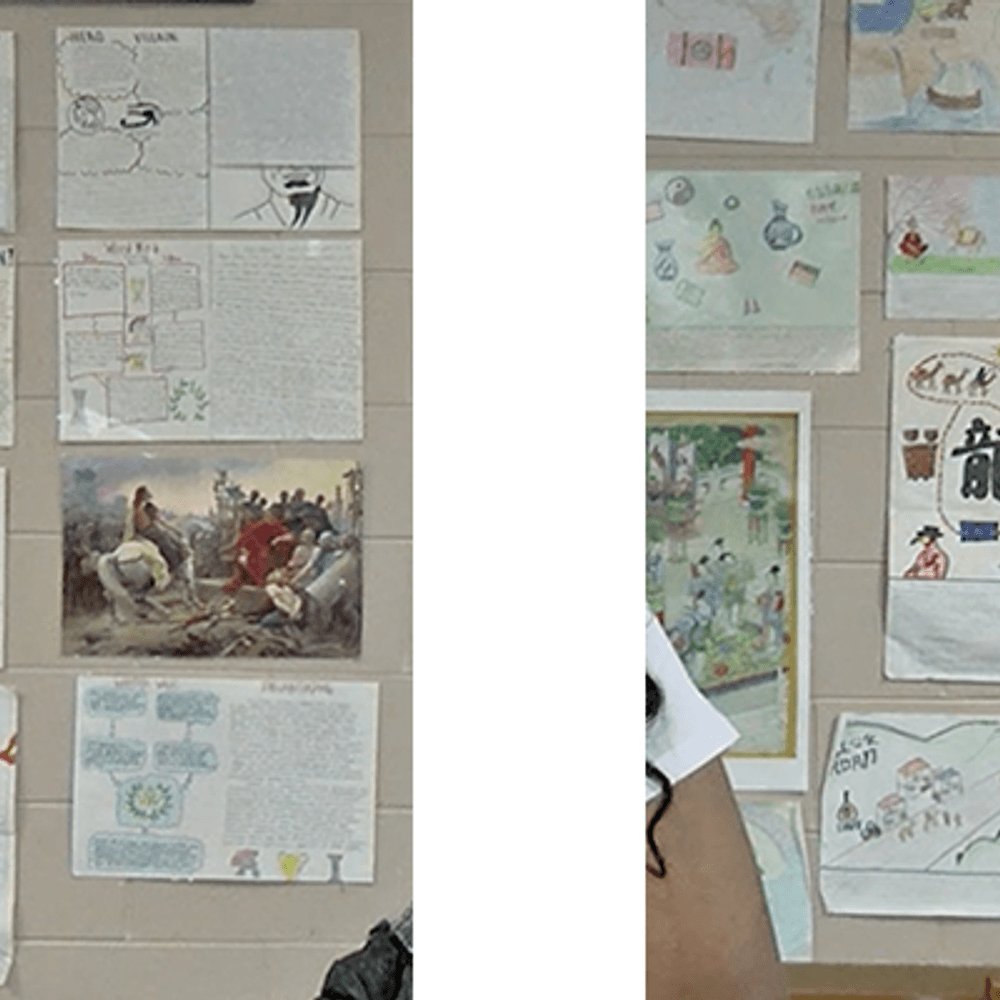 A collection of Beatles posters was separated from the Guevara poster by a bulletin board.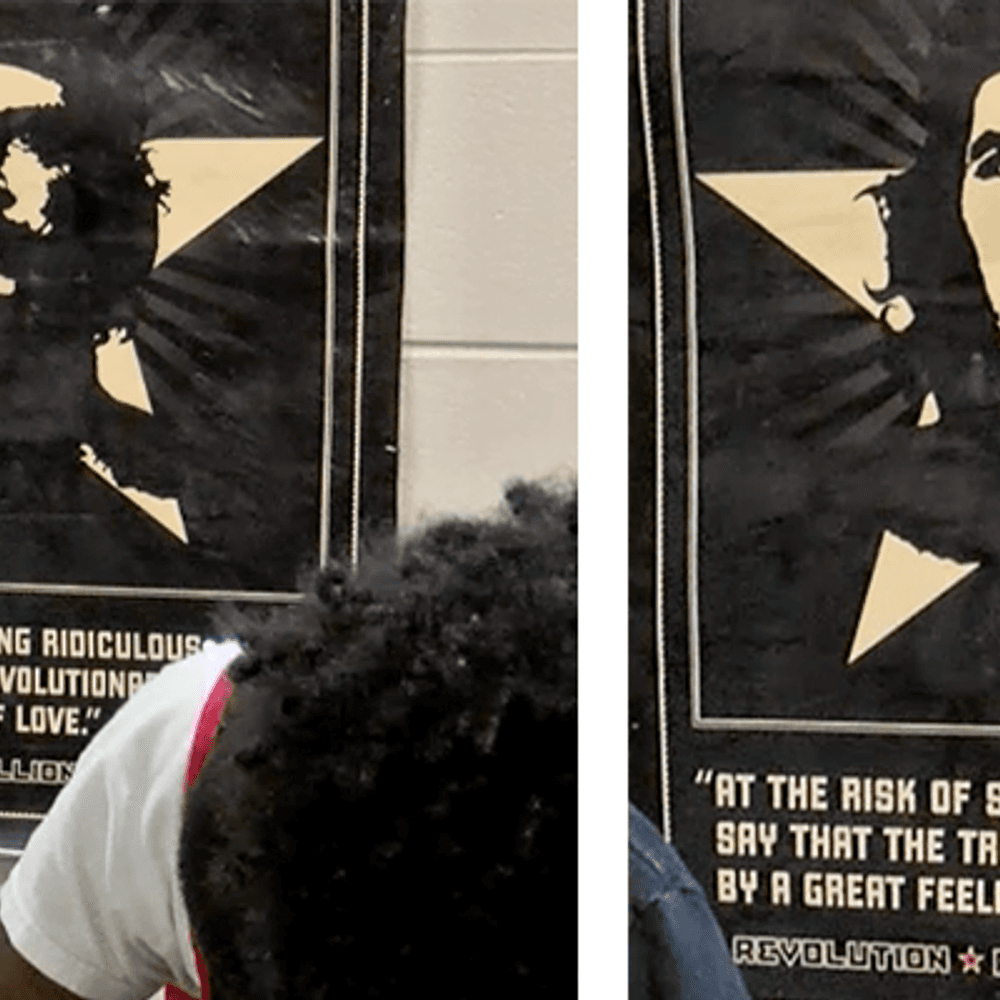 1819 News asked Jefferson County Schools how long the poster was up and what the students of Clay-Chalkville Middle School were taught about Guevara. The school system did not provide answers to those questions.
The community responds
Abel Trujillo left Cuba in 2001 and spent 17 years in South Florida before moving to Alabama. Now, he is a psychologist earning his master's degree in psychotherapy at Grand Canyon University and is the leader of the Cuban Community in Alabama.
"In my field, in psychology, they all talk about multiculturalism and cultural sensitivity," Trujillo said. "It's hypocrisy!"
Trujillo called Guevara "homophobic," a "murderer" and a "racist."
"The Cuban government is putting him out there, selling him like an icon," Trujillo said. "…We're not talking about Martin Luther King here. We're talking about a murderer. A psychopath."
According to Trujillo, Castro and Guevara betrayed the original ideals of the Cuban revolution in exchange for power. Now, he sees American academics and cultural leaders tout people like Guevara and push the same ideology.
"What is it? It's just propaganda," Trujillo said. "What's going on in academia, what's going on in public schools, is the work of Marxists undermining America. We told the Venezuelans about it. They laughed at us. And look at them… America is not listening. It is a secular religion…All these narratives you see in Washington right now, we know them by heart."
Trujillo criticized people on the left for resorting to ad hominem attacks and holding Guevara to a different standard than other historical figures.
"They don't like us because we're Latinos," Trujillo said. "They cannot call us white supremacists.
"...When you tell them that Che Guevara, apart from murder, was a racist and homophobic, they say 'well, you cannot judge him out of his time.' This is a double standard.
"... (They say he's) just this ideal guy. It's so far from the truth. There are millions of Cubans abroad in exile because of people like him and people like Castro."
Luis Delgado, the owner of Miami Fusion Cafe in downtown Birmingham and on U.S. Route 280, expressed concern that Americans have come to "worship" those like Nicolas Maduro and Hugo Chavez of Venezuela, and Castro.
"They're literally grooming your kids for this type of world," said Delgado.
Delgado is Puerto Rican but maintains close ties with the Cuban community in Birmingham.
Trujillo said he would like to offer to come to speak to the school about Cuba's history and who Guevara really was.
Legislation in Florida
In Florida, Gov. Ron DeSantis recently signed legislation declaring Nov. 7 "Victims of Communism Day." HB 395 requires Florida schools to educate on "discredited ideology"
"You will see students that will have T-shirts with Che Guevara on a T-shirt," DeSantis said, according to FloridaPolitics.com. "…That, to me, speaks of a tremendous ignorance about what those individuals represented in the evils that communism inflicted on people throughout the world. And so our goal here is to stand for the truth."
DeSantis said he hopes the legislation helps Americans "learn about the horrors of communism." He said he hopes more governors bring similar legislation to their states.
Madeline Pumariega, the president of Miami-Dade College, told FloridaPolitics.com that she was supportive of the law because it would educate more people about victims of communism. She said it would also prevent people from wearing Guevara T-shirts on campus.
To connect with the author of this story, or to comment, email will.blakely@1819news.com.
Don't miss out! Subscribe to our newsletter and get our top stories every weekday morning.