The Alabama Campaign for Adolescent Sexual Health (ACASH) has rescheduled its "Consent for Kids Fair" at the Birmingham Public Library, which is advertised to all ages and set to feature a "consent story hour" and "pin the ovary on the uterus."
The event was scheduled for May but was canceled due to backlash and alleged concern for safety. The rescheduled event is scheduled for Saturday, August 12.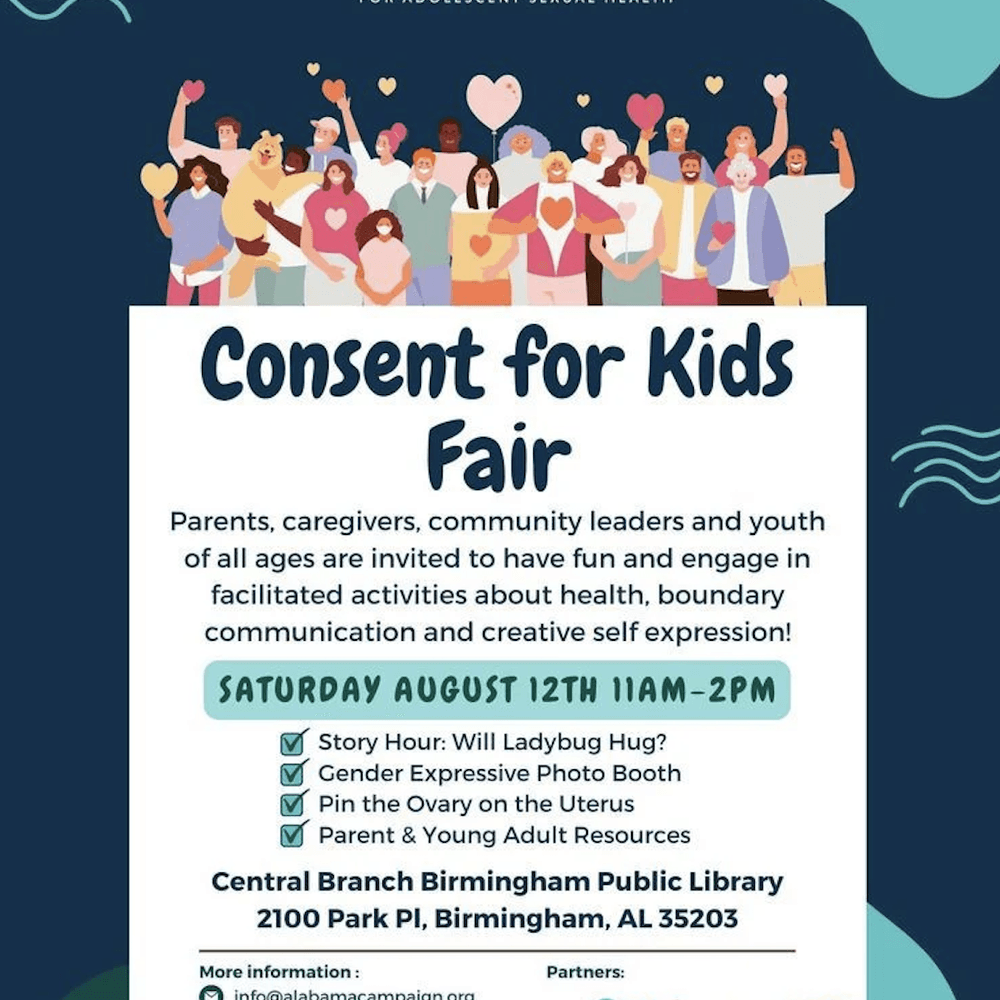 The fair claims to be centered around health, boundary communication and creative self-expression. Activities include a number of events, including a "Consent story hour" and "pin the ovary on the uterus."
TAKE Bham, The Yellowhammer Fund, URGE and Planned Parenthood are partnering with the ACASH to put on the event.
Other events include:
· Consent Story Hour with books like "C is for Consent," "Will Ladybug Hug?" "Don't Hug Doug"; "Can I Give You a Squish?" and "Don't Touch My Hair!"
· Coloring Table for learning about anatomy
· Gender Expression Photobooth
· Parent Resources
· Face painting
· Snacks
· Body Autonomy Freeze Dance
ACASH advocates for "age-appropriate" sex education in K-12 schools, offering online resources for students.
However, not all of these resources seem age appropriate. One series of animated videos labeled for ages 10-14 contains videos titled "Condom Negotiation," "Having Sex: Intimacy and Emotions," "Does Penis Size Really Matter," "How To Be A LGBTQIA+ Ally," "How the Boner Grows," "Being Female, Male, Transgender or Fluid," "Abortion with pills: What is it?," "What are Pronouns?" and "Porn is not Sex Ed."
The organization also denounced policies requiring teachers to tell parents if their child identifies as a gender apart from their birth gender at school or would prohibit minors from receiving sex changes.
In September, 1819 News discovered that State Health Officer Scott Harris and State Board of Education Superintendent Dr. Eric Mackey sat on the board of the ACASH, serving as ex officio members due to their positions.
Education officials told 1819 news that Mackey was not informed about his ex officio position on the ACASH board, and he asked them to remove his name.
Instead of responding to 1819 News, the Alabama Department of Public Health remained silent and even decided to disable comments on social media posts. Harris was later quietly removed from the board in May, while the legislature was deliberating changing the way the State Health Officer is appointed.
To connect with the author of this story or to comment, email craig.monger@1819news.com.
Don't miss out! Subscribe to our newsletter and get our top stories every weekday morning.