The city of Cullman will be hosting its 83rd Strawberry Festival Saturday at the Festhalle Farmers Market.
Fresh strawberries, an agricultural staple for Cullman since the end of the 19th century, will be sold by local farmers beginning at 7 a.m. at the market. Other food vendors will open at 10 a.m.
The festival will feature local artists and craftsmen who will sell their products from booths around the premises. Vendors can register on the festival's website. 
Kids' rides and activities, including classic fair rides, inflatables, arcades and games, will be open from 10 a.m. to 6 p.m.
The Cullman Middle and High School Jazz Bands will be performing Saturday morning on the main stage and will be followed that evening by a lineup of professional artists. 
The lineup includes the Georgia Thunderbolts, former American Idol contestant Chayce Beckham and the Grammy-nominated rock band Gin Blossoms. The artists will begin playing at 4:00 p.m.
The Miss Strawberry Festival Pageant was held on Saturday, April 23, and Lydia Borders was named the Miss Strawberry Queen for 2022.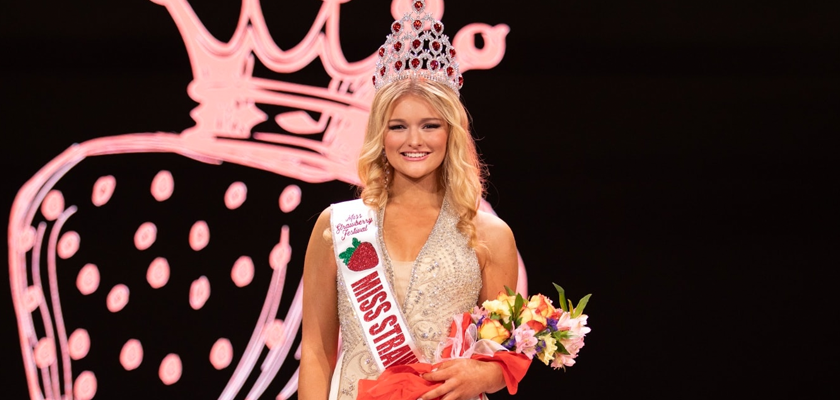 There will also be a baking competition at noon, where contestants can show off their best strawberry dishes, and a Doggy "Paw-gent" at 1 p.m.
On Friday, the festival will host a senior day from 9 a.m. to 1 p.m. at Festhalle. It will be an opportunity for senior citizens to enjoy music, a buck dancing contest, HeeHaw skits, bingo and games the day before the festival. Free lunch will be provided to the first 300 seniors to show up, and seniors can enter a homemade strawberry pie for a chance to win a prize.
No ticket or admission will be required to come to the festival. 
To connect with the author of this story, or to comment, email will.blakely@1819news.com. 
Don't miss out! Subscribe to our newsletter and get our top stories every weekday morning.