If you're looking to wet your whistle, you might want to watch those prices at your local liquor store. When the state is involved in private business, prices can vary from location to location.
The Alabama Alcoholic Beverage Control Board (ABC) has been selling and wholesaling alcohol since the Prohibition era. The state is one of 17 control states in the nation. Every privately-owned liquor store in the state must buy its goods and be licensed by the ABC Board. The ABC Board also has its own retail locations, Alabama ABC Select Spirits Stores. In fact, the Board's stores sell most liquor purchased in the state.
1819 News asked Dean Argo, the Government Relations Manager for the ABC Board, how to justify the existence of the board and its part in operating stores that compete with private business owners.
"We are a creature of the Alabama legislature, so trying to describe the necessity of this entity is difficult because we were created by the legislature," Argo said. "You would have to ask members of the legislature why they felt the ABC Board was necessary … I can't substantiate the reasons we were created in 1937."
The Alabama Legislature created the ABC Board following the ratification of the 21st Amendment that ended Prohibition, giving the state government control of the sale of alcoholic beverages.
According to ABC Board's website, the agency "controls alcoholic beverages through distribution, licensing, and enforcement."
We did a price check and compared prices:
Tito's Vodka 750ml: PRIVATE STORE - $31.49 – ABC STORE - $21.99

Tito's Vodka 1L: PRIVATE STORE - $37.49 – ABC STORE $26.99

Tito's Vodka 1.75L: PRIVATE STORE - $46.49 – ABC STORE $36.99

Jose Cuervo Blue Agave Tequila 750ml: PRIVATE STORE - $34.99 – ABC STORE $24.99

Jose Cuervo Blue Agave Tequila 1L: PRIVATE STORE - $40.49 – ABC STORE $29.99

Jose Cuervo Blue Agave Tequila 1.75L: PRIVATE STORE - $60.49 – ABC STORE $46.99

Bacardi Superior Rum 1.75L: PRIVATE STORE - $30.99 – ABC STORE $22.99

Bacardi Superior Rum 750ml: PRIVATE STORE - $20.49

Maker's Mark 1L: PRIVATE STORE - $55.49 – ABC STORE $39.99

Crown Royal 1L: PRIVATE STORE - $52.49 – ABC STORE $38.99

Jack Daniels 1L: PRIVATE STORE - $45.49 – ABC STORE $32.99

Hennessy 750ml: PRIVATE STORE - $60.99 – ABC STORE $45.99
There are apparent price discrepancies between private and state stores, and prices are typically lower across state lines in Georgia, where the state plays less of a role in retail liquor sales.
Neil Graff, the ABC Chief Operations Officer who supervises product management, said some privately-owned stores have lower prices than those of ABC stores. Licensees are given a 14% discount at wholesale and can get more for buying in bulk.
"It's because they buy in bulk, and they buy when our products are on sale," Graff said. "They bridge buy, so what they do is they buy at a lower cost, they get the 16% discount and the period discount, so every two months we have items that are on sale, and we pass that along to them."
While privately-owned store owners can choose to charge whatever they want on products, the ABC stores are mandated to follow a formula.
Graff doesn't consider ABC stores as competition to privately-owned stores.
"If they want to take their prices down, there's no response from us," Graff said. "Also, we open later in the day, we close earlier in the day, we're not open on Sundays, we're not open on major holidays and so, in a true-competitive atmosphere, if our competition stayed open those days or if they were open later, we would be open later."
When supply chain issues hit the U.S., some Alabama restaurants were disappointed when they couldn't order certain things because the ABC Board didn't have the products in stock. Under the condition of anonymity, one restaurant owner in Trussville told 1819 News that she didn't want the ABC Board to fine her, take away her license or limit product availability. Therefore, she exercises discretion and accepts the price she is quoted.
However, Graff denied that kind of retaliation is even possible because orders are computer managed.
"We don't hold products; it's based on when they come in," Graff said. "Post-COVID, supplies are pretty great, and we don't have a lot of out-of-stock issues … We do not hold back product and send it to one store versus the other. It's based on the day we are running that crew, and the system tells us what to send … So, it's not a situation where we're holding something for our store rather than sending it to a wholesale store."
Price Breakdown
The formula for pricing breaks down like this: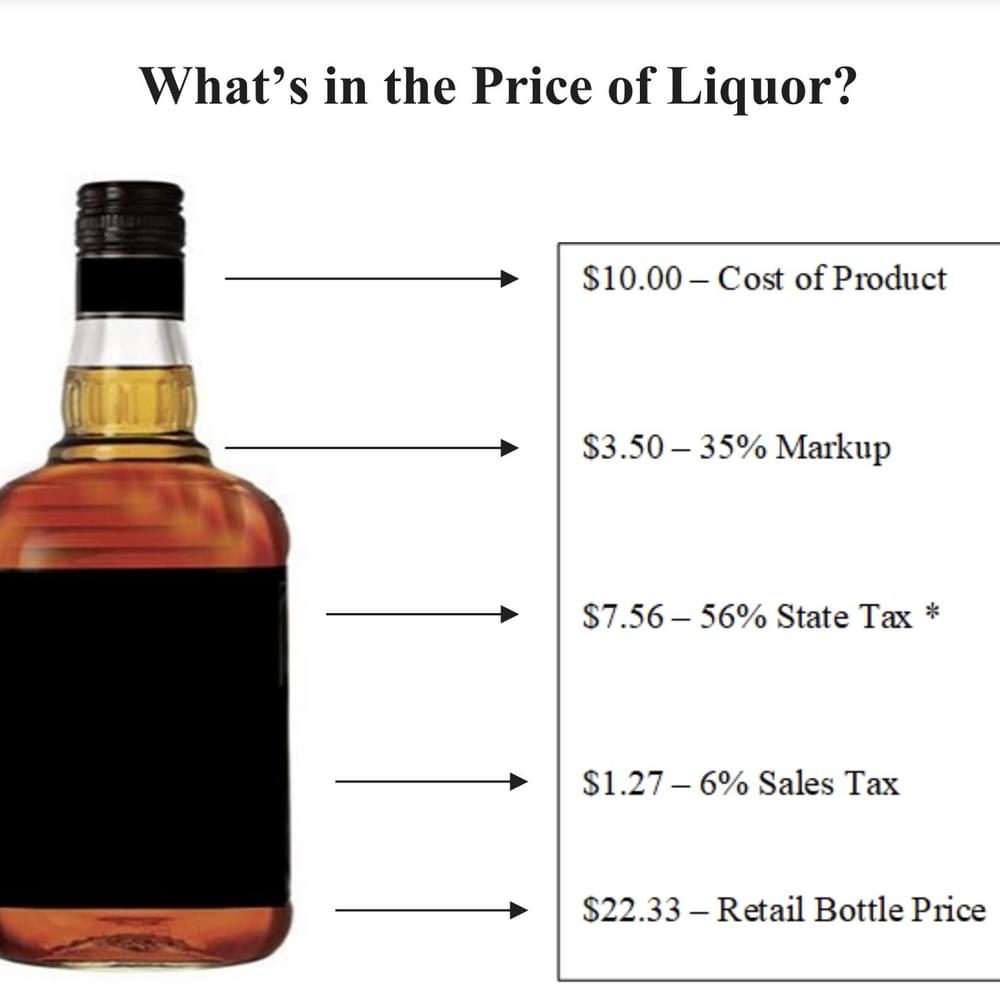 According to the ABC Board, 56% of the price of a bottle goes to state taxes. For the hypothetical bottle above, that adds up to $7.56. It is split between the general fund, human resources, mental health and various state agencies and local governments:
General Fund $3.03

Human Resources $2.23

Mental Health $1.95

Various State Agencies and Local Governments $5.12
Based on the cost of this hypothetical bottle, the ABC Board marked up the product by 35%. Of that, 10% goes to the General Fund, and 25% goes to the Board for operating costs. Whatever is left over after operating costs goes to state and local agencies.
The sales tax portion of the bottle is at 6%. Of that $1.27, 86 cents go to the Alabama Department of Revenue, 30 cents go to the local municipality, and 11 cents go to the county where the sale was made.
The latest numbers show that in the fiscal year 2020-21, the ABC Board gave state and local governments $353 million.
"This included funding to state agencies such as the Department of Human Resources, Department of Mental Health, ALEA and schools, as well as counties and municipalities," explained Argo. "By law, we cannot retain any of the revenues generated from alcohol sales."
The ABC Board has created an informative website, wheredoesthemoneygoalabama.com.
The ABC Board licenses, regulates and offers training to 2,842 restaurants and bars, 716 private package stores, three casinos and 11 military outlets. In addition, there are 168 ABC stores.
Public Awareness and Safety
Argo said the ABC Board does much more than sell liquor.
"We are in the business of protecting the general public's health, safety and welfare," Argo said. "We do that through licensing, through collection of taxes, through manufacturing and distribution and through education."
The Board also runs several public awareness campaigns throughout the state on the dangers of alcohol abuse, specifically underage drinking and binge drinking, and another program to help businesses keep patrons safe.
The three programs are the Responsible Vendor program, Operation Safety and Under Age Under Arrest.
The Responsible Vendor program offers a break on liability insurance for businesses that allow their staff to attend training.
The Under Age Under Arrest program is a 55-minute program taught in schools and presented by volunteers from Mothers Against Drunk Driving (MADD).
Operation Safety is a longer program that focuses on drug and alcohol abuse prevention.
To connect with the author of this story, or to comment, email [email protected].
Don't miss out! Subscribe to our newsletter and get our top stories every weekday morning.